Nursing home staff with fewer years of experience show greater interest in learning new technology, and adapt to new systems quicker, according to a new report.
Researchers with the University of California - San Francisco conducted research reviews, as well as interviews with long-term care employees, to determine how facilities and their staff prepare for the implementation of health information technology. Their findings, published last week, show many facilities don't have a systematic process for technology implementation, and often underinvest when it comes to staff training.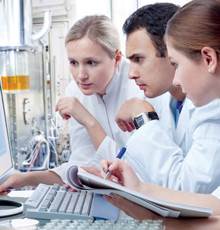 The small group interviews at 15 different nursing homes found that overall, newer staff were more interested in learning new technology skills, and often served as "point persons" for assisting other staff members. Many of the nurses interviewed agreed that an employee's age, not the years of experience, is what truly drove their ability to adapt to the new technology.
The report also showed that regardless of how much training staff received on the new technology, they were often unhappy with their level of orientation, especially if it was led by a non-clinical IT specialist who didn't speak the nurses' "language."
Additionally, the most frequently cited barrier to HIT implementation was wireless connectivity within the facility, researchers noted.
The research team suggested that their findings can be translated into recommendations for nursing homes preparing to implement their own HIT systems. Those recommendations include developing a toolkit to prepare staff, developing training best practices, and boosting funding incentives for training, or increased compensation for staff with advanced IT skills.
Source : McKnight