News / Ghana Begins Exporting Nurses To Barbados, European Countries by katty: Today at 11:58:53 AM
Ghanian Nurses will also be sent to Germany, Japan, Australia, Canada and the United Kingdom.
President Nana Addo Dankwa Akufo-Addo has agreed in principle to send some Ghanaian nurses to Barbados to support that country's health system which is in need of nurses.
This came up when the president met with the Prime Minister of Barbados at Bridgetown on Friday on a day's visit to that country as part of his larger visit to the Caribbeans.
About 375 nurses will be considered for this cooperation.
Addressing a press conference in the aftermath of the bilateral discussions, Barbadian Prime Minister Mia Mottley said: "we have indicated that we are searching for just under 400 nurses, so it is not a small number, and we really do believe that this is a wonderful opportunity of co-operation between our two countries."
In addition, she noted that there was also an initial promise to secure the nurses, and provide joint education programmes going forward, all in an attempt to secure Barbados' healthcare sector.
That country is facing an acute nursing shortage.
President Akufo-Addo, in his response indicated that "we have a surplus of nurses in Ghana, and placing them all in our public health system is one of my headaches. There have been a lot (of nurses) produced, which, for several years, we have not been able to do anything with…So, I am going back. I will be back in Accra on Monday, and, the week after, the Prime Minister will hear from me on this matter of nurses."
The cooperation, which has not yet been formally agreed upon, when it comes into force, is expected to create employment for some of the many teeming young graduate nurses in the country who have on several occasions staged protests demanding jobs from the Ministry of Health.
The government has already given indications that it is working to send Ghanaian nurses to countries such as Germany, Japan, Australia, Canada and the United Kingdom.
Other outcomes of President Akufo-Addo's meeting with the Barbadian Prime Minister was the reactivation of a 2005 cultural, technical and scientific agreement signed between the two countries, an agreement which has been dormant for 14 years.
The discussions also touched on tourism and transportation, with Ghana and Barbados agreeing to work on an air services agreement, which will establish direct air links between the two countries, so as to boost trade and people-to-people contact.
On the issue of renewable energy, President Akufo-Addo expressed Ghana's desire to collaborate with Barbados, a country which is giant in that field, and reiterated Ghana's commitment to increase the renewable energy component of her energy generation mix.
As a demonstration of the close ties between Ghana and Barbados, the President expressed his commitment to the establishment of an Honorary Consulate in Barbados, with Barbados set to establish a High Commission in Accra by the end of 2019.
Source: citinewsroom.com
Postgraduates / Babcock University 2019/2020 Admission into Masters Degree in Nursing by katty: Today at 10:19:04 AM
Applications are invited from suitably qualified candidates for admission into the 2019/2020 academic session in the underlisted programmes leading to the award of Post Graduate Diploma, Masters and Doctor of Philosophy Degrees of Babcock University.
Modules/Admission Sessions:
Regular Semester Module. This runs from September to April every year.
Elongated Semester Module. This runs for 24 weeks (Sundays only), beginning July every year.
Department: Nursing Science
Programme: Nursing Science
Degree in view: M.Sc.
Methods of Application
Application forms can be obtained online from our website:ww.babcock.edu.ng 1. Download and print the Application Form, fill it and return the hardcopy with the required documents and a non-refundable application fee of N10,000 paid into Babcock Microfinance Bank, or in bank draft drawn in favour of BABCOCK UNIVERSITY from any bank. At the back of the draft fill the candidate's names and choice of programme.
2. Completed Application forms should be accompanied with photocopies of:
Bachelor's Degree/HND Certificate
Master's Degree Certificate for candidates proposing to pursue Ph.D.
NYSC Discharge/Exemption Certificate for Nigerian Candidates
Marriage Certificate or Evidence of Change of Name(s) where applicable
2 recent passport-size photographs
3. Candidates should ensure that their academic transcripts are sent to the College of Postgraduate Studies from their former Universities. While provisional admission can be granted on the basis of certificates, no application is fully returned without the full transcripts of previous academic engagement; and this is the responsibility of the candidate. Application forms duly completed should be addressed and sent by courier services or by hand to:
The Secretary
College of Postgraduate Studies
Babcock University, Ilishan — Remo, Ogun State
SCREENING EXERCISE
There will be Screening Exercise as will be announced for each of the modules.
FURTHER INFORMATION
For further information/enquires, please contact 09094619786, 09058219762 and 08072090645 or email us at secretary.pgs@babcock.edu.ng, or visit or website:
www.babcock.edu.ng
Titilayo J. Owolabi, PhD
Deputy Registrar/Secretary, College of Postgraduate Studies
Post Basic Courses / Jos University Teaching Hospital 2020/2021 Anaesthesia Nursing Form on Sale by Idowu Olabode: Today at 10:11:20 AM
Applications are invited from suitable qualified candidates for admission into the above mentioned training programme for 2020/2021 Academic Session.

Admission Requirements:

Applicant must be a registered Nurse (RN) with a current practicing license
Have at least one (1) year post-qualification experience preferably in theatre unit.
Hold the west African school certificate / senior secondary certificate / national examination council or general certificate of education at ordinary level with five (5) credits in English Language, mathematics, physics, chemistry and biology.

Method of application:

Application forms are obtained from Chairman, Medical advisory committee's office at JUTH permanent site, lamingo, on presentation of receipts of payment of non-refundable fee of seven thousand, five hundred naira (7,500.00) only, from the accounts department of the hospital.

Forms will be on sale from 6th June, 2019

Submission of forms:

Submission of completed forms on or before Friday 27th September, 2019

Completed application forms are to be submitted in a big brown envelop to the office of the programme coordinator, school of post basic nursing anaesthesia programme, Jos University Teaching Hospital, old site with a self-addressed and stamped envelope.

Only eligible candidates would be shortlisted for the examination.

Method of selection:

Selection of candidates for the course is on the basis of performance at the written examination and oral interview fixed for:

Wednesday: 9th October, 2019 – written examination

Venue: Old JUTH Murtala Muhammed Way, Jos

Thursday: 10th October, 2019 – oral interview

Time: 9:00am each day.
News / USA: Man Lands in Prison For Faking Nursing Credentials To Work in 3 Facilities by Idowu Olabode:

June 13, 2019, 08:01:43 AM
A Missouri man who used fake nurse credentials to get jobs at three health care facilities has been sentenced to nearly five years in prison.
Benjamin Danneman of Eureka pleaded guilty in March to health care fraud, aggravated identity theft and Social Security fraud. He was sentenced Wednesday in federal court.
Danneman used the name of a real nurse and made other false claims to obtain jobs at Sherbrooke Village in St. Louis County and the Rehabilitation Institute of St. Louis. He also was assistant director of nursing at the Quarters of Des Peres, a 122-bed nursing home.
Court records say Danneman never had any license to provide medical services.
Danneman is already serving a prison sentence in Illinois for crimes that include attempted burglary and theft.
Source:
https://www.dailyherald.com/article/20190612/news/306129899
News / Ghana Nursing and Midwifery Council Warns Public On Fake Facebook Account by Idowu Olabode:

June 12, 2019, 06:10:12 PM
The Nursing and Midwifery Council (N&MC) of Ghana on Tuesday warned the public against a fraudulent Facebook page which used its official logo and operated with the name "Nurses and Midwifery Council".
According to the Council, in an attempt to secure unlawful gain on behalf of the Council the fraudsters have circulated several false correspondences targeted at innocent citizens.
Some of these circulations requested its trainees and practitioners to call some unidentified telephone numbers to transact business on behalf of the Council.
A statement issued in Accra, by the statutory mandated N&MC and copied to the Ghana News Agency, therefore, urged its members and the general public to be careful of the fraudulent Facebook page created in its name.
The statement signed by the Registrar of the Council said the N&MC is working with the appropriate state security agencies to arrest the operators of the fake account and called for cooperation from the public.
"The Registrar and Management of the Council wish to state categorically that the Facebook page operating with our logo and the name Nurses and Midwifery Council is not the official Facebook page of the Nursing and Midwifery Council of Ghana."
The statement Council cautioned the general public especially nursing and midwifery trainees and practitioners that any information displayed on the Nurses and Midwifery Council Facebook page was not from them, and any person who transacted business with the managers of the page did so at their own risk.
They further cautioned its members and the general public that all announcements and information from the Council would be published on its official website.
Other official social media handles were; Twitter; (NMCGH_Official), Instagram (nmcgh_official), Skype (nmcghana2016) and Emails to; info@nmc.gov.gh for all information about the Council.
News / Ghana Bans Nurses, Doctors From WhatsApping, Facebooking And Selfie At Work by Idowu Olabode:

June 12, 2019, 06:02:42 PM
Ghana Health Service (GHS) as part of measures to instill discipline amongst health care providers in the country has reinforced the ban on the use of social media during working hours by health workers, a regulation which has been in force for more than a year now.
The regulation, however, gives exceptions to conditions where medical officers and practitioners may use the mobile phone gadgets to access information from the Internet that would rather expedite their services.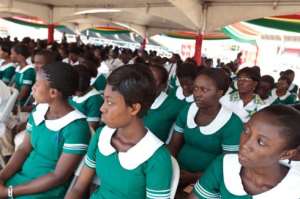 The ban is also extended to photography and selfie taking at the hospital especially by female workers with all sort of image filters on Whatsapp, Facebook, Instagram, Snap chat among others.
The Deputy Chief Health Service Administrator of the Nkawie-Toase Government Hospital, Mr. Eric Frimpong, who made the confirmation on Otec FM's 'Nyansapo' morning show on Tuesday, June 11, 2019, said the GHS instituted the regulation due to the changing trend of technology use by the medical practitioners, adding, doctors, pharmacists, nurses and security officers are not excluded from the regulation.
The ban on photo taking amongst health personnel, according to Mr. Eric Frimpong, was necessitated after photos of the late musician Ebony Reigns went viral on the social media suspected to have been taken by a mortuary attendant.
Mr. Eric Frimpong's comments was in response to phone in segment by the public and victims of maltreatment in the hands of health professionals after a family has reported the death of their son due to the negligence and lack of beds at the Manhyia Government Hospital in Kumasi.
He intimated that "the regulation has been in force for more than a year now and it is to sanitize the system. Those found culpable can be dismissed or charged with professional negligence. Every health practitioner is aware of the new regulations because it is a directive from the Director General of Ghana Health Service."
However, he insisted that health professionals have the right to use their mobile phones to access information from the internet for information that would support their health care deliveries and for other emergency calls.
The Deputy Chief Health Service Administrator implored Ghanaians especially patients to volunteer information of misconduct among health care professionals to managers of health facilities to institute punitive measures rather than rushing to the media with the same complaints.
"There are senior nurse officers, health administrators, securities and senior officers at the hospitals who can attend to you whenever there is misconduct or disrespectfulness from a nurse. Don't hesitate to take report medical officers who would be taking selfies or fidgeting with their phones especially when you need their services," he explained.
Most Ghanaians who access healthcare deliveries in most hospitals in the country always complain of poor healthcare services and more patients have lost their lives in the process, a situation Ghanaians want to see action from the appropriate government institutions.
Source: Modern Ghana
News / Shortage of Nurses Hit Philippines, Country Plans To Stop Sending Nurses Abroad by Idowu Olabode:

June 12, 2019, 05:40:21 PM
The Department of Labor and Employment (DOLE) is planning to decrease the deployment of nurses to other countries, Secretary Silvestre Bello said on Wednesday.
Bello said they are looking at the possibility of lessening the number of medical professionals, including nurses, being sent overseas.
"We slowed down the deployment of construction workers earlier. Now, we want to include our nurses," he said in an interview during the 2019 Kalayaan Job Fair in Manila.
"There could be a slowdown in the deployment of nurses because we also need our nurses, especially senior citizens," he added.
Bello noted that he is contemplating on the plan after a dialogue with the Philippine Nurses Association (PNA), who sought his assistance to address the shortage of nurses in the country.
"All the while, I thought there is an oversupply of nurses. But I just learned that those graduating with nursing degrees and have passed the Board only train for two years and will go (abroad)," he added.
Bello said the government should do something by increasing the salaries of nurses for them to stay in the country.
"In order for them to not want to work abroad and just stay here, we should also consider increasing their salaries. And the President appears amenable to giving them that," he said.
The DOLE chief said the salary increase for nurses would be discussed with the Department of Budget and Management.
Filipino nurses are in demand in countries in Europe, the Middle East, among others.
Early this year, the government has implemented a slowdown in sending construction workers to other countries, by as much as 90 percent due to the reported manpower shortage in the local construction industry stemming from the "Build, Build, Build" program in 75 projects.
Under the BBB program, the government is set to construct roads, bridges, airport, railways among others, covering 2017 to 2022, with a total budget of PHP8 trillion. (PNA)
News / Nurses 'Assisting Doctors' Is An 'Outdated, Wrong And Undermining The Profession by Idowu Olabode:

June 11, 2019, 10:46:52 AM
A subject profile of nursing and midwifery published by the Guardian newspaper has been accused of reinforcing "outdated" and "undermining" stereotypes of the nursing profession by claiming nurses are taught to "assist doctors".
Nurses and allied healthcare professionals turned to social media this weekend, coining the hashtag #WhatNursesDo, to call for the "outdated, wrong and undermining" description of the profession to be changed by the international media outlet.
The article initially read "During your studies you'll learn what's needed to assist doctors and help patients and families with their healthcare needs," and was accompanied an image of a nurse delivering a patient meal.
'Nurses are not doctors handmaidens'.
Danielle Tiplady, a nurse from south-east London, said; "The description of our profession in this article is outdated, wrong and undermining.
"The notion that nurses are doctors handmaidens should be left in history where it belongs. Nurses are problem solvers, critical thinkers and we are essential in the safe delivery of care to patients
Adding; "Perhaps the Guardian journalist who wrote this piece would benefit from shadowing nurses to understand what nursing really is."
Following the successful social media campaign, the article now reads "During your studies you'll learn how to deliver care and support for patients with a range of healthcare needs,".
The Guardian notes the article was amended 'to give a more accurate description of nursing studies'.
Source:
https://nursingnotes.co.uk/nurses-assisting-doctors-is-an-outdated-wrong-and-undermining-description-of-the-profession/
News / South African Nurse Retires After 45 Years, Without Taking Leave by Idowu Olabode:

June 09, 2019, 05:11:46 PM
Sister Colleen Grehan at Groote Schuur Hospital has been a nurse for most of her life and she's never taken leave.

An expert in complex wound care, she's saved many lives – and treated on average 270 patients a month.

Sister Grehan has to officially step down now but has no plans to stop doing what she loves as she still has plans to do community nursing.

"When I was small when anything happened they called me, at school they called and people say this followed me, you didn't choose nursing. It called me. And I think that sticks with you."

Sister Grehan is meticulous, a stickler for doing things the right way.

She has deep empathy as solid and sensible as her shoes, she has the ability to make her patients feel like everything will be alright.

eNCA's Annika Larsen spoke to a Sister Grehan at Groote Schuur Hospital on her last day at work.

Source: eNCA

News / Police Arrest Man for Slapping Nurse on Duty In General Hospital Delta State by Idowu Olabode:

June 09, 2019, 05:05:27 PM
A yet-to-be-identified man was arrested by the police on Saturday for slapping a nurse identified as Angela at Okwe General Hospital, Asaba, Delta State.

The man claimed that the nurse abandoned their loved one who was on emergency when policemen from B' Division Station stormed the hospital premises.

He told the police that when he arrived in the hospital, there was nobody to attend to his relative.

He said, "There was no doctor around and card collection was also difficult. The nurse was delaying to attend to us and the person we brought to the hospital died. I was unable to control my anger and I slapped the nurse."

The man also told the police that the deceased was his relative and they both worked at Toll Gate Park, Bridge Head, Asaba.

On her part, the nurse said, "As I came into the hospital in the morning, I saw a man lying down vomiting and foaming. I told them to bring the man in and his condition was critical. In fact, he was brought in almost dead.

"I quickly ran to the pharmacy to get infusion. I didn't even ask them to pay first, breaking the protocol to attend to the man. As I came back to where I went to bring infusion, they started hitting and slapping me.

They threatened to kill me and my child. Now, the man has been arrested and he will produce the women that dragged my hair and clothes."

SUNDAY PUNCH observed that no doctor was around to attend to patients when the incident occurred. But as the police drove away the deceased's family members to their station in a van, a doctor identified as Okon arrived in the hospital.



Okon, who examined the situation in the hospital, said to the waiting patients, "No doctor around? Are you all waiting for doctors? I will soon leave."
Source: Punch Newspaper