After being reelected as councilor for the third time in East Grinstead, West Sussex in the UK, a Filipino nurse is the new town mayor of East Grinstead.
Danny Favor, an ophthalmic clinical nurse specialist at the Queen Victoria Hospital NHS Foundation Trust in East Grinstead,migrated to the UK in 2000, with his wife, who is also a nurse.
His first foray in politics was in 2011, when he ran for councilor in the Asphalt Ward on the East Grinstead Town Council under the Conservative Party.
He made history as the first Philippine-born migrant to be elected in public office in the UK.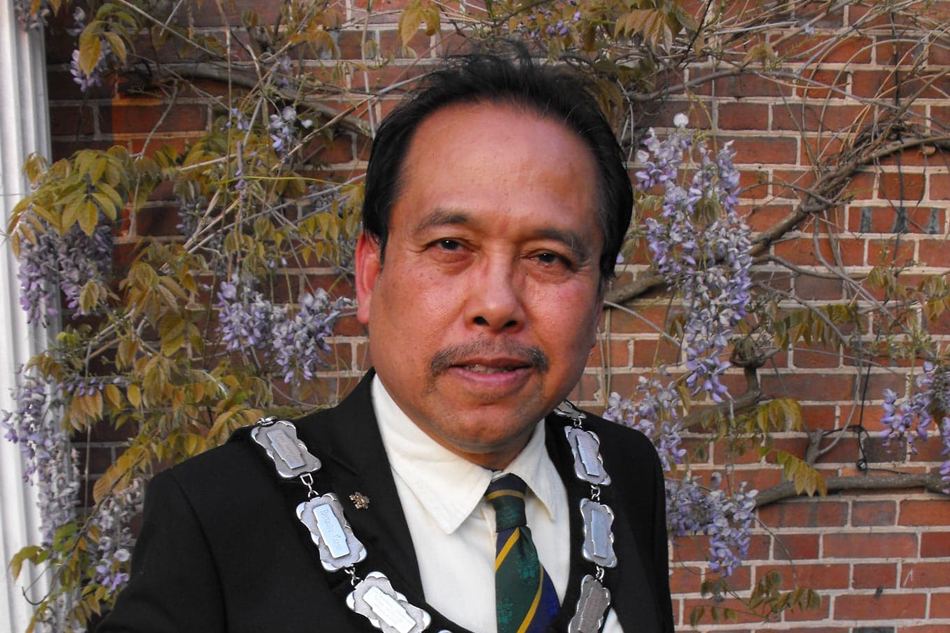 "Entering into British politics was God given opportunity. It was not in our plan and beyond my dreams and expectations," said Favor.
"One month before the election, I reluctantly signed the nomination to stand as town councilor candidate after I was insistently encouraged by one of conservative councilors to join them as they really need to fill in the gap. My wife, Maribel, had agreed and asked me to sign the paperwork stating that I don't need to worry as the chance of winning for me was very slim anyway. The result was a great landslide victory after all and I won unexpectedly for the first time having the second highest vote in our ward," Favor narrated.
In 2015, when he was reelected as town councilor for the second time, his ascent to the highest post in town was unstoppable. Last year, he was installed as deputy mayor.
He admits the recent election was tough. He described the campaign as a walk into the "storm of negativity" because of the challenging issues in the national level, related to Brexit.
He soldiered on with his Tory partymates and secured a seat.
He will serve as mayor for a year, starting May 13. His term as a councilor will end in 2023.
Favor said leading the Filipino British Association of East Grinstead in 2019 paved the way for his political career in England. He became more involved in various groups within the Filipino communities and beyond: from spearheading fundraising events to listening to problems of Filipinos and giving advice.
He hopes to inspire British-Filipinos who might want to venture into local politics in the UK.
"I always encourage our fellowmen to come out and be more pro-active in our community. There are lots of great opportunities out there that they can be involved and enjoy at the same time," he said.
He shares this achievement with his kababayan: "This honor is for all of us Filipinos. I'm proud to be Pinoy,' Favor said.
Source:
https://news.abs-cbn.com/overseas/05/16/19/british-filipino-nurse-is-new-town-mayor-in-england