After protesting in front of the OPD at Government Rajindra Hospital and Medical College for three consecutive days, a couple of nurses on Thursday climbed atop the college building, leaving the authorities panic-stricken. The police and Fire Department officials immediately rushed to the spot after getting information about the incident.
Medical Superintendent BS Brar and Principal BS Sidhu met the protesters in the morning and gave a written assurance on the behalf of the Directorate of Research and Medical Education but they turned down the assurance. They alleged that the government did not keep it word on earlier occasions as well and betrayed them by not releasing their 33 per cent increment.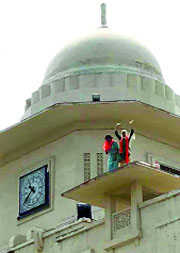 The protesting nurses also locked down the main gate of the college and staged a sit-in in front of the college principal's office. The nurses were demanding the release of increment for 2015.
Patients were also at the receiving end as the protest hit the services at the hospital.Karamjit Kaur Aulakh, president, Nurses' Association, Punjab, said: "We are only demanding that the increment be paid as soon as possible as the pay of contractual nurses is meagre."
After a meeting with the DRME, Avinash, in the evening, Karamjit Kaur said," Our nurses will not come down until we get a written assurance from the Health Secretary or Finance department."
In the evening, on getting a written assurance from the Finance Department, the nurses atop the college building came down. The Finance Department has cleared their file and sent it to the Chief Minister for approval. However, the protest is still on.
In 2016, four members of the Contractual Nurses Union had climbed atop an iron-bridge on the Bhakra canal and the president of the association, Karamjit Kaur, had jumped into it. She was saved by the police personal.
Source: India Tribune