"I share the opinion that nurses are to blame more for the gloomy picture of gross disease burden arising from chronic ailing conditions, addiction of unhealthy lifestyles among the people,"
The Minister for Health, Kwaku Agyeman- Manu has chided nurses for the wobbling healthcare delivery system and the increasing number of avoidable deaths in the country's healthcare system.
According to the sector minister, the standards of care, over the years, have kept falling leading to multiplicity of shortfalls in nursing care generally.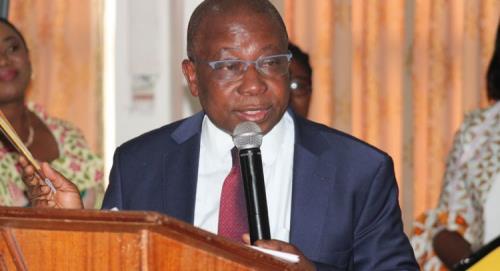 "I share the opinion that nurses are to blame more for the gloomy picture of gross disease burden arising from chronic ailing conditions, addiction of unhealthy lifestyles among the people," the Minister posited.
The statement was read on behalf of the Minister by the Director of Nursing and Midwifery at the Ministry of Health, Ms. Eva Mensah at the official launch of the 20th anniversary celebration of the School of Peri-Operative and Critical Care Nursing at Korle-Bu.
She indicated that they have a difficult task as a Ministry to stem the endemic cause of malaria which continues to take its toll on members of our communities as well as the prevalence of maternal and infant morbidity and mortality.
"The people of Ghana know that your role as frontline health professionals and your numbers can have positive influence on their health. You dare not disappoint them. You have to lead the crusade to promote health as human right which has become crucial in today's health care environment, Ms. Eva Mensah intimated.
She added that the Ministry did not relent in its efforts to give the School of Peri-Operative and Critical Care Nursing its own infrastructural edifice thus taking them away from a situation where they delivered education on borrowed premises at the Nursing and Midwifery Training College in Korle-bu.
According to her, management of the school ought to reciprocate this laudable initiative of Government by maximizing their efforts to produce quality health care specialists to improve care.
"In all these you must know that the patient's expectation is what matters. Whatever you do as an institution that trains Peri-Operative and Critical Care specialists must be productive," she stated.
Ms. Eva Mensah added that delivery holistic care relevant to patients' individual needs must be factored into the scheme of care where the interest of the client will be put first.
According to her, students ought to be given the capacity to deliver to the extent of their education and skill gained. That is why the Ministry of Health will do everything to prepare you adequately to enhance your contribution to health care delivery which is often undervalued.
She posited that it is the responsibility of the government to strengthen and invest in Nursing and Midwifery for the critical workforce to have a triple impact of promoting health, advancing gender equality and strengthening local economies.
"A long-term goal is to raise the profile of Nursing and Midwifery globally, make it central to health policy and decision making to ensure that nurses and midwifes can use their skills, education and training to their full capacity," Ms. Eva Mensah emphasized.
She noted that the school could have been more impressive by raising the bar in their effort to ensure that higher education matters in bringing quality care to the people of Ghana but went into affiliation with the University of Cape Coast to promote their vision of addressing the global health challenge having identified Nursing specialization as the way to go.
Ms. Eva Mensah urged the school to look beyond the level of delivering undergraduate programmes and move to the provision of Master Degree courses, an endeavor the Ministry of Health will be willing to support not only in terms of infusing physical capital investment but also in the way of capacity building among tutors to advance their academic career to the Doctorate Degree level.
The Principal of the School, Dr. Kwaku Asante-Krobea said Ghana is still struggling to provide patients with safe and adequate Peri-Operative Nursing care, a situation which is counter-productive to sound surgical outcomes because every five surgical clients need one Peri-Operative Nurse and every one or two critically-ill clients need a Critical Care Nurse.
He noted that increasing the percentage of nurses and midwives with BSc degrees, especially Peri-Operative and Critical Care specialists to meet this expectation is in line with what the public needs from nurses and midwives in terms of growing expectations for quality.
Dr. Asante added that more BSc nurses and midwives will be necessary to expand competencies in areas such as community and public health, leadership, systems improvement and change, research, and health policy; and to provide a pool of potential candidates to move on to master's and doctoral education in nursing.
"We live in a time when knowledge is exploding; technology is adding complexity to our work, and there are more opportunities for nurses to work in more settings than we've ever known in the history of nursing," the Principal stated.
According to him, many organizations are expecting more highly educated nurses. The public also wants nurses and Midwives to be more knowledgeable and more adept.
He emphasized that this is part of the reality and challenge that requires the expansion of Nursing and Midwifery horizons to establish a cutting edge post-graduate education that will stand the test of time and meet people's expectations for better prospects.
Dr. Asante posited that itshould be possible for the current health care systems in Ghana to put in place upgrade through the offer of scholarships and grants with academic leaves.
He noted that the structured arrangement for current lower cadres of Nurses and Midwives to paymaster must in fact not see this as cost to management or state but an investment that will yield overwhelming fruitful returns.
The Principal affirmed that they will be more than forceful to collaborate with the Ghana College of Nurses and Midwives to promote excellence, quality and quantity of Specialist Nurses and Midwives fit for service in contemporary health care.
"In this regard, I will implore the Ministry of Health to absorb the full cost of prograduate education both in this institution and for residents at the Ghana College of Nurses and Midwives as a way of motivation and purposeful planning to reduce Nurse/Midwife attrition and improvement of care rendered to clients with life threatening medical conditions," he intimated.
According to him, the nursing certificate and diploma, now the most popular route to becoming a nurse/midwife, must all be phased out to strengthen the conviction that a Nurse and Midwife should be difficult to become and with the acquisition of higher education and more competent skills, they can make the patient safer under their care and promote the dignity of the profession.
He added that the school has what it takes to deliver and therefore fervently wish that all stakeholders will continue to strengthen the tenacity and determination by maximizing their support to this endeavor.
Dr. Asante assured that the school will continue to produce quality health care specialists who will remain at the forefront of care among their generation.
"We dare promise that we will stop at nothing to grab the goal to institute the gold standard of post graduate education for specialists," he assured.
Source:
https://www.modernghana.com/news/886063/minister-blame-nurses-for-falling-standards-in-healthcare-de.html