The Finance Ministry of Ghana has granted the health ministry's request to employ over 8,000 nurses who completed from various public health training institutions in 2017.
A letter signed by Deputy Minister, Abena Osei-Asare, on behalf of Ken Ofori-Atta, states that 8,076 Nurse Assistant Clinical and Nurse Assistant Preventive staff have been cleared for posting.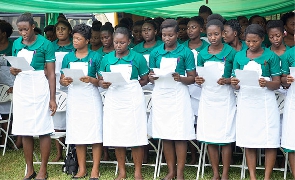 "The Ministry of Health is to ensure that the Nurse Assistant Clinical and Nurse Assistant Preventive staff have their document processed in time and placed on the mechanised payroll to enable the Controller and Accountant-General's Department effect payment of their salaries.
"The effective date of the appointed personnel should not be earlier than 1st November 2020," the letter stated.
The Ministry of Health in March requested financial clearance to permanently engage 2017-2018 graduate nurses to beef up the number of nurses in the country to help contain the coronavirus pandemic.
The Health Ministry's request comes on the bank of a directive from the President during one of his address to the nation on the coronavirus situation in Ghana.
President Nana Addo Dankwa Akufo-Addo directed the health ministry to mobilise new and retired health professionals to augment the number of frontline health workers to help deal with the impact of the disease in the country.
The letter granting the request to post the nurses, dated June 9, 2020, states that the financial clearance ends on December 1, 2020 "and cannot be used thereafter.
Ghana's coronavirus case count, as of Sunday, June 14, 2020, stands at 11, 964 with 54 deaths. 4, 258 patients have recovered so far.
Source:
www.ghanaweb.com