Open Knowledge International is delighted to announce the launch of the public preview beta version of OpenTrials at a panel session on
'Fostering Open Science in Global Health'
at the World Health Summit today, 10 October 2016, the world's foremost forum for strategic questions of Global Health. OpenTrials is an open, online database of information about the world's clinical trials funded by the Laura and John Arnold Foundation through the Center for Open Science. The project, which is designed to increase transparency and improve access to research, is directed by Dr. Ben Goldacre, an internationally known leader on clinical transparency, and is being built by Open Knowledge International.
OpenTrials works like a search engine, with advanced search options for filtering results by criteria such as drug and disease area. All data and documents for each trial included are "threaded" together and presented alongside each other. At the World Health Summit, the team will be demonstrating how the OpenTrials interface works, including how to explore trials and filter results by criteria such as drug and disease area. They will also demonstrate the power of linking clinical trial information together, showing how it can be used to highlight important discrepancies in the data.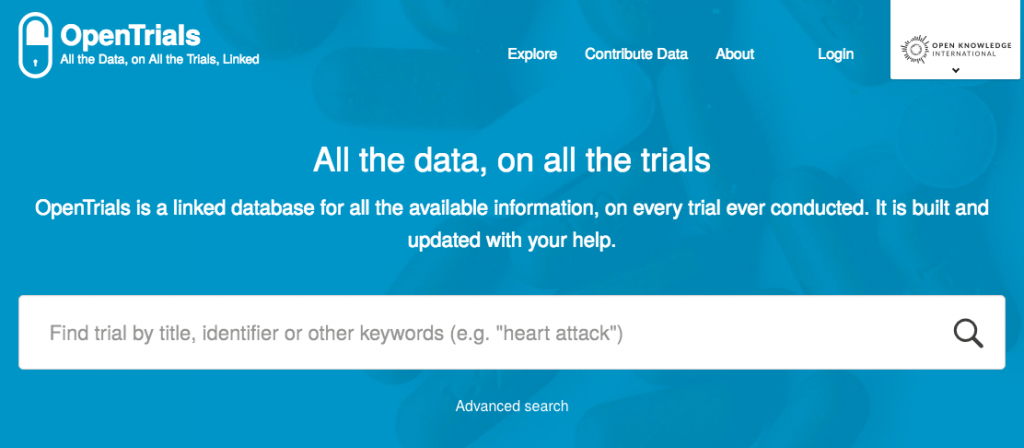 We want the information provided on OpenTrials to inform decision-making and lead to better medical services worldwide. We expect a range of potential uses for the platform:
*A public health researcher could find out more about the range of trials on a drug, searching by various criteria to match a specific population.
*A doctor interested in critical appraisal of research papers could see if sources of bias for specific trials have already been assessed by experts.
*A researcher could see if the same trial reports somewhat different methods or results in different places.
*A patient interested in participating in a trial for their condition could identify trials in their geographical area which are enrolling.
A crowdsourcing functionality allows users to contribute data and documents and to provide feedback on the accuracy of trial information.
OpenTrials currently extracts and displays data from ClinicalTrials.gov, EU CTR, HRA, WHO ICTRP, and PubMed, and risk of bias assessments from the Cochrane Schizophrenia group. After the beta launch, we plan to integrate systematic review data from Epistemonikos and other sources. There are seven additional sources of data that have been extracted, but can't currently be displayed because of licensing issues – we are working with these sources of data to get permission to publish. We'll keep updating the OpenTrials blog as they become available.
"There have been numerous positive statements about the need for greater transparency on information about clinical trials, over many years, but it has been almost impossible to track and audit exactly what is missing, or easily identify discrepancies in information about trials" explained Dr. Goldacre, the project's Chief Investigator and a Senior Clinical Research Fellow in the Centre for Evidence Based Medicine at the University of Oxford. "This project aims to draw together everything that is known around each clinical trial. The end product will provide valuable information for patients, doctors, researchers, and policymakers—not just on individual trials, but also on how whole sectors, researchers, companies, and funders are performing. It has the potential to show who is failing to share information appropriately, who is doing well, and how standards can be improved."
"OpenTrials is an important step towards ensuring researchers, journalists, and patient groups have access to the medical information they need," said Pavel Richter, CEO of Open Knowledge International. "Through the OpenTrials platform, researchers can advance science more quickly, doctors can easily find the latest evidence to improve services, and patients can locate information about pressing public health issues. OpenTrials is a great example of the work we are doing at Open Knowledge International to equip civil society organisations with the tools and information they need to address social problems and improve people's lives."
The first phase of the Open Trials project is scheduled for completion in March 2017. For project updates, please follow @opentrials on twitter or get in touch with us at
opentrials@okfn.org
. A Hack Day (a World Health Summit Satellite event) took place on 8 October in Berlin. For more details, see
http://opentrials.net/hackday
Further information on speakers and topics of the World Health Summit 2016:
www.worldhealthsummit.org/the-summit/program
www.worldhealthsummit.org/the-summit/speakers
The World Health Summit is open to media representatives:
www.worldhealthsummit.org/press-media/accreditation
OpenTrials website is
http://opentrials.net/
You can follow all updates on this post on our Facebook page, like our facebook page
https://www.facebook.com/nursesarenaforum/