News / OAUTHC Nursing Education Department 2018 Nurses Week Celebration by katty:

August 29, 2018, 05:00:22 PM
Obafemi Awolowo University Teaching Hospital Department of Nursing Education holds its 2018 Nurses week celebrations with the Theme: Health Care Reform: Nurses Impact.
Date: September 2nd - September 8th 2018
Below are the activities for the National Association of Student Nurses, Midwives and Perioperative Nurses of Nigeria, OAUTHC Chapter.
This explosive week planned by intellectuals of the association promises to be an outstanding and mind blowing week with lots of eventful, educative and fun activities embedded in.
*DAY 1 (2nd)*
Church opening service
Community awareness
Praise Night
*DAY 2 (3rd)*
Opening Ceremony/Leadership Conference: IMPACT 2018
Novelty Match (Football and Volleyball)
Voice of SON: The Golden Mic (AUDITION)
*DAY 3 (4th)*
Health Outreach
Ultimate Search: The Shield of Honour
Voice of SON: The Golden mic
Film show
*DAY 4 (5th)*
Nursepreneurship
Ultimate Search (Grand Finale)
Fresher's Night
Old School Day/ Bon fire
*DAY 5 (6th)*
Manifesto/screening for election
Cooking competition/
Ijewuru
Post Basic Day
Culture Explicit
*DAY 6 (7th)*
Election
Dinner/ Award Night/ Alumni Homecoming
*DAY 7 (8th)*
Excursion
For more info contact:
08061251527, 08064033067
Schools of Nursing / Nursing and Midwifery Council of Nigeria List of Saleable Documents/Booklets by katty:

August 29, 2018, 04:56:53 PM
Dear Sir/Madam,

NURSING AND MIDWIFERY COUNCIL OF NIGERIA SALEABLE DOCUMENTS/BOOKLETS

The Nursing and Midwifery Council of Nigeria has observed with dismay that nursing and midwifery training institutions now patronize and purchase Council's pirated documents for training of student Nurses and Midwives from pirates/vendors instead of procuring same from the Council or its Zonal Offices.

The Nursing and Midwifery Council of Nigeria wishes to disassociate itself from such pirated copies. Please take note that Council will not hesitate to report any defaulter to the Nigerian Copyright Commission for proper prosecution.

Please note that henceforth, the release of indexing and registration of students by the Council would be subject to presentation of a receipt of payment to the Council of the saleable documents and subsequent approval by the Secretary-General/Registrar.

The saleable documents are:
1. Rules and regulations Guiding
2. Record of Instruction and Patient Care in Nursing.
3. Record of Instruction for Basic Midwifery.
4. Record of Instruction for Post Basic Midwifery.
5. Expectant Family care Project.
6. Client Study on Home Delivery (Community Midwifery).
7. Clinical Protocol for Community Midwifery
8. Standard of Nursing and Midwifery Education and Practice in Nigeria.
9. Mental Health Nursing Curriculum.
10. Community Midwifery Curriculum.
11. Basic Midwifery Curriculum.
12. General Nursing Curriculum.
13. Curricula for Various Post Basic Nursing Programmes.
14. Nursing and Midwifery Research Journals.

The Nursing and Midwifery Council of Nigeria, Abuja, or its Zonal offices are the approved sources to obtain these documents.

Please bring the content of this Circular to all that it may concern.

Thank you for your co-operation towards promoting and maintaining Excellence in Nursing Education and Practice.

Alh. Faruk Umar Abubakar
Secretary-Generai/Registrar
Schools of Nursing / List of Approved Nursing Schools to Run Refresher Course for Eliminated Students by katty:

August 29, 2018, 04:54:21 PM
Following the resource verification done by the Council to the selected Schools to assess their level of preparedness to run the Refresher Course programme for eliminated students, the underlisted Schools of Nursing have now been granted approval to run the programme. They are:

• School of Nursing, Amachara, Abia State
• School of Nursing Abeokuta, Ogun State
• School of Nursing Bauchi, Bauchi State
• School of Nursing Ihiala, Anambra State
• School of Nursing Katsina, Katsina Stateh
• School of Nursing Lafia, Nasarawa State
• School of Nursing Maiduguri, Borno State
• School of Nursing Mkar, Benue State
• School of Nursing Port Harcourt,Rivers State
• School of Nursing Sokoto, Sokoto State
• School of Nursing Umuahia, Abia State
• School of Nursing, BirninKebbi, Kebbi State
• School of Nursing, Birnin Kudu, Jigawa State
• School of Nursing, Ilorin, Kwara State
• School of Nursing, Jalingo, Taraba State
• School of Nursing, MMH, Jos, Plateau State
• School of Nursing, Ogoja, Cross River State
• School of Nursing, SDA, Ile-Ife, Osun State
• School of Nursing, Yola, Adamawa State

The approved schools should please take note of the following:
• All students admitted must be indexed within three (3) months of admission.
• The curriculum for the programme can be purchased from the Council Head Office and Zonal Offices at the rate of N2,500.00 (Two thousand five hundred Naira). Each candidate should purchase a copy please.
• Ensure that you do not admit more than the number approved by the Council.

Thank you for your cooperation in promoting and maintaining excellence in Nursing Education and Practice.

A.G. Yusuf (Mrs.)
For: Secretary General/Registrar.
Upcoming Conference / NMCN Research Workshop for Nurses and Midwives in Nigeria by katty:

August 29, 2018, 04:51:18 PM
NEW DATE RE: RESEARCH WORKSHOP FOR NURSES AND MIDWIVES IN NIGERIA
The Board of Nursing and Midwifery Council of Nigeria at its 42nd General meeting held in Abuja 30th October to 2nd November, 2017 observed that Nurses and Midwives in Nigeria though have access on a daily basis to enormous health related data have not done enough in carrying out research studies and dissemination of research findings. The Board at the above meeting mandated that to improve research and research utilization in healthcare, research workshop should be organized for Nurses and Midwives in Nigeria. The theme of this workshop is 'Scientific Research: A Tool for Developing Nursing in Nigeria'. The main aim of this workshop is to sharpen the knowledge and skills of nurses and to sensitize them on the value of engaging in research studies for the promotion of excellence in the profession and healthcare delivery.
The above workshop which could not hold as earlier proposed has been rescheduled to be implemented in Abuja centre as follows:
1. Abuja
Venue: Hotel De Bendy Plot 892 Ngozi Okonjo Iweala, Utako District, Abuja
Date of Arrival: 8th October, 2018
Workshop: 9th - 11th October, 2018
Departure: 12th October, 2018
The registration fee for the above workshop is thirty-five thousand naira (N35,000.00) only.
In view of the above, the Council implores employers of Nurses and Midwives to please encourage and sponsor at least three (3) Nurses and Midwives to participate in the above workshop.
Those who wish to sponsor themselves should be given all the necessary support too.
All intending applicants are to log on to the Nursing and Midwifery Council of Nigeria website:
www.nmcn.gov.ng
to register for the workshop. Please note that remita payment details are required for the online registration. The registration site for each centre shall be closed when the expected numbers of participants have registered.
It is the hope of the Council that the above programme will strengthen the participation of Nurses and Midwives in research as well as promote evidence-based practice in healthcare delivery in Nigeria.
Thank you for your usual cooperation and support towards the promotion and maintenance of excellence in Nursing and Midwifery education and practice.
Signed:
Alh. Faruk Umar Abubakar
Secretary-General/Registrar
Post Basic Courses / School of Psychiatric Nursing FNPH Maiduguri 2019/2020 Admission Forms on Sale by katty:

August 29, 2018, 04:49:26 PM
Applications are invited from suitably qualified Nursing officers seeking admission into the Psychiatric Nursing Training Program for the 2019/2020 Academic session

ADMISSION REQUIREMENTS
1. Applicant must be a Registered Nurse with the Nursing and Midwifery Council of Nigeria.
2. A minimum of 2 Years Post qualification working experience.
3. Applicants must have a current Practicing license.
4. Five 0' level credits in science subjects to include English language and Mathematics at no more than two sittings.

DURATION OF COURSE: 18 Calendar months

METHOD OF APPLICATION
Application Forms are available at the School Of Psychiatric Nursing, Federal Neuropsychiatric Hospital Maiduguri on payment of non-refundable fee of N5,000.00k cash at the accounts Section of the hospital.

Completed Application forms and photocopies of all relevant credentials must be returned to the School Of Psychiatric Nursing, Maiduguri not later than March 31st, 2019.

CLOSING DATE:
Sales of Application forms commence immediately, and closes on 31st march, 2019. Interview is subject to notification by the school

FOR FURTHER INFORMATION CONTACT:
1. Coordinator, School Of Psychiatric Nursing, Federal Neuropsychiatric hospital Maiduguri (07034540309, 07081919202)
2. Asabe Abubakar Aliyu (Admissions Officer), School of Psychiatric Nursing, F.N.P.H. Maiduguri (08068125948)
3. Abdullahi Bukar, Dept. of Nursing Services, F.N.P.H Maiduguri. (08022029595)

Signed:
SAIOU ABUBAKAR
Programme Coordinator

ASABE ABUBAKAR
Admissions Office
Upcoming Conference / National Association of Nigeria Nurses and Midwives Delta State 2018 Nurses Week by katty:

August 29, 2018, 09:16:33 AM
Certificate comes with 3CEU and can be used for renewal of license with NMCN
The National Association of Nigeria Nurses & Midwives Delta State in collaboration with the Nursing and Midwifery Council Of Nigeria Present its: Maiden Nurses Week and Scientific Conference
THeme: Contemporary Issues In Nursing: A GLOBAL Perspective
KEYNOTE ADDRESS SPEAKER
PROF. I. 0. EHIEMERE
SUB THEMES:
The role of the nurse in healthcare delivery system in Nigeria - Where are we?
Nursing Management and industrial relations . An effective tool to Conference quality Nursing practice
Nursing Informatics
Global Diversity of Nursing Practice
Human resources development
Conflicts in health care delivery System in Nigeria.
Entrepreneurship in Nursing
Research in Nursing
DATE: Mon. 8th - Sat 13th October 2018
TIME: 9.00am daily
VENUE: labour house off NTA Road, Asaba Delta State
Account Name: NANNM DELTA STATE
Account No: 0026513278
Bank Name: Diamond Bank
Contacts:
08088183739, 080367602.0d 08035815.598, 0803256550d 07038535920, 08068587604
FEES: N15,000
The Conference attracts three Credits Units (3CU) of the Nursing and Midwifery Council of Nigeria.
News / Nursing Is Not Just A Profession; Its A Lifestyle By Gbemi Nurse With Difference by katty:

August 29, 2018, 09:08:08 AM
Nursing is a caring profession, it focus on the Whole patient (Total spirit, soul and body) thereby setting itself apart from other disciplines through the act of positive care approach.

Today, nursing profession transformation is a vision of Florence Nightingale who brought nursing into lime light during the Crimean war in the year 1854, Caring for the sick and injured. Caring is an integral component of nursing profession focus on evidence based practice.

THE LIFESTYLE OF A NURSE

EVERY GREAT NURSE should possess the following characteristics;

1. A Caring Nature: To care is to provide serious attention or consideration when implementing patients need. Care is one of the basic skills a NURSE should possess to enable him/her give adequate and complete medical treatment.

2. Detailed Oriented: Nursing must be able to give a detailed/comprehensive information or knowledge about the patient disease condition and also the complete physical and mental assessment of the patient.

3. Emotionally Stable: A NURSE is always smiling when giving care or administering treatment to the patient. smiles help to achieve organizational patient-satisfaction.

4. Extraordinary communication skills: A NURSE possess a good communicating skills that will enhance or facilitate a strong relationship between the client and the care giver.

5. Great Judgement; A NURSE must be able to give a good judgment about the patient condition using her critical thinking skills to improve the outcomes of patients.

The most important thing a NURSE needs is Compassion. He/she has to be able to empathize with the patients and be their advocator. Compassion and advocacy go hand-in-hand.

Nurses are the last line of defense for patients who often are not strong enough to advocate for themselves. It is up to her to make sure that they are safe and receive the most appropriate level of care.

It takes skills, a Sharp intellectuals, self-knowledge empathy and Compassion to be a NURSE.

With all these view, I have always come to a conclusion that NURSING is not just a PROFESSION But a lifestyle and let begin to show all these qualities.

_'To become great in life we need to have one mind, one dream, one vision and one NURSING. The future of nursing lies in education and the new future generation of Nurses will soon emerge.

I DEDICATE THIS ARTICLE TO AMBROSE ALLI UNIVERSITY NURSING DEPARTMENT AS THEY CELEBRATE THEIR NURSING HEALTH WEEK.

NAME: KAREEM OLUWAGBEMIGA _AKA GBEMI NURSE WITH DIFFERENCE._

SCHOOL: AMBROSE ALLI UNIVERSITY EKPOMA EDO STATE NIGERIA
News / 2018 Global Handwashing Day Briefing Call on Sept 6 by katty:

August 29, 2018, 09:00:52 AM
Hello,
I serve as the Advocacy Technical Officer with the Global Handwashing Partnership. Our largest campaign, Global Handwashing Day, is coming up October 15 and we have our first briefing call to discuss this year's theme and new resources on September 6th. I was hoping you could share the message below with your network. Thank you in advance!
Global Handwashing Day is coming October 15! This year's theme, "Clean Hands – a recipe for health," emphasizes the links between handwashing, and proper food hygiene and nutrition. Connecting handwashing to an existing habit – like a meal – is a great way to form proper hygiene habits. This Global Handwashing Day, we remind everyone to make handwashing a part of every meal.
Join us for the first Global Handwashing Day external briefing call on Thursday, September 6, at 10AM EST, 2PM GMT, 5PM EAT, or 7:30PM IST. This call aims to provide information on this year's theme and calls to action as well as share new, updated resources for Global Handwashing Day.
We look forward to having you join us. Please register here. [https://docs.google.com/forms/d/1nJSzLyYDvHVpbQq8STSsWB-pSC7-EycQArS_R4eQQS4/viewform?edit_requested=true] Dial-in instructions will be provided for all registered participants. Please direct enquires to
contact@globalhandwashing.org
Kind Regards,
Aarin Palomares
Aarin Palomares, MPH | Advocacy Technical Officer, GHP
1825 Connecticut Ave NW | Washington, DC 20009
O: 202.884.8245 | E:
apalomares@fhi360.org
News / Australia: Patient Lands in Court for Slashing Nurse's Arm and Wrist with Knife by katty:

August 29, 2018, 06:39:43 AM
A patient accused of slashing a nurse at Blacktown Hospital Western Australia has been arrested and charged over the attack.
The victim, a woman aged 35, had started work in a medical ward at 9.30pm and was looking after a 47-year-old man when he started becoming agitated about 30 minutes later.
Police say the man's erratic behaviour included walking into patient's rooms and taking photos with his mobile phone.
He then allegedly walked into an unlocked staff tearoom and grabbed two knives, with his nurse following him inside.
Unaware the man was armed, she tried helping him back into his room when he allegedly slashed her with the knives, cutting her wrists and forearms.
The nurse managed to escape the staff room and ring an alarm.
It was then that another elderly patient, aged 72, leaped into action by closing the door and locking the suspected attacker inside until security arrived 60 seconds later.
Blacktown police arrived at the hospital and disarmed the man before arresting him.
The 47-year-old patient has since been transferred to Westmead Hospital and charged with wound person with intent to cause grievous bodily harm.
Robynne Cooke, the executive director of operations for the Western Sydney Local Health District, today told reporters the nurse was treated in the hospital and is now at home with her family.
"We have given her as much support as we can today and we will continue to give her support," she said.
Ms Cooke also said the patient had been redirected back to his hospital room once before the incident and appeared confused afterwards, but was still being treated medically.
"He was wandering around the ward for a period of time. He'd only been admitted for 11 hours - so he was settling," she said.
"It is difficult sometimes to identify what triggers patients. We will always have incidents in hospitals.
"There's been significant investment... into security, security procedures, security equipment - so CCTV footage, ongoing training (and) additional security guards."
Meanwhile, Judith Kiejda from the NSW Nurses and Midwives' Association has raised concerns over the safety of nurses while at work.
"Quite frankly, every person expects just to go to work and come home safely. Unfortunately for our member last night, that didn't happen," she said.
"The bottom line is, you've got to feel safe and I would suggest to you that the nurses out at Blacktown today are just not feeling safe."
The nurses union has called for an extra 250 security guards in hospitals across the state with powers to detain patients who may turn violent.
An internal hospital investigation has been launched into the incident and staff members and security guards have all been offered support services following the incident.
The accused attacker is expected to appear at Blacktown Local Court tomorrow
Source:
https://www.9news.com.au/2018/08/28/06/38/blacktown-nurse-stabbing-hospital-attack-patient-slashes-staff
News / Brexit poses risk to care, says Royal College of Nursing by katty:

August 29, 2018, 06:31:55 AM
Brexit poses an "immediate risk to the provision of safe and effective care" for patients in the UK, according to the Royal College of Nursing.
The union has made the warning in a letter to leaders of the UK's main political parties on behalf of its 435,000 members.
It also wants the parties to back a second referendum on any Brexit deal.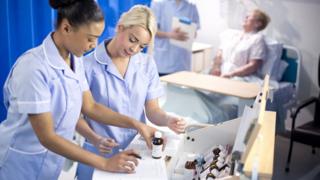 A government spokeswoman said plans are in place to ensure patients receive the same standards of care after Brexit.
The UK will leave the European Union on 29 March 2019.
In the letter, Maria Trewern, chair of council at the RCN, wrote: "As the debate across our membership has made clear, the implications of Brexit for the health and care system will be numerous.
"There are risks that, if not credibly addressed, may damage population health, as well as severely impact on our members' ability to provide safe and effective care for their patients in both the short and the long term."
The letter warned that Brexit could exacerbate ongoing problems in the NHS, such as workforce sustainability.
'Informed choice'
The union also said that it could have particular implications for nursing staff providing care in areas that interface between Northern Ireland and the Republic of Ireland, along with threats to fair employment practices, workers' rights and cross-border exchange of knowledge, research and skills.
The letter said the union is backing a second referendum on any final deal for Brexit to "give citizens the opportunity to make an informed choice and vote on decisions that will affect generations now and in the future".
A Department of Health and Social Care spokeswoman said staff from the EU were a "vital part of our NHS and social care workforce" and will have "an important role to play in the future of health and social care in this country".
She added: "We are preparing for all situations, including a no-deal Brexit, and we have worked closely with partners to draw up contingency plans that will ensure patients continue to receive care in exactly the same way they do now."
Source: BBC News