News / Dr Joyce J. Fitzpatrick selected as recipient of the 2019 International Achievem by katty:

January 20, 2019, 12:58:34 PM
Dr Joyce J. Fitzpatrick selected as recipient of the 2019 International Achievement Award
The Board of Directors of the Florence Nightingale International Foundation (FNIF) has selected Dr Joyce J. Fitzpatrick as the recipient of the 2019 International Achievement Award – it has been announced today in Geneva.
The International Achievement Award is offered biennially by the International Council of Nurses (ICN) and the Florence Nightingale International Foundation (FNIF) to a practising nurse with at least 10 years of nursing experiences in one of the following domains of nursing: direct care, education, management or research and who have achieved significant impact internationally.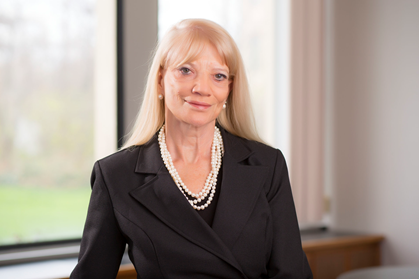 Of the many nominations submitted by National Nursing Associations from all over the world, it was unanimously agreed to acknowledge the international contribution of Dr Joyce J. Fitzpatrick in advancing nursing education through research, innovative conceptual models, and theory development.
"I am greatly honoured by the decision of the Florence Nightingale International Foundation's Board of Directors" said Dr Fitzpatrick. "I am indebted to my nurse colleagues throughout the world who have taught me about the human experience and the important work that nurses do to make the world better for those in our care."
Joyce J. Fitzpatrick is the Inaugural Director of the Marian K. Shaughnessy Nurse Leadership Academy and the Elizabeth Brooks Ford Professor of Nursing at the Frances Payne Bolton School of Nursing, Case Western Reserve University in Cleveland, Ohio. She holds a BSN in nursing from Georgetown University, a master's degree in psychiatric mental health nursing from The Ohio State University, a PhD in nursing from New York University and an MBA from Case Western Reserve University. She currently serves as vice chair of the American Nurses Foundation, having previously served for four years as Chair. She has provided consultation to several schools of nursing and health care organizations globally. Dr Fitzpatrick is widely published in nursing and health care literature with over 300 publications, including 80 books. She has recently published two books: Nursing Leadership: from the Outside In, perspectives on nursing leadership from health care leaders from related disciplines and Advancing Professional Nursing Practice: Relationship-Based Care and the American Nurses Association Standards of Professional Nursing Practice.
The conferment of this International Achievement Award will take place at the FNIF Luncheon which will be held on 30 June 2019 during the ICN Congress 2019 in Singapore. Tickets for this event, and registration to the ICN Congress, can be purchased here
https://regonline.react-profile.org/profile/ICN2019/ICN/en/login
News / Lauren Underwood 32-year-old nurse becomes Youngest Black Woman in USA Congress by katty:

January 19, 2019, 10:15:42 PM
When the 116th Congress was sworn into office on Thursday, the class made history as the most diverse group ever with a record 127 women.
Among those women was 32-year-old Democrat Lauren Underwood, who etched her name in the history book as the youngest black woman to be elected to Congress.
Underwood, who graduated from the University of Michigan and Johns Hopkins University, is a registered nurse who now represents Illinois' 14th Congressional District. Her transition into politics began in 2010, when she joined the U.S. Department of Health and Human Services.
According to her website, she played a crucial role in implementing the Affordable Care Act. In 2014, she was appointed by the Obama administration to help with public health emergencies and disasters across the nation, including the water crisis in Flint, Michigan.
Born in Ohio but raised in Chicago-suburb Naperville, Illinois, Underwood says her inspiration to work in healthcare came from the doctors and nurses who helped her fight a heart condition she was diagnosed with at age 8. As someone with a pre-existing health condition, she says she knows first-hand how important it is to enact laws and policies that preserve and expand healthcare for Illinois families.
"I have a two-year opportunity to make a real difference and represent the people of the 14th, and they have placed their faith in me," The Chicago Tribune reports Underwood saying at a recent Congressional Black Caucus event. "They've given us a chance. I have to prove myself, and we will, beginning on day one, where I'm leading an effort to reform this government."
In addition to Underwood, several other Congressional newcomers are making history, including Ilhan Omar and Rashida Tlaib, the first Muslim women in Congress; Sharice Davids and Deb Haaland, the first Native American women in Congress; Alexandria Ocasio-Cortez, the youngest woman in Congress; and Jahana Hayes, Connecticut's first black woman in Congress.
When asked by a reporter if she was excited to make history, Underwood said she was excited to be part of "a moment in history." She explained at a CBC event that this new class of Congress "is what [she] always hoped the United States Congress could always look like."
"Diversity of thought, geographic diversity, age, race, gender, life experience are all great things that we each bring to this Congress of the United States," The Chicago Tribune reports her saying. "I'm really proud to be part of a caucus where I'm not 'the only.'"
Source :
https://www.cnbc.com/2019/01/04/lauren-underwood-is-the-youngest-black-woman-in-congress.html?
News / Kwara Health Workers to Begin Indefinite Strike by katty:

January 18, 2019, 06:38:28 PM
The Joint Council of Medical and Health Workers Union of Nigeria (MHWUN) and the National Association of Nigeria Nurses and Midwives (NANNM), Kwara State council will on Monday begin an indefinite strike across all the 16 local government areas in the state.

This was contained in a statement jointly signed by the NANNM Chairmen, Joshua Adekanye and Muritala Olayinka Saheed, in Ilorin.

According to the statement, "All the state health facilities/hospitals, including the ministry of environment and agriculture, should also join the strike as from Monday 21st January 2019 to press home the implementation of approved 10 per cent consolidated health salary structure for the workers at the councils.

"This is as a result of the state government's implementation of the approved 10 per cent CONHESS for state health workers since July 2018 and refusal to implement same for health workers at the local government level in the state."

The statement urged to health programmes members in family planning, immunisation, and HIV/AIDS to suspend their work during the industrial action.
Source : The Nation Newspaper
Post Basic Courses / Neuropsychiatric Hospital Aro, Abeokuta Post Basic Admission Form on Sale by katty:

January 18, 2019, 03:13:08 PM
This is to inform the general public that admission forms are now available for sale to eligible and qualified Registered Nurses for admission into the POST-BASIC SCHOOL OF PSYCHIATRIC Nursing, NEUROPSYCHIATRIC HOSPITAL, ARO. ABEOKUTA, OGUN STATE.
REQUIREMENTS:
i) Five (5) Credits in WASC/SSSC/GCE OR NECO to include: English Language, Mathematics, Biology, Chemistry and Physics at not more than two sittings.
ii) Registered Nurse Certificate (RN) of Nursing and Midwifery Council of Nigeria (N&MCN).
iii) Minimum of one year Post Qualification/Registration with the Nursing and Midwifery Council of Nigeria.
iv) At least one year Post Qualification working experience.
v) Individuals with BNSC degree can apply for specialty in this field with evidence of NYSC Discharge or Exemption Certificate.
METHOD OF APPUCATION:
1.The application process and mode of Payment is online, applicants are to pay a non-refundable fee of N7,500.00 (Seven Thousand, Five Hundred Naira) only through:
www.remita.net
follow the prompts that appear on the screen.
2. For Online registration login to.
www.neuroaro.gov.ng
Only registered Nurses are eligible.
ONLINE SALE OF FORMS/REGISTRATION begins on 21' January, 2019 and Closes on 1" March, 2019.
FOR FURTHER ENQUIRIES: Please contact: The ADNE/Principal, School of Psychiatric Nursing, Neuropsychiatric Hospital, Aro, Abeokuta, Ogun State.
Tel. No.: 08033473188
ANNOUNCER ADNE/Principal
For: Provost & Medical Director
News / 17-year-old Chinese Boy Who Sold His Kidney To Buy iPhone Now Bedridden for Life by katty:

January 17, 2019, 04:42:12 PM
IA Chinese man is now bedridden for life after he sold his kidney as a teenager to the black market to buy the latest Apple products.
Wang Shangkun was 17 years old when he made the fateful decision. Shortly after the illegal surgery he began suffering from a decreased level of kidney function.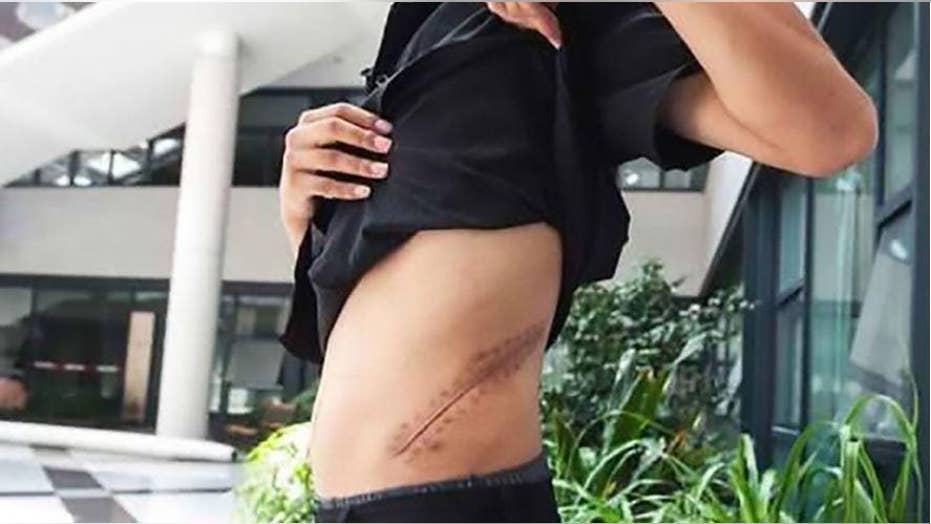 Eight years on, the 25-year-old is now bedridden for life after his remaining organ failed.
Mr. Shangkun had sold his kidney to black market organ harvesters in April 2011 where he received AUD$4500 — purchasing a iPhone 4 and iPad 2 with the funds.
"Why do I need a second kidney? One is enough," he said in reports at the time.
Mr. Wang now spends his days in bed and relies on dialysis to survive his kidney failure, local Chinese media recently revealed.
The illegal surgery had caused him to develop renal deficiency which is believed to have led to an infection due to the unsanitary setting of where it took place and the apparent lack of post-operative care, Mirror UK reported.
The operation occurred in the central province of Hunan without his parents' consent. It was reportedly undertaken by two doctors who were also employed at local hospitals.
At the time Chinese newspaper Xinhua reported that Wang first made contact with the alleged harvesters through internet chat rooms.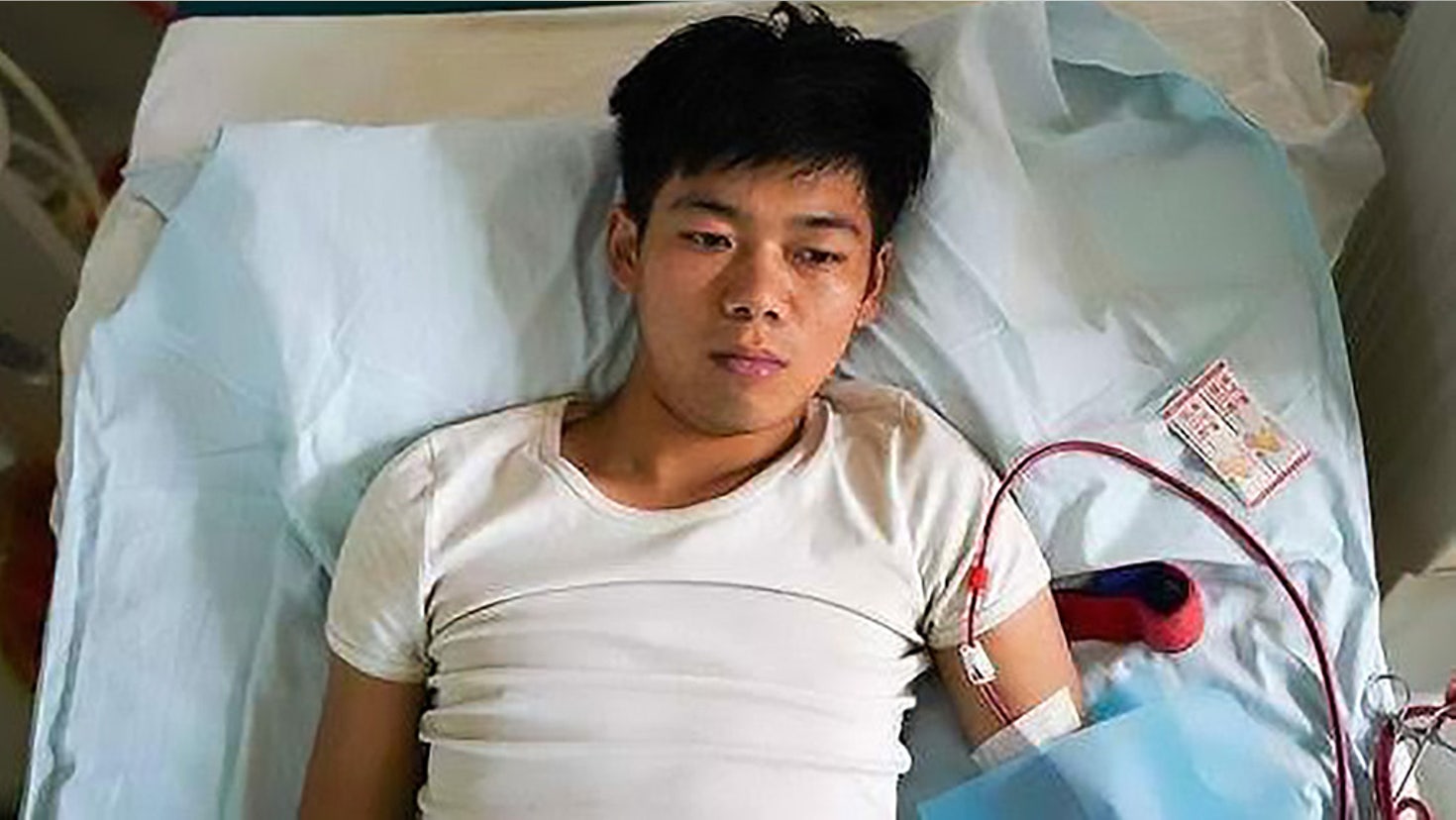 He Wei, reportedly the leader of the gang, then made arrangements to hire a surgeon who worked at a nearby military hospital.
Speaking to CNTV.cncn, Wang said: "At the time, I wanted to buy an iPad2, but I didn't have any money."
"When I was on the internet, I had a kidney agent send a message, saying that selling a kidney can give me 20,000."
Wang received the equivalent of about $A3,500 for his kidney at the time. The rest of the money was divided up among the gang.
Nine people were arrested in connection with the case and five, including the surgeons who harvested his kidney, were jailed in 2012.
His family was eventually awarded about $300,000 in compensation later the same year, The Mirror reported.
Mr. Wang allegedly sought the new iPhone in order to show off to his friends.
His family lived in one of China's poorest provinces and could not afford it, so he turned to other means to raise the money.
This story originally appeared in news.com.au.
News / Trouble Looms in Health Sector As JOHESU Threatens to Resume Suspended Strike by katty:

January 17, 2019, 01:54:39 PM
The Joint Health Sector Unions (JOHESU), on Wednesday, threatened to resume the industrial action it suspended last May, if the issues in dispute are not resolved in two weeks from today.

According to Vanguard Newspaper, JOHESU, through its chairman, Biobelemoye Josiah, issued the strike notice in a letter addressed to the minister of labour and employment, Chris Nigige.

"In view of the apparent indifference of government to permanently resolve these lingering issues, some of which have persisted for over five years now, the Joint Health Sector Unions by this letter notifies the Federal Government of her resolve to resume the suspended industrial action by Thursday, 31st January, 2019. Having waited for this long it is surprising that the following matters have not been resolved," Mr Josiah noted.

He said issues at stake are upward adjustment of the Consolidated Health Salary Structure (CONHESS); unjustified withholding of the salaries of JOHESU members for the months of April and May, 2018 and headship of hospital departments. Others are non-promotion of members on CONHESS 14 – 15 as Directors in some Federal Health Institutions, and implementation of Consultancy Cadre to JOHESU members.

The chairman did not respond when called by PREMIUM TIMES on Thursday morning for clarification but the national vice chairman of JOHESU, Ogbonna Chimela, confirmed the planned strike.

"Yes, we will embark on strike two weeks from now. All our agreements with the government are yet to be met," Mr Chimela told PREMIUM TIMES on phone.

JOHESU is a body of all health workers, except doctors. Since 2014, they have been asking government to increase their pay and improve their members working conditions, among other demands. This has resulted to pockets of strike actions, over the period.

Last year, Nigeria's health sector suffered one of its biggest blow when JOHESU members downed tools over similar demands, in April 17.

The strike which lasted six weeks, caused many deaths and left millions without care. Patients passed through untold pain and their relatives grumbled as both federal, state and local government health institutions were brought to their knees.

The situation was worse for pregnant women and nursing mothers in dire need of either ante or post natal-care. This is because the essential staff needed, nurses and midwives — some of the most influential members of JOHESU — all downed tools.

The strike was however suspended in May 31. The union said it took the decision to halt the strike because of the sympathy it had for the suffering Nigerian masses and also to pave way for further negotiations to continue.

Samuel Olowookere, the director of press in the ministry of labour and employment, did not respond to calls or return text messages seeking confirmation on the strike notice as at press time.

Source : Premium Times
News / Hong Kong Nurses Plan Protest Over Shortage of Nurses in Government Hospitals by katty:

January 17, 2019, 01:40:27 PM
-They are made to work extra shifts and skip meals to care for influx of flu patients as Bed occupancy rate across Hong Kong's public hospitals reached average of 111 per cent on Wednesday
Nurses in Hong Kong's overcrowded public hospitals are planning to protest on Sunday, saying they are stretched to breaking point by the peak flu season.
Chairman of Hong Kong's biggest nurses union, the Association of Hong Kong Nursing Staff, Joseph Lee Kok-long said nurses had to work extra shifts and skip meals to care for the influx of flu patients.
The city has a chronic shortage of nurses and hospital staff are stretched to the limit, Lee said on a radio programme on Thursday morning, adding the group will stage a protest at the government headquarters in Admiralty on Sunday.
"I feel like a stuck record because every year you hear me talking about staff shortages, especially during the flu seasons, but we have really reached a breaking point and we do not see the government doing anything to tackle the situation," he said.
Lee said it was disappointing the administration had not fully utilised the HK$500 million (US$64 million) extra government funding from last year to cope with the flu outbreak.
"Nurses are not seeing any results from the government funding, they're still overloaded with administrative work while taking care of the influx of patients. Each member of staff is helping more than 10 patients," Lee said.
The association also blamed the Hospital Authority for adding extra beds when there was not enough manpower. The outcry comes as the city grapples with the deadly winter flu season.
Some 44 people have died since Hong Kong entered the peak flu season, of which 36 were older than 65. A total of 107 serious flu cases have been identified.
According to the Hospital Authority, bed occupancy rate at all medical wards of public hospitals reached 111 per cent on Wednesday, meaning temporary beds had to be laid along corridors or in between fixed ones. Tuen Mun Hospital had the highest rate of 122 per cent, followed by Queen Elizabeth Hospital at 119 per cent.
Meanwhile, public emergency rooms saw 6,088 patients yesterday.
Hospital Authority Nursing Chief Manager Lawrence Poon Yan-wing said on the same programme the was not ideal.
He said the authority had been recruiting part-time staff while offering more incentives for those who were working extra hours.
"It's not as easy as it seems and we really are trying our best to increase the nurse-to-patient ratio. I have been visiting hospitals and I understand the situation. I see the overcrowding and overwhelming amount of work," Poon said.
He added the authority would hire more ward clerks in the coming year to help alleviate the nurses' workload.
Source : South China Morning Post
News / Ghana: Gov't gives financial clearance for employment of 6,150 Nurses, Doctors by katty:

January 17, 2019, 10:00:16 AM
Ministry of Finance has granted Financial Clearance for a total of 6,150 health professionals to employ into the Ministry of Finance, a correspondence sighted by MyNewsGh.com has confirmed.

A letter from the Director General of the Ghana Health Service (SHS), Dr Anthony Nsiah-Asare to Regional Directors gave the breakdown as 138 Medical Officers, 12 Dental Surgeons, 3600 Enrolled Nurses and 2400 Community Health Nurses.

The number according to the letter will be spread across the ten regions in the country with the Ashanti region receiving the highest of a percentage of 12.9%.

"To ensure the regions stay within the above ceilings, the Human Resource Directorate has introduced an online application system based on the approved ceilings. Applicants upon completion of the online application will print and submit their forms to the selected region, pay the application fee which is Thirty Ghana Cedis (GH¢30,000), be issued a GCR and be interviewed that will be fixed by the respective regions within the approved timelines", the letter added.

Source: mynewsgh.com
News / I Am Not A Doctor, I Am A Nurse By Otieno Jasiaya by katty:

January 16, 2019, 09:23:18 PM
- when you provide life saving actions and the patients relatives say "thank you DOCTOR", tell them "I AM A NURSE"

- when you provide aid to an accident victim on the roadside and the people around appreciate your effort and say "God bless you Doctor", politely tell them "I am not a doctor;I AM A NURSE"

- When a police officer at the checkpoint pull you over in your expensive ride and refer to you as a doctor because of the big JEEP and stethoscope hanging on the center mirror, tell him "OFFICER, I AM A NURSE"let him know that we do drive expensive rides.

- When you attempt and successfully resuscitate a cardiac arrest patient in the market square and every one applauds you and discuss how doctors are life savers, do not walk away without clearing the notion that we nurses are life savers, tell them please, I am a NURSE
- When as an occupational health nurse, you go for hospital or/and accommodation inspection; don't leave the vicinity without letting them know that you are representing your organization and that you are doing such in your capacity as a NURSE

- When you are introduced at a public function as "Doctor ..." probably because you have a PhD, and the audience give you a standing ovation at the end of your presentation, please take time to let them know that you are a NURSE.

-When you ensure that there is no Mother To Child HIV Transmissions despite the mother being HIV positive, The will always refer you as the doctor, be proud and tell them you're A Nurse.

Someone needs to start setting the record straight.
All am saying is this, whether you are RN, RM, BNSc or PhD, It high time we began to make our presence felt in every little way possible, one step at a time. This is one way of redeeming our image, one way we can accord ourselves the respect we derserve .

Go out today and be a proud nurse. Let the public know who we really are and that all that we do which is a sharp contrast to what they see in the movies and read in the media.

I am NOT a Doctor; I am proudly a Nurse!
Photo: Otieno During Placement in Meru Teaching and Referral Hospital 2015

Share if you are not ashame of your profession.
News / Nigerian Doctor, Udodiri Okpara Struck off for Groping a Nurse's Bottom in UK by katty:

January 16, 2019, 09:03:42 PM
A married A&E doctor who stuffed his hand down a nurse's trousers and repeatedly groped her after becoming 'obsessed' with her bottom has been struck off.
Udodiri Okpara preyed on the woman during campaign of pestering at the University Hospital of Wales in Cardiff.
The 48-year-old stood with his groin against the young nurse's rear while she took blood from a patient.
The father of two followed her into a store room, held her from behind and put his hand down her trousers.
And when she begged him stop, Okpara pleaded: 'Please, just a little longer- it's okay - you just have this effect on me.'
But he tried to convince the Medical Practitioners Tribunal Service that it was she who had pursued him. The panel struck him off for sexually motivated misconduct.
During one incident, Okpara led the nurse - known as Ms A - into a room on the premise of discussing a patient's care before closing the door and telling her: 'If you give me a hug I'll let you out.'
He also invited her out 'to drink champagne,' offered to buy her underwear, and repeatedly found occasions to brush against her bottom and made lewd remarks about it.
When asked to step back on one occasion, he said: 'Why? I'm just standing here. When you like someone it's hard not to be this close.'
Okpara, who worked three locum stints at the hospital, preyed on the nurse between May 2014 and August 2016.
Ms A told the Manchester hearing on January 8: 'He started touching my bottom - if we were stood on hand over around a place where I could not move, he would sometimes rest his hand there for around 30 seconds to a minute.
'If we were walking down a corridor it might be for 20 to 30 seconds.
'It was for a long enough period of time where it would not have been an accident and it happened so often that I cannot recall the first time it occurred.
'I tended not to say anything, I would give him a look or I would move away because I was feeling uncomfortable - but it would always be in a situation where it would be awkward for me to make a scene or say something.'
Okpara, who had a clean 22-year record in the profession, claimed the nurse had flirted with him, repeatedly initiated physical contact and tried to persuade him to buy her a £3,000 designer handbag.
But colleagues described the nurse as 'prudish,' 'timid,' and 'quite religious.' Giving evidence, one senior nurse said: 'It was like Dr Okpara had picked Ms A out as he knew she wouldn't say anything.
'Ms A is a very good person and will always see the good in people. She is quiet and a genuinely lovely girl.'
Panel chair Kim Neale said striking Okpara from the medical register was needed to 'send a message to the medical profession that this behaviour is unacceptable'. Okpara, of Thamesmead, south London, has 28 days to appeal the decision.
Credit: Daily Mail