News / Jobless Foreign Nurses 'stuck' in Namibia over Certificate of Good Standing by katty:

May 14, 2018, 01:34:51 PM
THE non-existence of a nursing council in Namibia is making it impossible for more than 32 jobless foreign nurses to apply for jobs overseas because they cannot get certificates of good standing from the government.
The 32 foreign nurses of different nationalities have applied for certificates of good standing after 31 March when their contracts with the ministry of health were not renewed.

The ministry last year announced that it would not need the services of foreign nurses any longer or renew their contracts, particularly those who have reached the retirement age of 60, in order to provide opportunities for Namibian graduate nurses.

Since then, many foreign nurses have been scrambling to apply for jobs overseas, but are unable to leave the country because the Health Professions Council of Namibia (HPCNA) is delaying issuing them with good standing certificates required to apply for jobs elsewhere.

"I'm begging the Namibian government to issue us with our certificates so that we can leave this country and get jobs esewhere. As it is now, we are stuck here in Namibia without work," said a foreign nurse, who declined to be named.

A good standing certificate is required by a prospective employer when applying for employment elsewhere. Registrar and chief executive officer at the HPCNA, Cornelius Weyulu on Friday said what is normally issued by the Nursing Council of Namibia to nurses, on application and as per the stipulations of the Nursing Act of 2004, is the certificate of good standing in which the professional credentials of an applicant are indicated.

He explained that the term of office of the previous members of the nursing council came to an end on 31 March 2018, and no new nursing council has been constituted to date. The nursing council under the HPCNA is mandated to issue certificates of good standing to nurses in the country.

"We are, however, aware that the Minister of Health and Social Services is seized with the matter, and hopefully a new nursing council will be constituted soon," he said.

He said this would mean all nurses, whether foreign or Namibian, who applied for the certificate of good standing from the Nursing Council of Namibia after 31 March 2018, were not given such certificates simply because there is no nursing council in place to issue them as required by the Nursing Act.

He further explained that the reason for not issuing certificates of good standing to the applicants concerned has nothing to do with the fact that they are foreigners. "Even Namibians are not issued with such certificates for now," he said.

Meanwhile, foreign nurses whose contracts have not been renewed say they face a bleak future because they cannot apply for jobs anywhere.

"The only thing standing between me and leaving this country is the certificate of good standing," said a Zambian nurse, who is based at a hospital at Oshakati, and who also declined to be named.

She said she came to Namibia in 2012 with her family when the country was in desperate need of nurses, and has been working at that hospital since then.

Her contract with government ended recently, and has also not been renewed.

"I applied for a nursing job at a company in the United Kingdom, but they cannot employ me without the verification letter (certificate)," said the nurse, who burst into tears as she spoke of how she is desperate to leave Namibia and start afresh in another country.

"I respect the fact that the Namibian government wants to employ its own people. All I am asking for is that they give me my papers to enable me to get employment in another country," she stressed.

Another nurse, who is also based in the north, said she applied for her certificate to go and work overseas two months ago, and has been making follow-ups with the responsible person at the HPCNA.
"Each time, she would say my papers are not done yet. I then called again, only to be told that the HPCNA is not processing verification letters at the moment," she continued.

"I think this is very cruel and heartless, considering the fact that I am not employed anymore. I have children and parents that l have to take care of. Please, let us consider the fact that our contracts were not renewed. This is inhuman because I have to earn a living, and the HPCNA and the ministry are sitting on my papers," charged the nurse.

The ministry of health's acting permanent secretary, Petronella Masabane, declined to comment, and referred all questions to the HPCNA.

Source : The Namibian

News / NANNM Calls on Stakeholders to Curb Quackery in Nursing by katty:

May 14, 2018, 01:26:12 PM
The National Association of Nigerian Nurses and Midwives (NANNM) has called for concerted efforts by stakeholders to curb the menace of quackery in the profession.

The president of the association, Mr Abdulrafiu Adeniji, made the call at a news conference to mark the end of the commemoration of the International Nurses Week and the International Day of Midwives on Sunday in Abuja.



The International Nurses Week is an annual event commemorated from May 6 to May 12 and this year's event has "Nurses: A Leading Voice: Health is A Human Right" as its theme.

The International Day of Midwives is commemorated on May 5 and has as its 2018 theme "Midwives: Leading with Quality Care".


Adeniji identified quackery, mismanagement, insecurity, poor remuneration, inattention to the plight of nurses and other health workers as major challenges bedevilling the profession, thereby hindering the goal of providing quality care for citizens.

He said even though there were challenges, the menace of quackery could create huge danger to the healthcare system which was deadlier than effects of viral haemorrhagic fever combined.

He, therefore, noted that "the fight against quackery should not be left for professionals alone".

"Stakeholders and indeed the entire society must join hands with practitioners to tackle the menace.

"All hands must be on deck to deal with the problem, just the way we fought the scourge of Ebola disease and Lassa fever.
Source : This Day Newspaper
News / Zimbabwe: Dismissals will not affect nurses' benefits, says Parirenyatwa by katty:

May 14, 2018, 10:26:05 AM
GOVERNMENT says the recent sacking and readmission of striking nurses has not affected their benefits and other conditions of service amid reports of rampant victimisation of junior members of the clinical staff by their bosses.

Some 6,000 nursing staff were summarily sacked for ignoring government pleas to return to work following their recent strike over poor wages and conditions of service.

Government immediately ordered their replacement while those who were still interested were asked to reapply but this was abruptly stopped when nurses quickly resumed work to save their jobs.

However, most formal job dismissals often affect one's benefits, an action which Health and Child Care Minister David Parirenyatwa said will not be targeted at nurses.

He was speaking while responding to questions by Senators on Thursday.

"I would want to clarify that when nurses were dismissed, those who were dismissed were then also requested if they want to come back to work and we immediately asked them to resume duty.

"What that meant was that their conditions of service had not been disturbed. In other words, there was that continuum because they resumed duty. We did not penalise them so to speak. What just happened is, we said sign your form to resume duty and they resumed duty," he said.

It has emerged that the dismissals have opened an avenue among vindictive hospital bosses to settle scores with their junior staff with reports that names of some of those who did not join the strike were included in the list of nurses whose employment was terminated.

Parirenyatwa confirmed the reports, adding that officials from his ministry have since been assigned to investigate the misdemeanors.

"We are aware that there are a lot of accusations and counter accusations," Parirenyatwa said.

"That is why my teams are on the ground to find out from the Provincial Medical Directors, the Provincial Nursing Officers and the Senior Tutors in hospitals what really happened and this investigation is taking place.

"We know there are accusations and counter accusations. Some are actually saying 'you came to work and they are saying we did not come'. There are all these counter accusations and we need to put that into perspective. In the meantime, service delivery is continuing and we are pleased with that."
Source : New Zimbabwe
News / Fiji Nurses Concerned About Move To Private Hospitals by katty:

May 14, 2018, 08:24:15 AM
The Fiji Nurses Association says it is concerned about the government's plans towards a private partnership between public hospitals and an international development agency.

General Secretary, Salanieta Matiavi, said Fijian nurses were alerted to the move by unions from Australia and New Zealand at a recent nursing symposium.

Ms Matiavi said the union was particularly concerned about the employment conditions for nurses working at Lautoka and Ba hospitals where the government was looking to make the changes.

She said the nurses want to let the government know they were not ready or happy about the move and planed to fight it.

"We were happy, we were grateful that we had some information and evidence that we learned from," Ms Matiavi said.

"But then every nurse in Fiji was with fear of the unknown ahead of us.

"But otherwise this is good because we have to take our stand from here," she said.

Ms Matiavi said the union was seeking assurances from Fiji's government that any international private healthcare provider would offer nurses at least the equivalent pay and conditions of public service nurses.
Source: RNZ
News / Nigerian Nurses Launch Africa's 1st TV Project by katty:

May 13, 2018, 02:49:48 PM
Good times are here for the nursing profession in Nigeria as it launches a TV project with an aim to rebrand the profession and interact with the general public.

The News Agency of Nigeria (NAN) reports that the official launch of the TV project took place during the 2018 Nightingale Merit Award on Saturday night at the Great Hall, Sholuyi, Gbagada, Lagos.

The TV project tagged" Nurses on Air" according to the Team Lead, Josiah Jackson-Okesola said that the platform would be an avenue to inform the general public about the activities in the nursing profession.
"Today, we are unveiling the first of its kind in Africa, a comprehensive TV project, a platform where nurses can connect with the public.

"This Africa's No 1 Nurses-Media platform is focused on developing power of media to achieving extraordinary transformation for African's nursing service delivery systems.

Moses Olasode , who is a retired nurse, lauded the nurses for the innovation and pledged his support to the project.

"This is a project I am happy about; nursing is a noble profession and plays important part in the health of the people.

"I am always happy to be associated with nursing profession, it is my passion and I will always support whenever I am called upon, " he said.

The Commissioner, Lagos State Health Service Commission, Mrs Kemi Ogunyemi also commended the initiative and called for improved research inputs into the nursing profession.

"The nursing profession is about passion and I am passionate about it; initiative like this is quite commendable and I will like to be part of it.

"The nursing profession abroad is not better than what we have in Nigeria, I am saying this because I have seen both ends.

"The edge those abroad have is that they have opportunities to go for regular trainings to update and develop themselve; this is so important, " he said.

Mrs Stella Okpara, a nurse, said that the main objective of the Nurses on Air rebranding project is to maximise the unity of the nursing profession, mobilise her numerical advantage to create change in the public perception of nurses.

Parts of the activities of the day included presentation of awards to deserving nurses and the retirees.
Source : Daily Trust
News / Stop Patronising Traditional Healers For Eye Treatment – Nurse by katty:

May 13, 2018, 02:43:45 PM
Mr Yunusa Zarumai, the Chief Nursing Officer at the Eye Centre, General Hospital Minna, Niger, has warned Nigerians of inherent dangers in patronising traditional healers for eye treatment.

Zarumai, an Ophthalmic Nursel, gave the warning in an interview in Minna on Friday.

According to him, unorthodox eye treatment is detrimental not only to the eye but to general health of an individual.

He said that orthodox treatment was the right treatment for the eye rather than resorting to crude traditional treatment that would endanger the eye.

"We are advocating that eye patients attend our hospital, where we have modern equipment that would be used for proper examination.

"That will give them the opportunity for the eye to be well examined and the right diagnosis made to proffer lasting solution to the eye condition," he said.

Similarly, Zarumai cautioned those in the habit of taking tobacco snuff to treat their eye problem to desist from the act.

"This is not good enough for the general well being of the eye, especially the nervous system.

"Tobacco is harmful because it contains harmful and addictive chemicals that can raise the risk of many health challenges," he said.

Zarumai said that using snuff could also raise risks of other conditions, such as high blood pressure, which can cause hypertensive retinopathy.

He therefore advised Nigerians, especially the aged, to shun snuffing as it does more harm to the body system than the perceived good they believe it does.
Source : PM News
News / Nurses on the frontlines: Testimonies from the field from ALIMA by katty:

May 13, 2018, 10:38:22 AM
Nurses around the world play a key role, each and every day, in delivering high-quality, life-saving medical care to patients. This is particularly true in conflict and crisis zones, where there is often a lack of access to health services and not enough doctors to cover the needs. As the world celebrates the hardwork and dedication of all nurses on this International Nurses Day, we asked some of our health workers to share their most memorable stories from the field.

Dr. Karim Assani, who currently works with ALIMA as a pediatrician in Boda, in the Central African Republic, recounts this story, about a nurse intern he worked with during his time as a pediatrician in N'Zérékoré, Guinea in 2016:

"I got the call around 9pm one night. A premature baby, weighing just 1.2 kilograms, who we had admitted to the neonatal unit a few days earlier, had gone into respiratory distress. While the baby could open his eyes, move his limbs, and had a strong heartbeat, he had stopped breathing. His immature brain had forgotten that breathing is one of the tasks that it must control. In this case, we needed to find a solution to allow the baby to breathe as we waited for his brain to regain control of his lungs. The only solution was to manually ventilate the baby as long as necessary.

In the neonatal unit, the team was overwhelmed – sometimes having to care for 2 or 3 babies within the same incubator, due to a lack of bed space. So for the first hour, I helped the baby breath using a self-inflating resuscitation bag, making sure all his vital signs remained normal. But after an hour, nothing! The baby still couldn't breathe on his own. I immediately realized that it would be necessary to keep artificially ventilating this baby. But who could ventilate this baby for a long time within the context of work overload? Perhaps a trainee, I thought.

I found a pediatrics nursing student and quickly taught her how to ventilate the baby. 'Don't blow too much air into the lungs, don't ventilate too fast, or too slowly…Make sure there are no air leaks, make sure the vital signs remain in the normal zone, make sure the baby's skin remain pink'.

After successfully learning the technique, the trainee assured me she could continue ventilating the baby until the end of the night shift. And she did! She properly ventilated the child all night. At 6 o'clock in the morning, the baby caught his first breath! It was a surprise to the whole team and the baby's family. No one had really had hope that this child would survive.

Eventually the baby was discharged, after gaining weight and strength. He left the hospital in good health and continued to record normal health during follow-up consultations. The family was overjoyed. In the end, the nurse had played a vital role during this crucial moment of the baby's life. His survival was thanks to her and the team."

Caroline Kia, ALIMA nurse at the Raja State Hospital in South Sudan

"Yes, sometimes it can be very challenging to be a nurse in South Sudan, but we are used to the situation and we do our best...What I love most about being a nurse is going and being in the ward each day. Just last night, I was on night duty and we had six new patients admitted. All night, we worked tirelessly to care for them and reassure their families. By morning, I was exhausted, but I was so, so happy, because these children now have a chance at life."

Grevisse Kahindura, an ALIMA nurse since 2011, currently managing outreach activities in Askira, Nigeria

"One of the biggest challenges of working as a nurse in a conflict zone remains the fact that the patients you are treating in these areas are traumatized. You must be able to approach them with care and compassion, and help relieve their stress, so that you can earn their trust and best treat them. The other problem is that many people in these zones are always fleeing, always on the move. Their access to medical care isn't regular, and sometimes they are scared to come for help, and so they come too late. Or women try to give birth at home and come too late. Some health workers might blame the patient or scold them. But it is important not to judge these patients, but to still care for them, and also to receive them as a person, not as a victim of violence or as a carrier of disease. Compassion is most important, because the patient needs to be at ease. We need to put the patient first; we can't pass judgement on their situation. Otherwise, maybe next time, they won't return to the hospital or clinic.

Despite the challenges, I love my job. Truly. Sometimes people ask why I am still 'just a nurse.' 'Why don't I try to be a boss or run a clinic?' But I love being a nurse. I prefer to be a nurse. I prefer to work directly with the patients, to interact with them, not just sit in an office. Because when you care for a patient and then you see them get better because of your care, it is a wonderful feeling. So I am proud to be a nurse."

Akala, an ALIMA nurse who has been working at the Mokolo district hospital in Cameroon since 2015

"I really appreciate the technical quality of the equipment here. It allows us to resuscitate patients and provide intensive care. To revive a child, when you succeed, it makes you so happy, because one of the biggest problems here is that children often arrive too late in the hospital. Mothers keep their sick child at home, sometimes for a week, trying to treat them with traditional medicines, and then the children arrive at the hospital in serious condition."
News / Obaseki Hails Sacrifices of Nurses, To Address Under-staffing, Training by katty:

May 13, 2018, 08:04:32 AM
The Governor of Edo State, Mr. Godwin Obaseki, has hailed nurses across the world for the extra care and long hours they invest in taking care of patients and saving lives.
Obaseki who eulogised nurses on the occasion of the commemoration of the World Nurses Day, marked on May 12, each year, described the role of nurses in the health sector as essential.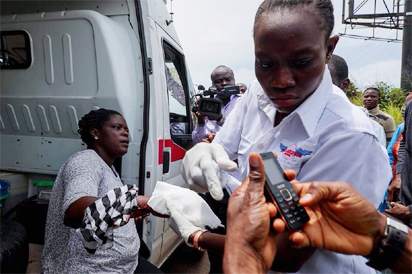 "Nurses occupy a place of pride in the health care system. Virtually all of us have memories of how we were treated to good health by nurses, either as children or adults, and they have complemented doctors and other health workers in caring for the sick and ensuring quality life even in very challenging circumstances," the governor said.
He maintained that "aside the long hours at work, nurses are on call both in the day and at night, attending to emergency, stay with patients on their way to recovery and sometimes at great personal cost."
He assured that his administration "has commenced the reform of the state's health sector with clear objectives, scope, timeline, and anticipated outcomes as well as partnership with the private sector to reposition the sector for better result.
"We have taken note of staffing, training and other issues and just as we are reforming the basic education sector, beginning with the basic education sub-sector, the health sector will receive the needed attention in the coming months.
"My approach to work is not tokenistic or knee jerk. Our plan for the health sector is comprehensive, covering building, equipment, training for staff, decent wage and incentives, health insurance for Edo people and robust partnership with the private sector to reposition it for better result," the governor said.
Obaseki described the 2018 theme: "Nurses A Voice to Lead – Health is a Human Right," adopted by the International Council on Nurses (ICN), as apt, and urged stakeholders in the sector to join the global conversation and amplify the voices of nurses on the relevance of the theme.
He further said that nurses all over the world deserve the respect and appreciation of everyone who has benefitted directly or indirectly from their care.
According to the United Nations, "the International Nursing Day is celebrated around the world on May 12, each year to mark the contributions nurses make to society."
Source : Vanguard Newspaper
News / #IND2018: The Quack Nurse - A Ticking Time Bomb: Eradicate Quackery, Save Lives by walex:

May 13, 2018, 12:24:28 AM
The Nursing Profession takes pride in the fact that it is committed to protecting, promoting, and improving health care for all as well as serving the public in a wide range of roles and work settings. Therefore, as Nurses it is only fitting that we take one week each year to celebrate our profession and the vital roles we play in health care.
This week long celebration tagged INTERNATIONAL NURSES WEEK begins annually from 6th to 12th of May which is Florence Nightingale's birthday who happens to be the mother of Nursing and commonly referred to as "The Lady with the Lamp". The celebration features a host of events across the globe to honour Nurses for the work they do, and also educates the public about the role nurses play in health care.
Being the largest of the health care professions, it is a call for the National Association of Nigerian Nurses and Midwives (NANNM) to follow suit the leading role set by other International Nursing Associations which has always led efforts to celebrate Nursing and ensuring that recognition is promoted as widely as possible as well as recognizing the contributions that Nurses and Nursing make to the community.
One particular plight plaguing the Nigerian Nursing Profession has always been "quackery". Much has been written about quackery in nursing by concerned nurses, but little to nothing has been done about it.
Quackery is and still remains one of the leading causes of increasing mortality and morbidity in Nigeria health sector. The poor masses are the victim of this dangerous and widely increasing practice. Thousands of innocent lives are lost and many more are seriously affected as a result. The exact number of deaths resulting from quackery remains unknown due to lack of reliable data, however there is clear evidence that quackery poses an increasing health problem to the Nigerian populace. Having a relative, friend or co-worker die as a result of sub-standard health care and quackery is really disheartening. It is clear that the Nigerian healthcare is not among the best in the world, but accepting, practicing and promoting quackery is like watering down an already watered down system!!!
"Quackery in nursing" is the promotion of fraudulent or ignorant nursing practices. A "quack nurse" is an individual who is involved in nursing malpractice without possessing required qualifications, professional authority and legal right to undertake such activities in the first place.
Many factors play important roles in the ever increasing practice of quackery in nursing and constituting a serious problem in patient care. Among which is lack of moral training and responsibility on the part of the individuals who engage in this heinous act and training. It is morally, ethically and socially unacceptable to perform an action which is beyond ones professional capabilities. By losing this insight and the sense of patient care possessed by a trained nursing professional, the quacks and their trainers become deprived of a sense of empathy and honesty.
The Nursing Act acknowledges that quackery is illegal, yet there is no strong evidence of implementing this rule. Due to a lack of robust legal system and inadequacies in the judicial deterrence, the quacks continue to practice rather openly to such an extent that it has almost become a norm which reflects that quackery has become an accepted practice in the health sector.
A lack of understanding of differences between a "Professional Nurse" and a "quack nurse" has also contributed a great deal in the spread of quackery in nursing. Often, patients and their relatives do not question the attending personnel's qualifications and competencies, they also lack the knowledge of who is truly a Professional Nurse licensed to provide the care they receive. This attitude of the general public also encourages quackery.
In order to eliminate this alarmingly growing problem which is adversely affecting the health of patients receiving nursing care, it is a collective responsibility of the nursing associations, governing bodies, health care professionals, health institutions, law enforcement agencies and the judiciary system to take clear, urgent and practical steps to stop this crime against the patient population and humanity as a whole.
The Nursing and Midwifery Council of Nigeria (NMCN) as the only relevant regulatory and licensing body alongside the Federal Ministry of Health (FMOH) have a legal duty to lay down clear guidelines with regards to professional's competencies in relation to qualifications necessary for nursing practice. It should be made very clear what is expected from a Registered Professional Nurse and what is considered as unprofessional and unethical so that in the event of quackery, appropriate legal actions may be taken in line with the set standards.
These authorities should categorically prohibit quackery in all circumstances and recommend legal actions against those found guilty. Furthermore, clear and unambiguous definitions of standards of practice and what constitutes quackery in nursing is crucial. An up to date register for Registered Nursing Professionals providing the details of their credentials, scope of practice and designated professional duties is very important.
In addition, a close collaboration between the Nursing and Medical licensing bodies is required. There is a desperate need that all health related institutions and governing bodies come up with a collective policy to stop quackery in Nigeria as related to nursing practice.
Policies and guidelines would only become effective if they are implemented according to the required standards. The law enforcement agencies and the judiciary system need to appreciate the gravity of quackery and its impact on the lives of poor Nigerians. Quackery should be classified as a crime and perpetrators should be brought to justice and be held responsible for compensation to the losses incurred by such practices.
As we commemorate the 2018 International Nurses Week with a national theme of "NURSING: A VOICE TO LEAD, ACHIEVING THE SUSTAINABLE DEVELOPMENT GOALS" we hope and look forward to a Nursing Profession and Practice free of quackery and all its attending menace. It is important we know that "patients are the reason we are nurses".
We wish all Professional Nurses a happy celebration.
About The Authors:
- Uloko Linda Ochanya RN, RPN, BNSC.
Linda is a Registered Nurse and Registered Psychiatric Nurse. She obtained her Basic General Nursing Certificate from Ahmadu Bello University Teaching Hospital Zaria and a diploma in Psychiatric Nursing from School of Post Basic Psychiatric Nursing Federal Neuropsychiatric Hospital Barnawa both in Kaduna State. She then moved to South Africa where she graduated with an honours degree in Advanced Psychiatric Nursing Science from Nelson Mandela University. Passionate about mental health, Linda is a trained Cognitive Behavioral Therapist currently serving with Dalhatu Araf Specialist Hospital Lafia Nasarawa State as a Corp member.
Email:
lindauloko@gmail.com
- Ossai Kelvin O. RN, RM, RPHN, BNSC
Kelvin is a Registered Nurse/Midwife and Public Health Nurse. He obtained his Bachelor of Nursing Science from University of Port Harcourt. He is currently studying for a Masters degree in Nursing Education. Nurse Kelvin is also a Music Artist, Actor, MC, Public speaker and Health Seminar presenter, as well as a motivational speaker. He is found sharing jokes and comic relief articles online in his spare relaxation time and derives joy in comedy. He is also a social media enthusiast. Kelvin was nominated as one of the top ten most inspiring male nurses in Nigeria 2017.
Email:
kelvinossai3@gmail.com
News / #JOHESUStrike2018 JOHESU appeals for Buhari's Intervention by katty:

May 12, 2018, 02:57:13 PM
THE strikingi Joint Health Sector Union (JOHESU) Friday appealed to President Muhammadu Buhari, to personally intervene in the ongoing industrial action it embarked upon to press home its demands bordering on allowances and welfare.


The National Vice Chairman of JOHESU, Ogbonna Chimela, made the appeal, while fielding questions from State House correspondents at the old Banquet Hall of the presidential villa, Abuja.

Chimela, who is also the National President of Nigeria Union of Allied Health Professionals (NUAHP), said the President's intervention became necessary following the deadlock of Thursday's meeting between the union and the officials of the Federal Ministry of Health, as there was no common ground reached to resolve the crisis.

According to him, President Buhari's intervention has become necessary to avert possible collapse of the nation's health system, adding that the president was not being given the correct information as regards the situation in the health sector.

He said, "From our investigation and from what we know now, we have discovered that our President, Muhammadu Buhari has not been well informed of the happenings in the health sector, is like some information are being blanketed; not getting to him because we know who he is.

"He is a sincere man who has the love of an average Nigerian at heart.

"We know that he is humane and he cannot tore with the lives of Nigerians if he is well aware of this present situation in the health sector we know he would go direct in arresting the issue and resolve it.

"So, we are calling on Mr President to quickly intervene in this matter because JOHESU and its members are not strike mongers, we don't love strike."

Chimela regretted that the nation's public health institutions were in shambles, saying that JOHESU members would have loved to go back to their respective places of work to take care of the suffering patients across the country.

He, however, called for equity not equality, fairness and justice to be melted out to all health care givers so as to ensure stability in the health sector.

He frowned at the statement issued by the Nigerian Medical Association (NMA) on Thursday threatening to resume its suspended strike should the Federal Government accede to the demands of the striking health workers under the auspices of the JOHESU.

Also speaking, the National Chairman of JOHESU, Biobebelemoye Josiah, accused the NMA of assisting the federal ministry of health in frustrating the attempt to resolve the ongoing strike by the union.

On the reported resurgence of Ebola Virus Disease (EVD) in Republic of Congo and the subsequent directive on the need to check the spread of the disease into Nigeria, Josiah said JOHESU should not be blamed for possible lapses in the effective implementation of this directive.

He said that due to the ongoing strike members of JOHESU may not participate in the surveillance activities at the airports and borders across the country.

The Federal Executive Council (FEC) had on Wednesday directed the Federal Ministry of Health to step up surveillance activities against Ebola in the country.

The Minister of Health, Isaac Adewole had to reporters on Wednesday that negotiations were on over the strike embarked upon by members of JOHESU.

He said, "Negotiations are still on with JOHESU and the Minister of Labour is leading the negotiation and we expect that we will conclude on all issues very soon."

Source : Vanguard Newspaper