News / The Drones And The Dunderheads - Green Track by katty:

December 14, 2018, 07:48:19 AM
Ghana's Public Health Sector runs a three-tier system of managing health commodities. The Central Medical Store (CMS), The Regional Medical Store (RMS) and Service Delivery Points (SDPs) in conjunction with the transportation network make up the conduit for the supply chain. The transportation system is made up of a complex network of vehicles, motorbikes and bicycles. Fuel supply to these network of vehicles and motorbikes is a crucial activity to ensure commodity availability at the health facility level.
The CMS takes responsibility for the receipt, storage and distribution of all commodities procured by the Ministry of Health. The RMS and SDPs receive their supplies from CMS through the Pull system. Under commodity distribution framework, an agency may either adopt a push or a pull system of distribution. A push system will require the CMS to distribute commodities to lower levels upon receipt, whether requested or not, whilst the pull or demand system will require the CMS to send logistics based on demand and request from RMS and SDPs.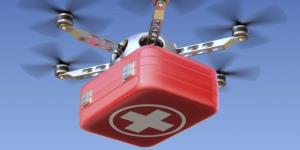 The Ghana Health Service logistics system is centralized whilst the health care delivery system is decentralized. Logistics management in the health system is crucial and serious business that require smart solutions beyond the rental of drones. This is because there are instances where medicines and health commodities are not available at the Central Medical Stores and the Regional Medical Stores. Consequently, there is no commodity security at the service delivery points. The previous Government under the leadership of President John Dramani Mahama undertook a comprehensive assessment of the logistics management system in order to bring efficiency in the system. The JDM administration studied the practices of logistics management, the causes of inadequacy of logistics and the strengths and weaknesses in Ghana Health Service logistics system.
It was found that poor procurement planning and budgeting, lack of financial resources for procurement, poor quantification and forecasting, delay in procurement process and order processing, and delay in receiving insurance claims are some of the causes of inadequacy of logistics in the health systems. The JDM administration responded to these findings by implementing the Logistic Management Information System which created an I.T. platform with clear business rules that ensured that orders for essential commodities such as blood and blood products as well as anti-snake venom are made three months before stock depletion. This evidence based intervention ensured that no facility will be required to make urgent and request for essential health commodities. It is therefore worrying that the current government has decided to rent drones to transport commodities which will be required by facilities in at least three months' time. What could have accounted for this if not corruption and lack of knowledge? It appears apparent that the current government does not understand the public sector of the country and feels too proud to consult JDM and/or relevant stakeholders. The Drone rental project should be the last thing Ghanaians should see happen given the fact that it is absolutely unnecessary and insulting to the respected health service workers of this country.
I recommended that Ghana Health Service logistics or supply system must receive constant monitoring and evaluation by the Ghana Medical Association, Civil Society Organisations, the Opposition political parties and the Nurses, Health administrators and Lab Technologists groups.
Further, Stakeholders must ensure that there is effective top-down supervision in the system to guarantee efficiency and prevent operatives of the Government from using the sector as a milking cow to finance their opulence. They should remain at the Dirty oil sector at BOST and other sectors but not at the health sector where a penny stolen has direct consequences on the lives of many Ghanaians. Again, stakeholders must ensure the Drones rental funds are secured from the government and/or GNPC to procure essential health commodities such as Anti-snake venoms, blood and blood products which are currently in short supply at the various medical stores and health facilities. Availability of fuel for the use of vehicles and motorbikes should be prioritized since the shortage of fuel has been blamed for the failure of various stores to deliver essential and regular commodities to facilities. With these basic problems prevalent and remain a major cause of lack of essential commodities at the facility level, how can a person well oriented in time and space decide to rent drones to deal with logistics security in the health sector? The narrow mindedness is beyond redemption indeed.
Stand by for the Gold track of this piece. Thanks for your time.
Dr. Mawia Zakaria.
Executive Director
IRAD
Accra.
News / Ghanaian Doctors Kick as Ghana Set to Use Drones to Transport Medical Supplies by katty:

December 14, 2018, 07:44:09 AM
Ghana Medical Association is reacting negatively to a government decision to transport blood and essential medical supplies to rural areas in the country by unmanned drones. The service has been contracted to an American company.
Deputy minister of information Pius Enam Hadzide said he was shocked by the GMA reaction over what he says would improve health services.
The Ghana Medical Association says the use of drones violates the country's primary health care policy. It also said it would be counter-productive as it would cause more doctors and nurses to be unemployed in the administration of the drugs.
The drone goes into effect next year. It was approved by parliament by a majority of a hundred and two to fifty-eight.
Rwanda already uses drones for the same purpose.
News / RCN Begins Campaign to Abolish £400 Immigration Health Surcharge for Nurses by katty:

December 13, 2018, 08:30:42 AM
The RCN is campaigning to make nursing staff exempt from a charge international workers have to pay to use the NHS.
Johanna has been working as a nurse in the NHS for almost three years. She moved to the UK from the Philippines in 2016 and has been paying National Insurance and taxes, both of which help fund the NHS, since she received her first pay cheque.
In January, she will need to renew her working visa which means she'll once again have to pay the Immigration Health Surcharge (IHS); a fee non-EEA (European Economic Area) nationals must pay per year of their working visa to use NHS services. A fee which, under government plans, is set to double from £200 to £400 next year.
The RCN is campaigning to see the IHS waived for overseas nursing staff like Johanna, who are working in the UK, and their dependents.
"It hurts to think we're not valued by the Government," says Johanna, who worked as a nurse in the Philippines for four years before relocating to the UK.
When I'm at work, I feel like my patients and their families do value my contribution. They're appreciative and know I'm helping to keep the NHS running. It's sad the Government doesn't feel the same
In Johanna's unit, three in 10 members of nursing staff are from countries outside Europe. Elsewhere in the UK, international nurses make up a significant amount of the workforce too. As of September this year, there were 70,491 nurses and midwives from outside the EEA on the NMC register.
Johanna says: "Nurses are included in the shortage occupation list. We're helping with the nursing shortages and yet we're forced to pay twice for a service we're a part of. I don't mind paying for the NHS. It's important that we do, but we're already paying for it with our National Insurance and tax payments just like everybody else."

Soaring fees
Johanna and her colleagues were among the first people who had to pay the IHS which was introduced in 2015.
The IHS – which has to be paid up front – is already a huge financial burden for many, especially for families who must pay the fee for every family member for each year of their working visa. For a family of five, the cost is £1,000 per year and this is set to soar to £2,000 in 2019.
Some of Johanna's friends and colleagues have had to make the difficult decision to leave their immediate family back home as it's not financially viable for them to pay.
Overall, Johanna says her experience of working as a nurse in the UK has been positive: "It's been a good move for my career and a great experience for me. I've specialised, my friends have been promoted and we've had amazing support from our managers and employer. They've helped us right from the beginning; supporting us to register with the NMC and they're supporting us now too."
The RCN has launched an online tool to help members and the public quickly find and email their MP, asking them to write to Sajid Javid MP, the Home Secretary, urging him to waive the IHS for non-EEA nursing staff.
Johanna says: "I'm so thankful that the RCN's campaign has made it easier for me to circulate information that allows people to support this cause. I've sent messages to friends, friends of friends, anyone I can think and all over the country, asking them to email their MP."
"We've been working so hard to establish ourselves here but we're still treated as though we're not entitled to things.
"Sometimes it feels as though no-one is listening but the RCN's campaign has helped me with that. It's great to know we have support and people value the work we do
"I would urge everyone to email their MP today as it will really help. If the surcharge was waived, I would feel so valued, and I know so many others would feel the same."
Source
https://www.rcn.org.uk/magazines/bulletin/2018/november/an-unfair-fee-for-overseas-staff?
Travel Nursing / Give Migrant Nurses a Longer Visa To Help Ease Shortage by katty:

December 12, 2018, 11:46:38 AM
New Zealand: Internationally qualified nurses (IQN) represent 26% of the overall practising nurse workforce in New Zealand (NCNZ, 2017a). As of 31 March 2017, New Zealand has 52,711 practising nurses. Of these, 4,337 gained their nursing qualification in the Philippines, thereby, making Filipinos the third largest ethnic group (8%) in the overall NZ nursing workforce, after NZ European/Pākehā (62%) and other European (14%) (NCNZ, 2017b).

Requirements for New Zealand registration

Graduates of nursing programmes outside New Zealand, like most Filipinos, are required to satisfy the seven requirements for NZ registration. These requirements are: submission of legal documents to prove identity; completion of a nursing qualification that is equivalent to level 7 or 8 on the NZ Qualifications Framework; high standard of written and spoken English with at least a B for each band in an OET test or at least 7.0 for each band in an IELTS Academic test; current nursing registration overseas; fitness to practise; at least two years' experience working as a registered nurse overseas, and completion of a Competency Assessment Programme (CAP) to demonstrate competence to practise in the NZ context (NCNZ, n.d.).

Cost of applying for a Competency Assessment Programme in New Zealand
There are only 16 accredited programmes which offer competency assessment for registered nurses among the list of programmes approved by the Nursing Council of New Zealand in May 2018. Enrolment in a programme costs an international applicant around NZ$6,100 to NZ$10,500 plus 15% GST on top of costs for visa application and processing of legal documents, sitting an English exam, travel to NZ (approximately NZ$1000 - $2,100 one-way, economy class), accommodation (approximately NZ $2000 for eight weeks), other living expense, medical tests (approximately NZ $1,000), insurance, uniform and other study expenses. Enrolment in a programme for a domestic applicant, on the other hand, costs around NZ$1,500 - NZ$2,300. Approximate ideal (no repeat examinations or re-application required) total expenses upon completing the CAP in eight-weeks would be NZ$17,000 - NZ$21,000 on a tight budget.
Filipino nurses and their families go to great lengths to save this amount of money. It would take years for a Filipino family to save this enrolment fee, plus a huge bank debt and loss of family assets. Thus, a repeat medical test or visa application or a re-sitting of an English exam would be a huge blow to the scarce resources available to a Filipino applicant.

Facilitating the process of obtaining nursing registration through a migrant nurse visa
Migrant nurses who enrolled in the CAP come to NZ on a limited visitor's visa which is usually valid for only 3 months. The CAP takes an average of 9 weeks to complete, after which, the nurses need to apply for a visa extension while waiting for a license to practise. After they have obtained their license to practise, they then would need to apply for a work visa. This entails hundreds of dollars (3X visa application), a lot of time to prepare documents for the repetitive application and stress because of uncertainty. Thus, it is recommended that immigration NZ develop an IQN/CAP visa category which is valid for 9-12 months to allow migrant nurses to complete the CAP, obtain a practising certificate, and look for a job as registered nurses.
New Zealand's nursing shortage is predicted to increase up to 15,000 by 2035 (NCNZ, 2013). Immigration NZ can therefore help resolve this problem by facilitating the process of obtaining nursing registration for IQNs.
References:
Nursing Council of New Zealand (2013). The future Nursing workforce. Supply
projections 2010-2035.Wellington: Nursing Council of New Zealand. Retrieved
from
http://www.nursingcouncil.org.nz/News/The-Future-Nursing-Workforce
Nursing Council of New Zealand (2017a). Trends in the New Zealand Nursing
Workforce: 2012-2016. Wellington: Author.
Nursing Council of New Zealand. (2017b). The New Zealand Nursing Workforce: A
profile of Nurse Practitioners, Registered Nurses and Enrolled
Nurses 2016-2017. Wellington: Author.
Nursing Council of New Zealand. (n.d.). The requirements for New Zealand
registration. Retrieved from
http://www.nursingcouncil.org.nz/Nurses/International-registration#reqs
News / A Third of Nurses Have Fallen Asleep While Driving Home - Study by katty:

December 12, 2018, 07:25:25 AM
A sleep expert says a new model is needed to manage nurses' shift work and fatigue-related risk.
Massey University's Sleep/Wake Centre found one in three nurses have fallen asleep at the wheel while driving home from work.
The centre's director Professor Philippa Gander told Morning Report nurses' shifts could be better managed to make it safer for them and their patients through a code of practice.
Changes to rostering and the approaches to managing the risk in different medical settings were needed, she said.
"If you have a nurse who is suffering from the effects of sleep loss and being on a series of night shifts working at the wrong time she or he is not going to be able to function as well as they would if they were fully rested and working during the day," she said.
The report also noted that "after 5 years, nurses working nights have significantly higher mortality rates from all causes and from cardiovascular disease. After 15 years of night work, nurses have a higher risk of death from lung cancer and ischemic stroke. With increasing years of night work, there is also a linear increase in risk of type 2 diabetes that appears to be partly mediated through increasing body weight, a linear increase in the risk of breast cancer, and an increased risk of colorectal cancer risk after 15 years."
"So how do we manage the risk? The risks are very different if you are in ICU and you have a patient who is sedated you are in a highly technical procedurised environment and there's plenty of help around you versus being a mental health nurse who has unpredictable patients who may be up and about all night doing things that you've got no idea what is going to happen next."
A new model was needed, she said, combining the expertise of nurses in different practice areas with sleep science knowledge and hospital managers' needs.
https://www.radionz.co.nz/news/national/378109/a-third-of-nurses-have-fallen-asleep-while-driving-home-study
News / Doctors' Use of Phrase 'Acting Down' Offends Nurses by katty:

December 11, 2018, 07:17:58 PM
Doctors in a survey have said they regularly 'act down' due to staff shortages – meaning they undertake tasks usually carried out by nurses.
The phrase, contained in a report by doctors' regulator the General Medical Council (GMC), has offended nurses who say the term implies superiority.
The RCN described the phrase as 'insulting' to nurses, but the GMC said it was not meant to be pejorative and instead conveys the pressures on all healthcare workers.
Common occurrence
The GMC's annual report examines the state of the UK's medical education and practice.
In the latest edition, nearly half (48%) of the 700 doctors surveyed reported 'acting down' at least once a week by doing a job normally carried out by nurses.
Conversely, around three out of 10 doctors said they regularly see nurses or other healthcare staff 'acting up' to perform tasks usually completed by a doctor, to help ease workload pressures.
Nursing reaction
An RCN spokesperson said: 'Doctors and other healthcare professionals are now being roped in to plug gaps left by the increasing number of nursing vacancies. However, describing this as "acting down" is insulting to nursing staff.'
Workforce pressures
A GMC spokesperson said: 'We are in no doubt that those doctors describing the situation as "acting down" were doing so not in a pejorative manner, but as a means to convey the pressure that all healthcare teams, regardless of role or seniority, are working under.'
The report highlights that although 'acting down' may imply the doctor is overqualified for the task they are undertaking, this is not necessarily accurate. It notes that doctors are not trained to provide the nursing interventions needed for high-quality specialised critical nursing care.
https://rcni.com/primary-health-care/newsroom/news/doctors-use-of-phrase-acting-down-offends-nurses-142821
News / Young Ghanaian Registered Nurse Turned Farmer Wins Best Farmer Award by katty:

December 11, 2018, 01:25:54 PM
A graduate registered nurse turned Poultry Farmer, Mrs Bless Tutu, has been crowned the youth farmer of the year for the newly created New Juaben North Municipal Assembly (NJNMA).

This was at the just ended 34th Farmers Day Celebrations held in the municipality.

In an interaction with the media, the 26 years old Mrs Tutu said, she started the poultry farm as a small business to earn some money to cater for her siblings and herself because her posting was delayed.

She said she later recognized that she could make it big in poultry farming and so expanded gradually.

Mrs Tutu said she now has about 1300 birds which produce about 35 crates of eggs daily.

A 63 year old, Mr Sammy Nii Okai Quaye of BOSSGIE Farms from Akwadum, a suburb of the Municipality, was adjudged the overall best farmer for the Municipality with Mr Eric Ofosu of Mpaemu and Mr Joseph Samurl, taking the second and third positions respectively.

The best female farmer was won by Ms Juliana Quashie of Jumapo.

Seven others farmers received prizes for being best farmers for various crops.

Among the award winners include one physically challenged, Reverend Mark Oti.

The Member of Parliament (MP) for New Juaben North who is also the Deputy Minister for Local Government and Rural Development, Nana Akwasi Adjei-Boateng called on the youth to venture into agriculture.

He said the government has started building warehouses across the country for storage of farm produce to help reduce post-harvest loses and ensure food security in the country.

The Municipal Chief Executive (MCE), Ms Comfort Asante, said the Municipal Assembly will assist farmers in the Municipality to use technology and innovations to improve farming.

She expressed gratitude to the chiefs, Assembly members, farmers and all the people in the Municipality for supporting her to be able to celebrate the first Farmers Day as New Juaben North Municipal Assembly.

The New Juaben North Municipal Agriculture Director (MAD), Mr Emmanuel Narh, said the government was supplying improved variety of maize and cassava seedlings at subsidize prices to interested farmers to increase their productivity.

Mr Narh urged farmers to work closely with the agricultural extension officers in their area and collect coupons to enable them to acquire their farm inputs at subsidies rates.

The MAD announced that the Assembly has received over 1,500 palm oil seedlings for development of a nursery at Asikasu for distribution to interested farmers next year.

---GNA
News / More Nurses Are Now Earning Bachelor Degree by katty:

December 11, 2018, 01:17:45 PM
A recent study released by the University of South Carolina College of Nursing is showing signs of hope for the nursing field in the state.
The optimism comes as the study shows for the first time in the state's history, there are more students graduating with a baccalaureate rather than an associate degree in the field of nursing.
Ronda Hughes, associate professor and Director of the Center for Nursing Leadership at USC, shares the difference that comes with obtaining a baccalaureate . Hughes says, "The main difference between someone having the associates and bachelors degree is looking at the patient in context and really focusing on leadership and in may respects at the bedside that means knowing how to advocate for that patient."
Judith Thompson, CEO of South Carolina Nurses Association explains how patients will benefit from having a nurse with this type of schooling. Thompson says, "The most important thing is they will be experiencing working with and being the patient of someone who has a broader educational background." The CEO goes on to say having a degree not just solely in the sciences but in the humanities makes a world of a difference when it comes to patient care. She says, it gives the nurse the ability, "to ask the questions like who is the patient, what does the patient's family look like, and how are we able to help the family as well as the patient? It gives a broader range of experience that gives people a better access to who is that patient and how can we better serve that patient."
The healthcare field however still faces it's share of challenges.
The Federal Health Resources and Services Administration ranks South Carolina as having the 4th worst nursing shortage in the country the university's study says there's still a lack of nurses and also faculty with graduate degrees, as well as a shortage of clinical sites to train future nurses.
Source:
https://www.wltx.com/mobile/article/news/local/a-recent-study-says-more-nurses-earning-bachelor-degrees/101-622730327
News / India: Tamil Nadu Announces New Uniforms for Government Hospital Nurses by katty:

December 10, 2018, 01:38:08 PM
The Tamil Nadu health department on Monday released new uniforms for nurses in the government hospitals. A recent government order has given the details of the new uniforms, which varies among different category of male and female nurses.
With this, the nurses in the government hospitals may finally bid adieu to the British-era uniforms.
The proposal was first mooted last year but was pending and a government order dated December 7 has given the specifics of the new uniforms. The department has also released photos of the model uniforms.
The description of the new uniforms for nurses are as follows:
1. Female nurses with 10 years or lesser experience will sport white half sleeve top with white pants.
2. Female nurse for above 10 years experience will wear white half sleeve chudidhar and white bottom.
3. Female nursing superintendent (Grade 2) will wear pink colour saree with white overcoat.
4. Female nursing superintendent (Grade 1) will wear pista green colour saree with white overcoat.
5. Nurses at the Neonatal intensive care unit (NICU) will wear a white half sleeve pink top and pink pants.
6. Male nurses with 10 years or lesser of experience, will wear a white half sleeve shirt and white colour pants.
7. Male nurses for above 10 years of experience will wear white half sleeve shirt and white colour pants.
8. Male nursing superintendent (Grade 2) will wear pink full sleeve shirt and navy blue colour pants.
9. Male nursing superintendent (Grade 1) will wear pista colour full sleeve shirt and navy blue pants.
Present uniform:
The British-era uniform nurses were wearing until now are:
1. White gowns with an apron over it, a belt, cap and long stockings with buckle sandals for entry-level female nurses.
2. Gown with full hand sleeves, a bigger cap than juniors, and long stockings with buckle sandals for grade 1, 2 and 3 nurses.
Source : India Express
Post Basic Courses / Federal Neuro Psychiatric Hospital Kaduna 2019/2020 Post Basic Nursing Form by katty:

December 10, 2018, 01:31:34 PM
Applications are hereby invited from suitable qualified Nurses for admission into the 18 months Post Basic Psychiatric Nursing Program 2019/2020 academic session

ENTRY QUALIFICATIONS
* Candidate must be a qualified Nurse
* Evidence of Registration with the Nursing and Midwifery Council of Nigeria
* Current license to practice Nursing issued by the NMCN
* Possession of five (5) credits at not more than two sittings in olevels these must include english, chemistry, physics, biology and maths. A combination of WAEC and NECO is accepted
* Any other qualification in Nursing will be an added advantage

METHOD OF APPLICATION
Application forms can be obtained from the program coordinator, School of Post Basic Psychiatric Nursing, Federal Neuro Psychiatric Hospital kaduna

APPLICATION FEE
A non refundable fee of N10,000 for application form.

CLOSING DATE
Completed forms should be submitted with photocopies of relevant credentials and two (2) passport photographs (coloured on white background) to the above address on or before 15th March 2019. Pre test and interview will hold on 19th and 20th March 2019 respectively.

Please not that succesful candidates would be expeted to resume training first week of May, 2019

For further enquiry contact the programme coordinator on 08028434918, 07034693344 or 08033329078.

SIGNED:
Programme Coordinator
For: Medical Director