News / At Last Ordeal Of 79 Stranded Indian Nurses in Kuwait Ends by katty:

December 15, 2018, 09:23:17 PM
The ordeal of 79 Indian nurses stranded in Kuwait for the last two years without jobs or iqamas has ended after the government legalized their residence and completed the formalities for employment at health ministry hospitals. "It is like a new lease of life for us. We are getting our residencies stamped. We have also been offered jobs in MoH hospitals," a visibly joyful nurse told Kuwait Times on the condition of anonymity. The nurses sounded optimistic that they will be able to move on, putting two years of traumatic experiences behind them.


They also visited the Indian Embassy and expressed their gratitude to the officials for helping them in redressing their grievances. "Out of 79 nurses, 70 will be joining various health ministry hospitals in the coming week. The employment of the others is in different stages of processing," said an Indian embassy official. The aggrieved nurses had raised the issue with Indian Minister of External Affairs Sushma Swaraj during her visit to Kuwait in October. The minister discussed the matter with top authorities in Kuwait including Foreign Minister Sheikh Sabah Al-Khaled Al-Sabah. After talks with the officials, Swaraj had said she expected a speedy resolution to this "compassionate and serious" issue.

The health ministry had signed a contract with 80 nurses from India in 2015, who reached Kuwait in early 2016. Although, they were assigned to various hospitals, the Civil Service Commission cancelled their appointments over alleged financial irregularities in recruitment. Since then, 79 nurses remained virtually in limbo without jobs or residencies, while one managed to leave the country. "We took the matter very seriously and pursued it relentlessly to find an early solution to the problem. We held several rounds of discussions with officials in the foreign, social affairs and labor and interior ministries before reaching a solution," the embassy official added.

By Sajeev K Peter
News / Yellow fever claims another life in Benin by katty:

December 15, 2018, 04:16:10 PM
An unidentified middle-aged man has reportedly died from the dreaded yellow fever infection in Benin, the Edo State.

This recent death has again heightened fears of residents of the state over the non-availability of yellow fever vaccine at the government's health centers.

The victim who reportedly died at the accident and emergency unit of the University of Benin Teaching Hospital (UBTH), was said to have been rushed to the hospital on Friday afternoon, but he died even before he could be transferred to a ward.

A source who did not want his name in print, told our correspondent that all medical personnel and the accident and emergency ward of the hospital were now clothed in full protective gears.

It would be recalled that the viral disease which broke out about a month ago, had claimed several lives in the state.

The State Commissioner for Health, Dr. David Osifo, had also confirmed that the disease had spread to about 10 out of the 18 local government areas of the state.

This is even as the Senior Special Adviser, SSA to Governor Godwin Obaseki on health, Dr. Aanu Fakunle, disclosed that the state government was doing everything possible to put the outbreak under control.

She disclosed that the local government councils were also doing their bit in health education in their communities.

"I can say that all hands are on deck, all things are working together, with support from the federal ministry of health, NCDC, WHO and the state epidemiology team," she said.

As at the time of filing this report, Dr. Osifo could not be reached for comment, as calls made to his mobile phone failed to connect.
Source : PM News
News / 'Miracle baby' survives Ebola outbreak in DR Congo by katty:

December 15, 2018, 04:05:39 PM
A baby girl who was admitted to an Ebola treatment centre just six days after birth has now recovered from the virus, health authorities in the Democratic Republic of Congo have announced.

The baby is now the world's youngest survivor of what the World Health Organisation (WHO) calls the world's second-deadliest Ebola outbreak.

Her mother who had Ebola died during childbirth. Health authorities say the baby is a "young miracle".

She was discharged from a hospital in the conflict-ridden northern city of Beni on Wednesday, where she had received around-the-clock care for weeks.

"She went home in the arms of her father and her aunt," the ministry said.

Breast milk infection

Few cases of infections in babies have been reported but experts suspect transmission might happen via breast milk or close contact with infected parents, the Associated Press news agency reports.

The deadly Ebola is typically spread by infected bodily fluids.

Children now account for more than one-third of all cases, according to the UN children's agency Unicef.

A total of 426 cases of the virus have now been reported in and around Beni, according to WHO.

Almost 209 people have died in the current Ebola outbreak.

More than 11,000 people died and more than 28,000 were infected in West Africa between 2014 and 2016 – the deadliest occurrence of the disease since its discovery in 1976
Source : Standard Digital
News / Masaka Nursing Students Fault Uganda Nursing Board Over Missing Exam Papers by katty:

December 15, 2018, 01:09:11 PM
Students of Masaka School of Comprehensive Nursing (MSCN) have accused the Uganda Nurses and Midwives Examinations Board (UNMEB) for disorganizing their readiness to seat for their final examinations.
This came after UNMEB delivered less papers compared to the number of students during the first exam of mental health nursing on Monday.
"The entire process of writing papers was put to a standstill after one student missed to get; after sometime they printed another paper before we all started," A student who preferred to speak on principal of anonymity told Daily Monitor.
Since then, the incident has prompted additional supervision at the school which forced also the Permanent Secretary of the Ministry Of Education and Sports, Alex Kakoza to visit the institute yesterday.
He, however, said his visit was majorly to supervise the ongoing exercise after UNMEB liaised to fix the missing paper.
According to Ms Agnes Wada, the Public Relations Officer of UNMEB, the missing paper resulted from a slight mistake in packaging papers.
"The board sent an official who printed a paper from our certified email under the observation of the institutional administration and the area supervisory team," Ms Wada explained.
She further revealed that over 1,436 stake holders will be visiting 91 siting centers in the country majorly to supervise the progress of ongoing national examinations before next week when practical papers start.
A total of 3,888 Nurses and Midwives are sitting for their exams under UNMEB which started on December 3 and expected to end on December 14.
UNMEB is a semi-autonomous government body that was established in December 2005 by Ministry of Education and Sports with a cardinal objective of streamlining, regulating and coordinating examinations and awards for Nurses and Midwives in Uganda
Source : Uganda Monitor
News / NANNM-FHI Wants FG to Increase Budgetary Allocation to Health Sector by katty:

December 15, 2018, 12:59:26 PM
The National Association of Nigeria Nurses and Midwives, Federal Health Institutions Sector(NANNM-FHI), on Friday called on Federal Government to increase budgetary allocation to the health sector in line with the recommendation of the World Health Organisation(WHO).
Nurse Wale Olatunde, National Chairman, NANNM-FHI who made the call at the 33rd Annual National Scientific Conference with the theme "Clinical Utilization and Application of Nursing Models/Theories for Effective Nursing Practice" in Abuja.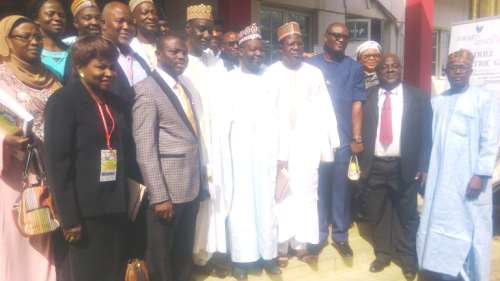 Olatunde explained that nursing is an act as well as a science, the act of nursing is when you begin to carry out your process in the world, but for every step you take in the nursing care, there must be a scientific reason for doing it.
And that is why we use our models of theories that we have learnt in school, we want to translate them into a clinical practise for more effective clinical nursing practise in this country.
According to him, he explained some of the issues bedeviling the delivery of quality health care, especially in the tertiary and specialist hospitals.
"We will continue to bring to the consciousness of the government and people of this country with great sadness the deteriorating state of infrastructure, functional equipment and non-availability of adequate medical consumables. Why create big stands and everything when you do not have the facilities to run and maintain them.
"Some of the challenges nurses are facing, most are self inflicted in the sense that if you go around some of our various hospital, you find so many uncompleted project.
"People are retiring and they are not recruiting new ones.
"We have more non-professionals than the professionals in some of our various hospital". We are not saying they should be sacked, but all we are saying is that they should give us more professionals within the health sectors.
"A situation where just 2 nurses are caring for 24 patients, there is no way you can get the quality and effective nursing care.
When WHO recommend 1 nurse to 4 patiens you can't compare the care they will give, than 2 nurses to 24 patients, definitely, something must be wrong somewhere. Those are the things I meant by self inflicted".
He added, that the country has made legislation and intervention impossible, thus making health care personnel very vulnerable and endangered species.
It is with heavy heart that we remember the recent gruesome killing of two nurses, one was on the 17th of September and the other on the 15th of October 2018 while giving their professional services in one of the IDP camps in Boron state. The 3rd is still in captivity.
Olatunde noted, that people have the right to always demand to known the professional status of any individual who claim to be a nurse before they subject themselves to their care.
They should remember that it is not everybody that put on white dress in the hospital that is a certified nurse and licensed to practice, he said.
This remains one of the practical ways in which we can help reverse the current rating of the country's health indices which places Nigeria in 187 out of 191 countries. The effectiveness of clinical nursing service remains a critical determinant of the health care service of any country.
He finally called on Individuals and philanthropists to go into genuine and transparent partnership with government as government alone can no longer fund health care delivery. That introduction of Health Tax like the VAT and Education Tax Fund will help remedy the current situation.
Source: The Nigerian Voice
News / Patient Lands in Jail for Stealing Phone of Nurse Who Treated Him in Zimbabwe by katty:

December 14, 2018, 05:37:34 PM
A DARING illegal diamond miner who did the unthinkable by stealing a cell phone worth $800 from a nurse who had treated his injured leg has been convicted of theft on his own plea of guilty.

Thomas Chigora (22), of Farikai Village under Chief Marange, was convicted on his own plea of guilty when he appeared before Mutare magistrate Ms Perseverance Makala, last Thursday.



He was remanded to today (Friday) for sentencing.

Miss Perseverance Musukuto prosecuted.

Allegations were that on November 27, 2018, Chigora was at ZCDC Clinic in Chiadzwa for wound treatment on his left leg.

Sakile Ndlovu attended to him.

After attending to Chigora, Ndlovu went outside to call a security guard to help chuck him out after he had been unmasked as an illegal diamond miner at the mine.

While Ndlovu was outside, Chigora took a Samsung cellphone and sneaked out of the room.

Chigora handed the phone to Admire Gomba and told him that the mobile gadget was his.

He promised to collect it after being cleared by the security guards that had arrested him for alleged illegal diamond mining activities at the mine.

When Ndlovu failed to locate her phone, she alerted the security guards and a search was conducted.

The phone was then found in the possession of Gomba.

Gomba told the guards that the cell phone belonged to Chigora.

The value of the stolen phone was $800 and it was recovered.
News / The Drones And The Dunderheads - Green Track by katty:

December 14, 2018, 07:48:19 AM
Ghana's Public Health Sector runs a three-tier system of managing health commodities. The Central Medical Store (CMS), The Regional Medical Store (RMS) and Service Delivery Points (SDPs) in conjunction with the transportation network make up the conduit for the supply chain. The transportation system is made up of a complex network of vehicles, motorbikes and bicycles. Fuel supply to these network of vehicles and motorbikes is a crucial activity to ensure commodity availability at the health facility level.
The CMS takes responsibility for the receipt, storage and distribution of all commodities procured by the Ministry of Health. The RMS and SDPs receive their supplies from CMS through the Pull system. Under commodity distribution framework, an agency may either adopt a push or a pull system of distribution. A push system will require the CMS to distribute commodities to lower levels upon receipt, whether requested or not, whilst the pull or demand system will require the CMS to send logistics based on demand and request from RMS and SDPs.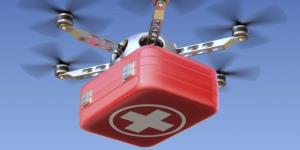 The Ghana Health Service logistics system is centralized whilst the health care delivery system is decentralized. Logistics management in the health system is crucial and serious business that require smart solutions beyond the rental of drones. This is because there are instances where medicines and health commodities are not available at the Central Medical Stores and the Regional Medical Stores. Consequently, there is no commodity security at the service delivery points. The previous Government under the leadership of President John Dramani Mahama undertook a comprehensive assessment of the logistics management system in order to bring efficiency in the system. The JDM administration studied the practices of logistics management, the causes of inadequacy of logistics and the strengths and weaknesses in Ghana Health Service logistics system.
It was found that poor procurement planning and budgeting, lack of financial resources for procurement, poor quantification and forecasting, delay in procurement process and order processing, and delay in receiving insurance claims are some of the causes of inadequacy of logistics in the health systems. The JDM administration responded to these findings by implementing the Logistic Management Information System which created an I.T. platform with clear business rules that ensured that orders for essential commodities such as blood and blood products as well as anti-snake venom are made three months before stock depletion. This evidence based intervention ensured that no facility will be required to make urgent and request for essential health commodities. It is therefore worrying that the current government has decided to rent drones to transport commodities which will be required by facilities in at least three months' time. What could have accounted for this if not corruption and lack of knowledge? It appears apparent that the current government does not understand the public sector of the country and feels too proud to consult JDM and/or relevant stakeholders. The Drone rental project should be the last thing Ghanaians should see happen given the fact that it is absolutely unnecessary and insulting to the respected health service workers of this country.
I recommended that Ghana Health Service logistics or supply system must receive constant monitoring and evaluation by the Ghana Medical Association, Civil Society Organisations, the Opposition political parties and the Nurses, Health administrators and Lab Technologists groups.
Further, Stakeholders must ensure that there is effective top-down supervision in the system to guarantee efficiency and prevent operatives of the Government from using the sector as a milking cow to finance their opulence. They should remain at the Dirty oil sector at BOST and other sectors but not at the health sector where a penny stolen has direct consequences on the lives of many Ghanaians. Again, stakeholders must ensure the Drones rental funds are secured from the government and/or GNPC to procure essential health commodities such as Anti-snake venoms, blood and blood products which are currently in short supply at the various medical stores and health facilities. Availability of fuel for the use of vehicles and motorbikes should be prioritized since the shortage of fuel has been blamed for the failure of various stores to deliver essential and regular commodities to facilities. With these basic problems prevalent and remain a major cause of lack of essential commodities at the facility level, how can a person well oriented in time and space decide to rent drones to deal with logistics security in the health sector? The narrow mindedness is beyond redemption indeed.
Stand by for the Gold track of this piece. Thanks for your time.
Dr. Mawia Zakaria.
Executive Director
IRAD
Accra.
News / Ghanaian Doctors Kick as Ghana Set to Use Drones to Transport Medical Supplies by katty:

December 14, 2018, 07:44:09 AM
Ghana Medical Association is reacting negatively to a government decision to transport blood and essential medical supplies to rural areas in the country by unmanned drones. The service has been contracted to an American company.
Deputy minister of information Pius Enam Hadzide said he was shocked by the GMA reaction over what he says would improve health services.
The Ghana Medical Association says the use of drones violates the country's primary health care policy. It also said it would be counter-productive as it would cause more doctors and nurses to be unemployed in the administration of the drugs.
The drone goes into effect next year. It was approved by parliament by a majority of a hundred and two to fifty-eight.
Rwanda already uses drones for the same purpose.
News / RCN Begins Campaign to Abolish £400 Immigration Health Surcharge for Nurses by katty:

December 13, 2018, 08:30:42 AM
The RCN is campaigning to make nursing staff exempt from a charge international workers have to pay to use the NHS.
Johanna has been working as a nurse in the NHS for almost three years. She moved to the UK from the Philippines in 2016 and has been paying National Insurance and taxes, both of which help fund the NHS, since she received her first pay cheque.
In January, she will need to renew her working visa which means she'll once again have to pay the Immigration Health Surcharge (IHS); a fee non-EEA (European Economic Area) nationals must pay per year of their working visa to use NHS services. A fee which, under government plans, is set to double from £200 to £400 next year.
The RCN is campaigning to see the IHS waived for overseas nursing staff like Johanna, who are working in the UK, and their dependents.
"It hurts to think we're not valued by the Government," says Johanna, who worked as a nurse in the Philippines for four years before relocating to the UK.
When I'm at work, I feel like my patients and their families do value my contribution. They're appreciative and know I'm helping to keep the NHS running. It's sad the Government doesn't feel the same
In Johanna's unit, three in 10 members of nursing staff are from countries outside Europe. Elsewhere in the UK, international nurses make up a significant amount of the workforce too. As of September this year, there were 70,491 nurses and midwives from outside the EEA on the NMC register.
Johanna says: "Nurses are included in the shortage occupation list. We're helping with the nursing shortages and yet we're forced to pay twice for a service we're a part of. I don't mind paying for the NHS. It's important that we do, but we're already paying for it with our National Insurance and tax payments just like everybody else."

Soaring fees
Johanna and her colleagues were among the first people who had to pay the IHS which was introduced in 2015.
The IHS – which has to be paid up front – is already a huge financial burden for many, especially for families who must pay the fee for every family member for each year of their working visa. For a family of five, the cost is £1,000 per year and this is set to soar to £2,000 in 2019.
Some of Johanna's friends and colleagues have had to make the difficult decision to leave their immediate family back home as it's not financially viable for them to pay.
Overall, Johanna says her experience of working as a nurse in the UK has been positive: "It's been a good move for my career and a great experience for me. I've specialised, my friends have been promoted and we've had amazing support from our managers and employer. They've helped us right from the beginning; supporting us to register with the NMC and they're supporting us now too."
The RCN has launched an online tool to help members and the public quickly find and email their MP, asking them to write to Sajid Javid MP, the Home Secretary, urging him to waive the IHS for non-EEA nursing staff.
Johanna says: "I'm so thankful that the RCN's campaign has made it easier for me to circulate information that allows people to support this cause. I've sent messages to friends, friends of friends, anyone I can think and all over the country, asking them to email their MP."
"We've been working so hard to establish ourselves here but we're still treated as though we're not entitled to things.
"Sometimes it feels as though no-one is listening but the RCN's campaign has helped me with that. It's great to know we have support and people value the work we do
"I would urge everyone to email their MP today as it will really help. If the surcharge was waived, I would feel so valued, and I know so many others would feel the same."
Source
https://www.rcn.org.uk/magazines/bulletin/2018/november/an-unfair-fee-for-overseas-staff?
Travel Nursing / Give Migrant Nurses a Longer Visa To Help Ease Shortage by katty:

December 12, 2018, 11:46:38 AM
New Zealand: Internationally qualified nurses (IQN) represent 26% of the overall practising nurse workforce in New Zealand (NCNZ, 2017a). As of 31 March 2017, New Zealand has 52,711 practising nurses. Of these, 4,337 gained their nursing qualification in the Philippines, thereby, making Filipinos the third largest ethnic group (8%) in the overall NZ nursing workforce, after NZ European/Pākehā (62%) and other European (14%) (NCNZ, 2017b).

Requirements for New Zealand registration

Graduates of nursing programmes outside New Zealand, like most Filipinos, are required to satisfy the seven requirements for NZ registration. These requirements are: submission of legal documents to prove identity; completion of a nursing qualification that is equivalent to level 7 or 8 on the NZ Qualifications Framework; high standard of written and spoken English with at least a B for each band in an OET test or at least 7.0 for each band in an IELTS Academic test; current nursing registration overseas; fitness to practise; at least two years' experience working as a registered nurse overseas, and completion of a Competency Assessment Programme (CAP) to demonstrate competence to practise in the NZ context (NCNZ, n.d.).

Cost of applying for a Competency Assessment Programme in New Zealand
There are only 16 accredited programmes which offer competency assessment for registered nurses among the list of programmes approved by the Nursing Council of New Zealand in May 2018. Enrolment in a programme costs an international applicant around NZ$6,100 to NZ$10,500 plus 15% GST on top of costs for visa application and processing of legal documents, sitting an English exam, travel to NZ (approximately NZ$1000 - $2,100 one-way, economy class), accommodation (approximately NZ $2000 for eight weeks), other living expense, medical tests (approximately NZ $1,000), insurance, uniform and other study expenses. Enrolment in a programme for a domestic applicant, on the other hand, costs around NZ$1,500 - NZ$2,300. Approximate ideal (no repeat examinations or re-application required) total expenses upon completing the CAP in eight-weeks would be NZ$17,000 - NZ$21,000 on a tight budget.
Filipino nurses and their families go to great lengths to save this amount of money. It would take years for a Filipino family to save this enrolment fee, plus a huge bank debt and loss of family assets. Thus, a repeat medical test or visa application or a re-sitting of an English exam would be a huge blow to the scarce resources available to a Filipino applicant.

Facilitating the process of obtaining nursing registration through a migrant nurse visa
Migrant nurses who enrolled in the CAP come to NZ on a limited visitor's visa which is usually valid for only 3 months. The CAP takes an average of 9 weeks to complete, after which, the nurses need to apply for a visa extension while waiting for a license to practise. After they have obtained their license to practise, they then would need to apply for a work visa. This entails hundreds of dollars (3X visa application), a lot of time to prepare documents for the repetitive application and stress because of uncertainty. Thus, it is recommended that immigration NZ develop an IQN/CAP visa category which is valid for 9-12 months to allow migrant nurses to complete the CAP, obtain a practising certificate, and look for a job as registered nurses.
New Zealand's nursing shortage is predicted to increase up to 15,000 by 2035 (NCNZ, 2013). Immigration NZ can therefore help resolve this problem by facilitating the process of obtaining nursing registration for IQNs.
References:
Nursing Council of New Zealand (2013). The future Nursing workforce. Supply
projections 2010-2035.Wellington: Nursing Council of New Zealand. Retrieved
from
http://www.nursingcouncil.org.nz/News/The-Future-Nursing-Workforce
Nursing Council of New Zealand (2017a). Trends in the New Zealand Nursing
Workforce: 2012-2016. Wellington: Author.
Nursing Council of New Zealand. (2017b). The New Zealand Nursing Workforce: A
profile of Nurse Practitioners, Registered Nurses and Enrolled
Nurses 2016-2017. Wellington: Author.
Nursing Council of New Zealand. (n.d.). The requirements for New Zealand
registration. Retrieved from
http://www.nursingcouncil.org.nz/Nurses/International-registration#reqs