News / #NursesWeek Baptist Schools Of Nursing And Midwifery Saki Holds Its 2017 Week by Idowu Olabode:

November 20, 2017, 08:23:49 AM
THE NATIONAL ASSOCIATION OF NIGERIA STUDENT NURSES AND MIDWIVES BAPTIST SCHOOLS OF NURSING, BAPTIST MEDICAL CENTRE, SAKI CHAPTER, OTO STATE INVITES THE GENERAL PUBLIC TO ITS 2017 NURSES WEEK
THEME:
CURRENT TRENDS IN NURSING EDUCATION AND PRACTICES. "COLLEGATE NURSING: IS ff THE BEST IN NURSING EDUCATION AS OF PRESENT?"
Day 1:
Opening Ceremony and Indoor Games
Day 2:
Outside Community Mobilization and Awareness
Day 3:
Interschool Speech Competition
Topic: Collegate Nursing - Is the best for us in Nursing education as of present?
Sports
Day 4:
Symposium
Topic: Research - A tool in effective Nursing Practice
Asa Night
Day 5:
Relationship Matters.
Back to school programme and signing out of Finalists
Day 6:
Joint Fellowship
Grand Finale and Dinner Night
Day 7:
Thanksgiving Service
Election
Date: 19th -25th November 2017
Venue: Baptist Schools of Nursing Premises
Opening Ceremony Holds On 19th November, 2017
Host:
Prince Dr. O.S. Adekanye
Medical Director BMC, Saki
Chief Host
Chief MichaeldKoleosho
Elder BMC, Saki, Life Patron
Mr B.A. Adeniran
Principal BSON, Saki
News / Cebu Provincial Health Office Investigating Cebu Nurse Incident by Idowu Olabode:

November 20, 2017, 08:19:51 AM
"Based on our inquiry, the patient got mad because she was not attended to by the nurse. The nurse, on the other hand, claimed they were so busy attending to so many patients confined at that time,"

The Cebu Provincial Health Office (PHO) is investigating an incident involving a female patient assaulting a nurse of a western town hospital in a video, which was uploaded on Facebook yesterday morning and has since become viral on social media.

The video, which garnered at least 1,700 reactions (1,000 angry reactions and 465 likes) and shared more than 3,100 times since yesterday afternoon, had reached the attention of Dr. Rene Catan, PHO chief.

Catan told Cebu Daily News in a phone interview that they received an informal report from a concerned citizen about the viral video.

"We received a report about a nurse being slapped repeatedly by a patient. It was sketchy, at first, but we did what was needed. We are conducting an investigation (on the incident)," said Catan.

The video showed a patient walking along the lobby accompanied by a person lugging along her dextrose. The patient confronted the nurse sitting on the table at the Balamban District Hospital in Balamban town, 45 km from west of Cebu City.

"Unsa? Administrator nimo asa man? Nangutana lang ko kinsa siyang tawhana? Unsa man? (What? Where's your administrator? I am just asking who he is?)," the patient stated on the video.

When the nurse reportedly failed to give her answers, the patient challenged the nurse to reveal her name and show her ID.

The argument escalated when the nurse slammed a document on the table. The patient was later seen trying to shove and hit the nurse as they continued arguing.

The confrontation ended when the a security guard intervened.

Catan said that the officers from the PHO assigned in Balamban had already reported the incident to the Balamban Police Station and had it logged in the police blotter.

Catan also said that they could not divulge the identities of the women seen in the video because investigations are still ongoing.

"A blotter was already filed to reveal who instigated the incident. As of now, we cannot make any conclusion. But as far as we are concerned, we cannot blame the patient because she's one of the many people we're providing our services to. Also, we cannot blame the nurse because of what the patient allegedly did," said Catan.

PO1 Andy Mabanta, desk officer of the Balamban Police Station, said the incident was blottered at their office, but they endorsed it to officials of Barangay Poblacion for a possible settlement.

"Based on our inquiry, the patient got mad because she was not attended to by the nurse. The nurse, on the other hand, claimed they were so busy attending to so many patients confined at that time," Mabanta said.

Source :https://cebudailynews.inquirer.net/154697/hospital-incident-probed
News / Scottish Nurse Managers to Wear New Uniforms Different from Ward Nurses by Idowu Olabode:

November 20, 2017, 07:52:50 AM
A new burgundy uniform is being issued to head nurses across Scotland to ensure that patients and relatives know who is in charge on hospital wards.
Shona Robison, the Scottish health secretary, ordered the new policy after inquiries raised concerns about the lack of visibility of senior nurses in hospitals.
The new tunics will be worn by nurse managers — the level above ward sisters and charge nurses — to make them more visible. Previously, they did not wear uniforms and were more likely to wear business attire.
For full story check the source
https://www.thetimes.co.uk/article/nurses-tunic-tells-patients-who-s-boss-9w5qtkzmg
News / WSPEHSU Announces the FREE Pediatric Environmental Health Toolkit (PEHT) Mobile Application by katty:

November 20, 2017, 07:34:25 AM
Parents say they are concerned about environmental health threats, yet most pediatric care providers don't offer prevention strategies during office visits. Why? Many providers report that they feel ill-equipped to educate families about common exposures. Now, the new FREE Pediatric Environmental Health Toolkit (PEHT) mobile application, endorsed by the American Academy of Pediatrics (AAP), provides this trusted information.
We know that health care providers can play an important role in changing patterns of patient behavior. With the new Toolkit app, you can access simple ways to incorporate anticipatory guidance on environmental health during well child visits. Easily viewed on any mobile device or computer, evidence-based overviews are provided on health hazards related to air, water, food and products. Quickly scroll to anticipatory guidance you can offer patients keyed to age, from prenatal through teen years, on topics from how to avoid toxicants in the home to healthy eating practices.
The Toolkit application provides examples of how and where we live, eat, sleep, work, and play can impact our health, and what we can do about it. Beginning in the womb and continuing throughout life, multiple environmental factors are strong determinants of health, even decades later, making it ever more important to provide the most current and scientifically-based advice to patients on how to have healthy families.
Research shows that parents are anxious to have this information. Now, the Toolkit makes it easy for clinicians to provide.
Three key sections cover the basics:
-Briefs of environmental hazards to health found in the air, water, food and consumer products; includes sections on health effects, routes of exposure and prevention strategies.
-Key concepts including the unique vulnerability of children, how the chemical, built and food environments influence health, and environmental justice.
-Anticipatory guidance keyed to thirteen age groups from prenatal through teen years.
The PEHT app is a joint project between the United States Pediatric Environmental Health Specialty Units and Physicians for Social Responsibility. It is based on material in the American Academy of Pediatrics "Green Book." This material is available in English only at this time.
The PEHT app can be found here:
http://peht.ucsf.edu/index.php
News / Ghana: 5 Useful Ways Trainee Nurses Can Use Their Allowance by Idowu Olabode:

November 20, 2017, 05:13:46 AM
Earlier last month, the government launched the restoration of nursing trainee allowance with a joyous and a colourful ceremony at the Sunyani Nursing and Midwifery Training College.
This was an exciting moment for student nurses and parents alike as students have endured hardship since the cancellation of the allowance by the previous government in 2014.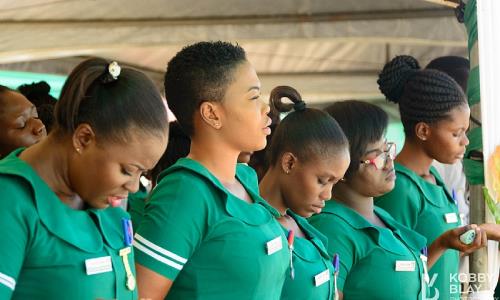 But even before the restoration of the allowance, most student nurses may have budgeted for what they would use the monthly allowance of Ghc400 for. As most nursing students are young people, purchasing items like the latest phones, trendy outfits, designer shoes and bags among others may be top of the list.
However,it will be unwise to waste allowance on the above as there are profitable ways to use the allowance effectively. Remember it's important to invest in your future.
Here are 5 ways to use your allowance profitably
School Fees - Nursing Colleges in Ghana charge very high fees with first year students paying as high as Ghc 4,300 hostel included. You can imagine the difficulties the average Ghanaian parent would go through to raise such an amount.
Student nurses can support their parents by depending on the allowance for their upkeep and buying school items so parents can have a breathing space to concentrate on the next school fees.
Investment - Students can invest in treasury bills with some part of the allowance or save money for personal initiatives.
Entrepreneurship- For those who want to start their own businesses because of the flexibility in their schedules, this is the time to save enough to get started even before you graduate from school.
Some nurses have become successful business owners even before they graduated from school because they started implementing business idea while in school. So while their colleagues are calling on government for jobs, they are comfortably placed in their own businesses.
School business - I don't know if it is allowed for students to do petty trading on campus. However, if it is allowed in your school, you can invest in selling stationary, provisions, phone credit among others. These items maybe in high demand as it is sometimes difficult for students to go outside the school to access these items.
Learn a vocation- With your allowance, you can enroll in a fashion design, hairdressing, beadmaking or a makeup class.and have these as a side job for extra income.
Source : Modern Ghana
News / India: Kerala govt issues notification, nurses to get minimum salary of Rs 20,00 by Idowu Olabode:

November 20, 2017, 05:08:33 AM
The Kerala government has issued a notification fixing the minimum wages of staff at private hospitals, dispensaries, pharmacies, scanning centers, X-ray units and other related establishments. The staff members have been divided into eight categories.

Classification of hospitals has been worked out on the basis of number of beds available, and considering in-patient facility.

Nurses managers are to be paid a basic salary of Rs 22,650, while nursing superintendents should be given Rs 22,090. The basic salary for others: assistant nursing superintendents Rs 21,550; head nurse Rs 21,020; tutor nurse/clinical instructor Rs 20,550; staff nurse Rs 20,000; ANM grade 1 – 18,570; grade 2 – 17,680.

Suggestions will be considered two months after the date of notification in the gazette. The government will consider objections and suggestions.
News / UK Nurses to get pay rise as NHS budget is set to be boasted by Idowu Olabode:

November 19, 2017, 07:55:24 PM
NHS NURSES are set to get a pay hike in next week's Budget, it was reported today.

Philip Hammond is believed to be preparing to set aside cash to fund an increase in health funding to end the wage squeeze on nurses.

The announcement has been welcomed by activists - but they warned that a pay rise must not come at the expense of the rest of the NHS.

The Chancellor will deliver his Budget on Wednesday, and will announce that Britain will put driverless cars on the roads within four years.

The Budget will include extra funding to help nurses' wages keep up with inflation, the Sunday Telegraph reported.

Nurses - like other public-sector employees - have faced a cap of 1 per cent on their annual pay rises for several years.

That cap has now been lifted - but raising wages by 3 per cent, which is the current level of inflation, would cost £1billion.

Mr Hammond is reportedly set to promise the NHS it will get an overall funding boost so that no services have to be cut back to fund the pay hike for nurses.

A spokesman for the Royal College of Nursing - which is demanded a rise of 3.9 per cent - said: "We will wait to see details on Wednesday but nursing staff need a pay rise above inflation and the Government must give the NHS the funds to cover it."

Nurses have previously threatened to strike if their wages do not start to match inflation.

Asked by Andrew Marr today if he would agree to increase NHS funding by £4billion as demanded by health service boss Simon Stevens, the Chancellor said that "Armageddon won't arise" if the cash is not handed over.

He added: "I'm very impressed with the way that Simon Stevens fights his corner."

But health bosses hinted they are unhappy with Mr Hammond's comments - the official NHS England Twitter account today republished a string of statement from Mr Stevens insisting that the service is still underfunded.

Mr Hammond is also set to announce plans for 300,000 new homes to be built every year, it has emerged - but has shot down calls to borrow more money to fund the housing policy.

He told Mr Marr on BBC1: "The challenge here is affordability and I think experts generally agree that to start to make inroads on the affordability problem, we have got to be sustainably delivering around 300,000 homes a year on average across the housing cycle.

"That's a big step up from where we are now.

"There is no single magic bullet and it's certainly not just about pouring money in, because if you pour money in without fixing the other elements of supply, you will simply create more house price inflation, that makes the problem worse, not better."

The Chancellor is hoping to shake off his "Eeyore" reputation for pessimism by putting forward a positive view of the future.

He told the Sunday Times: "I recognise that I can't use this Budget just to trail a bunch of numbers, but must tell a story about where Britain is going."

Mr Hammond vowed to embrace the chances offered by the new hi-tech revolution - mocking Jeremy Corbyn for attempting to turn back the clock to a previous era.

And he admitted that he has to learn from the blunders of the last Budget, when he was slammed for raising taxes on the self-employed.

Source :https://www.thesun.co.uk/news/4946978/nurses-will-get-a-pay-hike-at-last-as-chancellor-prepares-to-boost-nhs-funding-in-the-budget/
News / UK NMC Records Sharp Increase in Applications from Overseas Nurses after relaxing English Requiremen by katty:

November 18, 2017, 10:21:58 AM
A "significant number" of nurses from abroad have applied to work in the UK in the past two weeks, the nursing regulator has revealed, suggesting recent changes to language testing are improving overseas recruitment.

The chief executive of the Nursing and Midwifery Council told MPs this week that there were "early indications" the alternative English language test it had introduced, plus new rules that mean nurses who have studied or practised in English no longer need to take a test, were proving popular

"We wouldn't have proposed these changes if we didn't think it would make a difference," NMC chief executive Jackie Smith told the Commons' health select committee on Tuesday.
"Early indications are that a significant number have registered to take an alternative test or provide evidence of studying or practising in English," said Ms Smith.

An NMC spokesman later confirmed to Nursing Times there had been a "spike" in the number of people from outside the UK applying to join the register since 1 November, when the rules changed.

However, he said it was unlikely applicants would have been required to provide evidence of their English language at such an early stage of their application and so it was unclear which of the rule changes was having the greatest effect.


The NMC brought in the changes after coming under pressure from chief nurses and recruitment agencies who claimed the existing International English Language Testing exam was causing recruitment difficulties because it was set at too high a level.

Following a review by the NMC, nurses from outside the UK can now take either the IELTS exam or the Occupational English Test, which is already in use in Australia and New Zealand.

In addition, if a nurse or midwife has practised for at least a year in a country where English is the first language, or studied in English, then they do not need to take a test.

The IELTS exam has been in place since 2007 for applicants from countries outside the EU and European Economic Area. Nursesarena.com Until 1 November nurses had to pass it, even if they come from countries such as Australia or New Zealand where English is the first language.

Meanwhile, since January 2016, nurses and midwives from Europe have also been required to demonstrate English language skills, either by passing the IELTS exam or having trained or previously practised in English.

Earlier this year, NMC figures showed a 96% drop in the number of EU nurses joining the register every month compared with the year before.

Some blamed English language testing requirements while others claimed Brexit was putting off nurses coming to work in the UK.

Last month the NMC agreed it would continuing to explore whether other tests, in addition to the IELTS and OET, could be nursesarena.com used to assess English language in the future. It is also looking at whether to lower the pass score for just the writing element of the IELTS.

A wider review of all parts of the process for allowing overseas nurses into the register is also being carried out by the NMC, looking at language testing, competency checks, the cost and location of testing

Source :https://googleweblight.com/i?u=https://www.nursingtimes.net/news/workforce/rise-in-overseas-nurses-applying-to-nmc-after-language-test-changes/
Free Nursing Books / Free Online Maternity Care Course from Griffith University Australia by katty:

November 18, 2017, 05:23:05 AM
Research unequivocally shows that providing a woman with the same midwife before, during and after birth, results in less preterm birth, fetal death and other complications.
Interested in how quality relationships between providers and mothers can transform maternity care?
Griffith University is offering a FREE online course where you can learn what relationship-based care involves, its overarching principles and what it means in the context of maternity care.
It begins on Monday - register today!
To register click
https://www.futurelearn.com/courses/maternity-care/1
Schools of Nursing / School of Nursing/Midwifery, FCT, 2017/2018 Post Basic Nursing/Midwifery Form by Idowu Olabode:

November 17, 2017, 06:57:22 PM
Admission into FCT School of Nursing/Midwifery Gwagwalada-Abuja for Post Basic Nursing /Basic Midwifery Programmes-March, 2018

• This is to inform interested candidates wishing to seek admission into FCT schools of Nursing/Midwifery Gwagwalada, Abuja for POST BASIC NURSING?BASIC MIDWIFERY PROGRAMMES that Admission Forms are now on sale at Room 080, FCT HEALTH AND HUMAN SERVICES SECRETARIAT, NURSING DEPARTMENT, AREA 11, GARKI-ABUJA.

• Candidates wishing to obtain the forms should show evidence of payment of Non refundable fee of N5,000.00 (Five Thousand Haire) only into HEALTH AND HUMAN SERVICES SECRETARIAT REVENUE ACCOUNT in FCMB. Candidates are to pay Into account No.3402015028. SALE OF FORMS CLOSES BY 2ND DECEMBER 2017.

• Completed forms are to be returned to the Principal, FCT School of Nursing Gwagwalada for post basic nursing programme & principal, FCT School of Midwifery, Gwagwalada for basic Midwifery Programme on or before 2nd December, 2017.

ENTRY QUALIFICATION:
• Eligible candidates should posse. WAEC, GCE, or NECO with at least FIVE CREDIT passes including English Language, Mathematics, Physics, Chemistry and Biology at not more than two sittings.NABTEB certificate is not acceptable. Awaiting Result not Eligible.
• The result(s) presented should not be more than 10 years since the examination was written.
• Candidates seeking admission for PostBASIC NURSING PROGRAMME should in addition possess their Midwifery REGISTRATION/PRACTISING LIECENCE.

• PREGNANT CANDIDATES AND CANDIDATES BELOW THE AGE OF 17 (SEVENTEEN) YEARS ARE ADVISED NOT TO OBTAIN THE FORMS.

• ANY CANDIDATE WHO PAYS TO ANY PERSON/PERSONS OR ANY OTHER ACCOUNT NUMBER OTHER THAN THE ONE INDICATED ABOVE IS DOING SO AT HIS/HER OWN RISK.

Signed:
Management