News / Midwives4all: Outstanding Midwives Awarded in Uganda by katty:

December 29, 2018, 05:46:22 PM
Twelve midwives from different health facilities in the country have been recognised by the Swedish government for their outstanding contribution towards the health sector.
The 12 include; Christine Agwang , Susan Nakami, Anite Joyce, Ketty Akullo, Mary Karungi, Evas Tokoreki and Grace Bachira.
Others are Grace Amito-Chan, Frances Nantabazi, Specioza Nagronsa, Josephine Nandago, Betty and Namugosa. Each of the awardee received a certificate of midwifery excellence during a ceremony held at the Swedish Ambassador's residence in Kololo on Tuesday.
The midwives who were awarded were selected following a national nomination process and deliberations by district, regional and national award committees.
The Minister of Health Jane Ruth Aceng said, these stood out for their resilience in helping mothers deliver safely amidst challenges including poor pay, lack of necessary equipment, and moving long distances to work.
"For a long time we have not appreciated midwives and this token from Swedish government is an eye opener for government to start appreciating midwives," Aceng said.
He acknowledged that the working conditions for midwives are still poor and pay is low but says this doesn't mean they shouldn't work hard.
"The government of Uganda reorganises the importance of midwives and we really appreciate the midwives especially the ones working in upcountry facilities where the conditions are wanting," Aceng noted.
She revealed that reorganising midwives goes a long way in improving service delivery.
"We have lots of complaints from the population; midwives are rude, not available, beat mothers which is bad. We have all the opportunity to rebuild this image," she added.
The Ambassador of Sweden to Uganda Per Lindgarde, said midwives play a key role in maternal and new born health, as well as for healthy families.
"They make the difference between life and death for new born babies and their mothers. For this, they deserve our heartfelt respect and recognition," Lindgarde says.
He revealed that midwives are central for empowerment, particularly for women's empowerment.
"With this price, it is our hope that all awarded midwives will continue to find inspiration and motivation to carry out the tremendously important work that they do – and be role models for other midwifes and students in their districts, regions and in Uganda as a whole," Lingarde said.
The United Nations Population Fund (UNFPA) representative Alain Sibenaler commended the Swedish Embassy and Swedish Midwives Association who since 2015 have been awarding Uganda's midwives.
"We stand in solidarity with midwives in reorganising their life saving work often in difficult conditions. There is no stronger testament to their care and commitment than the number of babies they tirelessly deliver," Sibenaler said.
According to UNFPA, seven out of 10 women in Uganda now deliver with assistance from a skilled birth attendant usually a midwife.
Sibenaler called for measures to improve the midwife to patient ratio to help reduce burn out of already overburdened workforce.
"It is estimated that in Uganda, a midwife delivers between 350 and 500 mothers a year yet WHO recommends that midwives should deliver not more than 175 mothers a year," Sibenaler said.
In 2015, Sweden launched a successful global campaign called midwives4all to highlight the important role midwives play in maternal health.
During the campaign Uganda was the first country in the world to introduce a midwives4all award for "Excellence in Midwifery and Outstanding Contribution to Maternal and New-born Health".
The Embassy has since continued awarding midwifes annually and this is the 4th year they are recognizing midwives in Uganda.
Source : New Vision
Nursing Jobs / University Of Nigeria Teaching Hospital Enugu 2019 Internship Application Form by katty:

December 28, 2018, 05:00:44 PM
Applications are invited from suitably qualified candidates for appointment in the University of Nigeria Teaching Hospital, Ituku/Ozala, Enugu into the following one year Internship posts.
1. House Officers
02. Dental House Officers
3. Pharmacy Interns
4. Physiotherapy Interns
5. Intern Radiographers
6. Intern Medical Laboratory Scientist
7. Nutrition & Dietetics Interns
8. Dental Therapy Interns
9. Dental Technology Interns
10. Nurse Interns
QUALIFICATION/EXPERIENCE FOR THE VARIOUS POSTS
Candidates for Post 1 must possesses any of the following (I) MB.BS (ii) M.B.BCH or its equivalent from a recognized University and must have registered with the Medical and Dental Council of Nigeria (MDCN)
Candidates for post 2 must possess any of the following (i) Bachelor of Dental Surgery (BDS) (II) M.B.B.CH or its equivalent from a recognized University and must have registered with the Medical and Dental Council of Nigeria (MDCN)
Candidates for post 3 must possess a Bachelor's Degree in Pharmacy from recognized University and must have registered with the Pharmacists Registration Board of Nigeria (PRBN)
Candidates for post 4 must possess Degree in Physiotherapy from a recognized University and must have registered with the Medical Rehabilitation Therapists Registration Board of Nigeria (MRTRBN)
Candidates for post 5 must possess a Bachelor's Degree in Radiography (B.Rad) from a recognized University or any other equivalent qualification and must have registered with the Radiographers Registration Board of Nigeria (RRBN)
Candidates for post 6 must possess a Degree in Medical Laboratory Science from a recognized University and must have registered with the Medical Laboratory Council of Nigeria (MLSCN)
Candidates for post 7 must possess a B.SC Degree in Nutrition and Dietetics from a recognized University
Candidates for post 8 must possess a Higher National Diploma in Dental Hygiene from a recognized Health Institution
Candidates for post 9 must possess a Higher National Diploma in Dental Technology from a recognized Institution
Candidates for post 10 must possess a B.Sc Degree in Nursing from a recognized University and must have registered with Nursing and Midwifery Council of Nigeria (NMCN)
Please Note: Candidates who do not have their Statements of Result and Current Practicing Licenses should not apply.
SALARY SCALE FOR THE POSTS Post 182 CONMESS 01 Posts 3,4,5,6,7,8,9 810 CONHESS 08
METHOD OF APPLICATION
Candidates should visit the UNTH WEBSITE
www.unthenugu.com.ng
, and follow the link:- Online application. unthenugu.com.ng
CLOSING DATE
Six (6) weeks from the date of publication
Signed
Dr. Christopher C. Amah
Chief Medical Director
News / NUNSA Week: NUNSA-LASU Holds First Symposium by katty:

December 28, 2018, 12:12:15 PM
NO fewer than 150 students attended the first symposium of the Nigerian University Nursing Student Association (NUNSA), Lagos State University (LASU) chapter.

It held penultimate week at the Lagos State University College of Medicine (LASUCOM).

The event was part of activities marking the NUNSA Week.

Speaking on the theme: "Nursing in the 21st Century: Advancing practice through education and innovation," the guest lecturer, Dr Dorothy Titilayo, a lecturer in the Department of Nursing, University of Ibadan, urged student nurses to focus on the next line of development of the nursing profession in the 21st century, encouraging hard work and discipline in student innovation and collaboration with other health workers. She also counselled the trainee nurses to be patient as it would help better their profession.

Dr Theresa John, Head of department of Pharmacology and course coordinator for entrepreneurship, LASUCOM, spoke on the sub-theme: "Entrepreneurship in nursing" to equip nursing graduates with the abilities and ideas for self-employment.

She listed over 60 opportunities in Nursing that could be exploited by student nurses, urging the students to think out of the box.

The inauguration of the newly elected executive of NUNSA-LASU featured during the symposium. There were goodwill messages from some guests.

Dignitaries included: the Provost, LASUCOM, Prof Anthonia Ogbera; former Vice Chancellor, LASU, Prof John Obafunwa; Dean, Faculty of Clinical Science, Prof Awobusuyi; Head, Department of Nursing, Dr Bola Ofi; and Director of Nursing Services, Lagos State.
News / Four Land in Court for Beating Doctor, Nurse in Lagos Hospital by katty:

December 28, 2018, 11:49:15 AM
Four men, Ismail Dauda, 53, Emmanuel John, 25, Mohammed Abbas, 28, and Osuntayo Adesina, 38, on Thursday, appeared at an Ikeja Magistrates' Court in Lagos state for allegedly assaulting a medical doctor and a nurse.

The accused persons, who reside at Berger, Agege, Ogba areas of Lagos State and Ibafo in Ogun respectively, however, pleaded innocence to the three charges of breach of peace, assault and conspiracy levelled against them.

The prosecutor, ASP Clifford Ogu, said that the accused committed the offences on December 13 at the Lagos State Accident and Emergency Centre, Alausa in Ikeja.

He said that the accused and others still at large conspired to assault Dr Babatunde Durosimi and Olabode Alabi.

"The accused beat-up the complainants while they were performing their official duties.''

Ogu said that the accused jumped over the fence to gain access into the centre's premises.

"They beat-up and overpowered the security guards on duty, who accosted them and tried to stop them from entering the ward.

"The accused forcefully entered the ward, beat-up the complainants attending to accident victims.

"One of the complainants called the Rapid Response Squad men who came to their rescue.

"The RRS men arrested four of the accused while others escaped," the prosecutor said.



The prosecutor said that the offences contravened Sections 168, 173 and 411 of the Criminal Law of Lagos State, 2015.

The News Agency of Nigeria reports that Section 173 carries three years' jail term for assault while Section 411 attracts two years for conspiracy.

Magistrate J.A. Adegun granted the accused bail in the sum of N50, 000 each with one surety each in like sum.

Adegun said that the sureties must be gainfully employed and show evidence of two years' tax payment to the Lagos State Government.

The case was adjourned until January 28, 2019 for mention.

(NAN), Punch Newspaper
News / In the Global Shift Toward Health for All, Empower Nurses and Midwives by katty:

December 27, 2018, 07:16:00 AM
There can be no health for all without the contribution of nurses and midwives: it is time they got seats at the table

Roopa Dhatt is the executive director and co-founder of Women in Global Health, a movement that strives to bring greater gender equality to global health leadership.

Barbara Stilwell is the chief executive of Nursing Now, a three-year global campaign aimed at empowering nurses and midwives.

Renditions of the Christmas story these days do not feature midwives. There are shepherds, kings and an ever-diversifying range of animals, but no midwives. Yet, for thousands of years, midwives were considered to be present at the birth of Jesus. They were stock characters in medieval mystery plays about the Nativity and depicted in early paintings too. It is only more recently that the midwives have disappeared.

Nurses and midwives are - to this day - often invisible until they are needed. They tend to be women, to be paid less than physicians (or even male nurses), and to be absent or underrepresented in key decision-making roles, especially in countries where most physicians are men.

This underrepresentation is certainly present in global health, which remains stubbornly unequal, with the vast majority of power still in the hands of white, Western men. Too few of the highest positions go to women, and, by association, to nurses or midwives. Compassionate care-which is at the heart of nursing-is sometimes mistaken for a kind of weakness.

This is a picture that women and men across the sector are now seeking to change. A huge advantage of the 21st Century is our ability to communicate instantaneously across borders. This enables us to raise awareness of disparities, build and nourish networks of current and future leaders, and collate data on a global scale. Nursing Now, a three-year campaign launched earlier this year, has built a diverse team of nurses, midwives and supporters in over 60 countries, linking them together to demand better treatment and investment in nurses and midwives on a local, national and global scale.

Nurses offer a wealth of clinical skills that can be harnessed to make health systems stronger, more responsive and able to cope with changing demands. When nurses are enabled to lead, innovate, and transform health systems for the better, they will be able to pinpoint and solve gaps in care that others may not be able to. Raising the status of nurses will create more opportunities for women to lead, as well as more effective health systems that cater to the specific needs of women rather than overlooking them. Partnering with like-minded movements like Women in Global Health, Nursing Now is working to empower women by empowering nurses.

This is not about fighting for equality just for the sake of it (though that in itself is a noble aim). Research into the Gender Dividend has shown that investment in the human capital of women and girls has multiple positive effects on the global economy. Many of those to benefit from gender equality will be the women who deliver health care, formally and informally, to over five billion people worldwide. These are the same women who will be absolutely critical to achieving the world's most important health goal: universal health coverage. This is supported by a report released in November which shows that without increased investment in nursing and midwifery, it will not be possible to achieve health for all.

If there is to be an effective response to global disease threats, ranging from pandemics to noncommunicable diseases, nurses will be essential. They will-literally for some people-mean the difference between life and death

Nurses lead on the frontline, but to maximise their contribution, they must also be empowered lead and influence at all levels. Governments must invest in the talent pipeline of the health workforce, by educating and empowering nurses and midwives to become influential leaders. This must be supported by professional health associations, who should aim to build capacity and coalitions that support nurse leadership across health systems. Finally, this should be underpinned by governing health bodies at the global, regional and national levels, who should set a minimal quota of having 60/40 gender parity targets and the voice of at least once nurse and midwife in a decision-making role.

The global health workforce is increasingly populated by women, and we will be invisible no longer. If there can be lobsters at the nativity, there can be midwives too (frankly, it makes much more sense). There can be no health for all without the contribution of nurses and midwives: it is time they got seats at the table.

Any views expressed in this article are those of the author and not of Thomson Reuters Foundation.

Source : Thomson Reuters Foundation.
News / Zimbabwe Freezes Admission into Nursing Schools Countrywide by katty:

December 21, 2018, 04:47:54 PM
Government will suspend recruitment of trainee nurses with effect from May next year, Health and Child Care Secretary Dr Gerald Gwinji has said.
In an interview with our Harare Bureau, Dr Gwinji said this was necessitated by the need to standardise recruitment processes and procedures.
He said while recruitment has temporarily been suspended, nurse training will continue with groups already recruited.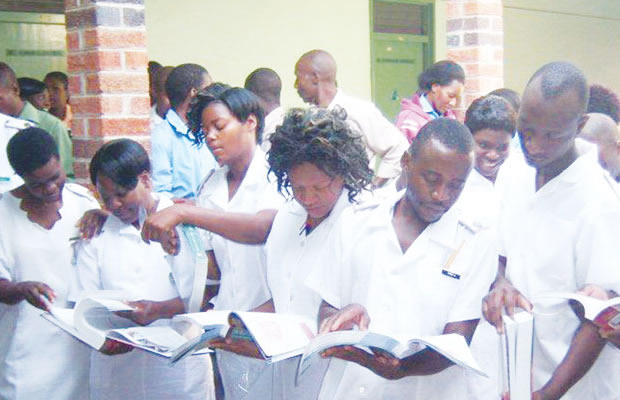 "This is a temporary measure that we have put in place to suspend pre-recruitment for candidates who are coming into nurse training for May and September 2019 going forward.
"We just want to fine tune our policy and recruitment processes so that they are standard and uniform across our institutions.
"Therefore, we will be communicating by end of January going into early February to all institutions with regards to this so that the processes can then commence and continue," said Dr Gwinji.
He said the groups would be subjected to new regulations to be availed in due course.
"Nurse training per se is not suspended. We have a group that will be taken in May but it will then be taken under the revised training regulations," said Dr Gwinji.
All the training institutions have since been advised of the development.
"Please be informed that the recruitment of student nurses from May 2019 and beyond has been suspended. You should be informed of the next steps via a circular in due course," read a memo addressed to all training institutions. The Chronicle
News / Kenyan Nurses Threatens to Call for a National-wide Strike by katty:

December 21, 2018, 04:43:51 PM
The Kenya National Union of Nurses (KNUN) has threatened to call for a nationwide nurses' strike on 4th February 2019.
KNUN is taking an issue with a letter written by salaries and remuneration commission asking county governments to provide information on affordability and fiscal sustainability of the agreed pay increase for nurses.
The nurses are seeking audience with President Uhuru Kenyatta to express their grievances.
According to the nurses, SRC intends to derail the implementation of return to work formula that was agreed between nurses and two levels of government last month.
The nurses union argues the agreed pay increment has already been factored in county budgets for 2018/2019 hence the salaries commission should not object on basis of affordability.
The nurses have therefore threatened to down their tools starting 4th February next year if the pay hike will not be implemented.
Further, the health workers are seeking a meeting with President Uhuru Kenyatta to express their grievances as they feel frustrations by SRC may hinder implementation of the universal health care which is a key pillar of the government's development agenda
Source : KBC
News / Again Nurses Are The Most Honest and Ethical Professionals in USA for 17th Year! by katty:

December 21, 2018, 12:39:57 PM
*Nurses rated highest for honesty and ethics for 17th consecutive year
*Members of Congress and telemarketers rated lowest
*Journalists' ethics rating hits high of 33%, up 10 points since 2016
More than four in five Americans (84%) again rate the honesty and ethical standards of nurses as "very high" or "high," earning them the top spot among a diverse list of professions for the 17th consecutive year. At the same time, members of Congress are again held in the lowest esteem, as nearly 58% of Americans say they have "low" or "very low" ethical standards. Telemarketers join members of Congress as having a majority of low/very low ratings.
Gallup has measured the public's views of the honesty and ethical standards of a variety of occupations since 1976. While the list changes from year to year, some professions have been included consistently over the past four decades.
With the exception of one year, 2001, when firefighters were on the list after the 9/11 terrorist attacks, nurses have far outpaced all other professions since they were added to the list two decades ago. Before 1999, pharmacists and clergy members were frequently the most-highly rated professions for their ethics.
Majorities of Americans also rate four other professions as having "high" or "very high" honesty and ethical standards in the Dec. 3-12 poll: medical doctors (67%), pharmacists (66%), high school teachers (60%) and police officers (54%).
Twelve of the remaining 13 occupations receive "average" ratings for their honesty and ethical standards from pluralities or majorities ranging from 42% to 54%. Among them, those garnering majority "average" marks for their honesty and ethical standards are real estate agents (54%) and lawyers (51%).
The ethics rating of journalists this year is split, with roughly equal thirds of the public saying they have very high/high, average or low/very low ethical standards.

Journalists' Honesty and Ethical Standards on the Rise
Although journalists' 33% very high/high rating is not outstanding relative to many of the other professions, it marks a 10-percentage-point increase from two years ago and now matches their record high, last recorded in 1977.
Since 1976, Gallup has asked Americans to rate the ethical standards of journalists 29 times, and the overall average positive rating over that period is 26%. Until 2016, strong pluralities or majorities rated journalists as "average," but after the 2016 presidential campaign, the public's ratings of journalists declined. In December 2016, 41% of Americans held a negative opinion of their ethics.
Yet this year, positive assessments of journalists' ethical standards have rebounded, owed largely to shifting opinions of Democrats and independents, who may be reacting to President Donald Trump's repeated characterizations of the news media as "the enemy of the people."
Democrats' very high/high rating of journalists' honesty has jumped 21 points since 2016 to 54% this year. For their part, political independents' views have shifted from a 42% low and a 20% high ethics rating to roughly one-third each now saying journalists have high, average and low ethics. At the same time, Republicans' views are essentially unchanged, with 61% now giving journalists low ethics ratings.
Source :
https://news.gallup.com/poll/245597/nurses-again-outpace-professions-honesty-ethics.aspx
News / Thousands of Nurses Apply for 300 Jobs in KwaZulu-Natal South Africa by katty:

December 21, 2018, 12:32:50 PM
AN ADVERT for 300 jobs being offered by the KZN Department of Health attracted thousands of nurses and nursing assistants who stood in the scorching sun on the sports field across the road from Inkosi Albert Luthuli Central Hospital yesterday, in the hope of being successful.
The department invited qualified enrolled nurses and enrolled nursing assistants to attend a job assessment programme at the hospital yesterday.
A 33-year-old unemployed nurse from Inanda said she arrived at the sports field at 5.30am and finished the assessment process by 10am.
"I was on the first bus that went inside the hospital, where we filled out the Z83 form and we were taken to different venues to write what seemed to be a 20-minute speed test," she said.
She said she finished training in 2012 after studying at Natal Settlers, and has three children to care for. She said she had to take any job that came along to survive.
"How can they require 150 enrolled nursing assistants when there are so many people here?" she asked.
"This shows how many nurses are out of work in KZN."
She said the advert should have been more specific about where the nurses would be stationed, if any age restrictions applied and whether nurses were needed for Inkosi Albert Luthuli Hospital.
"I don't know why I chose nursing; I'm regretful now. Maybe if I took the money and studied business, I'd be elsewhere now. I wasted my children's money."
A 41-year-old male nursing assistant from KwaMashu said he finished training in 2013. He said there were people he should be taking care of at home, but could not because he is not working.
"I hope I get a job because in the meantime I'm doing odd jobs which don't last very long," he said.
"I had a love for nursing, but now I've lost hope. I had hope when I left home this morning but after seeing how many people are here, I lost hope again, but I stayed in the queue regardless," he said.
Many of the nurses complained that they had been paying for their nurse's certificate every year since they got their qualifications, but they were not working.
Health MEC, Dr Sibongiseni Dhlomo said an estimated 8000 people went to the hospital to apply for the jobs.
"It is sad when you look at the numbers of unemployed people who've been trained, largely by the private nursing colleges in the province," he said.
Daily News
Upcoming Conference / Nursing and Midwifery Council Of Nigeria 2019 Nursing Leaders Conference by katty:

December 20, 2018, 07:04:05 PM
The Nursing and Midwifery Council of Nigeria (Council) is a Parastatal of the Federal Government, established by Nursing and Midwifery Registration etc. Act. Cap. No. 143, Laws of the Federation of Nigeria, 2004. The Council is a body charged with the responsibility of regulating Nursing and Midwifery Education and Practice in its entire ramification in Nigeria.
As part of its statutory activities, the Council organizes a conference biennially for Nursing Leaders in Nigeria. The conference brings together Nursing Leaders from both public and private sectors to discuss current challenges and developments that affect Nursing Education and Practice and to articulate the ways forward in confronting these challenges.
CONFERENCE THEME:
The theme of the 2019 Nursing Leaders conference is "REPOSITIONING NURSING AND MIDWIFERY WORKFORCE FOR THE ACHIEVEMENT OF SUSTAINABLE DEVELOPMENT GOALS AND UNIVERSAL HEALTH COVERAGE IN NIGERIA"
DATE OF THE CONFERENCE
The conference will take place from Monday 25' to Friday 29" March, 2019 at Awka. Anambra State while the registration portal will be opened from Ist January, 2019. The exact venue will be communicated in due course.
Conference Registration Fee
1. Early Bird: 1st January - 25th February 2019
Fee: 60,000
2. Late Registration: 26th February - 24th March 2019
Fee: 70,000
On Site/Venue: 25th March 2019
Fee: 85,000
The registration fee covers tea break, lunch and conferencematerials including conference bags, programme, stationaries, flash drive, certificates of attendance etc
Target Audience
The target audience will be nurses and midwives in leadership position in both private and public sectors and should be strictly by nomination
For further enquiries please call GSM no. 08033221890 or 07031982435
Email:
megchieze@yahoo.com
or
godswillstella@yahoo.com
Please accept the assurances of the councils warmest regards
Signed:
Alh. Faruk Umar Abubakar
Secretary General/Registrar.