News / Nurses beat up doctor in theatre over sexual harassment in Pakistan by katty:

February 19, 2018, 05:07:15 PM
-The Doctor has a history of sexual harassment and had been recommended for dismissal but he used his influence to stay put in the hospital
A group of nurses beat up a doctor at Civil Hospital Mirpur Khas on Monday, alleging that he subjected them to sexual harassment.
Police had to be summoned to the hospital as the situation turned ugly and the paramedic staff had to intervene to rescue the injured doctor from the enraged group.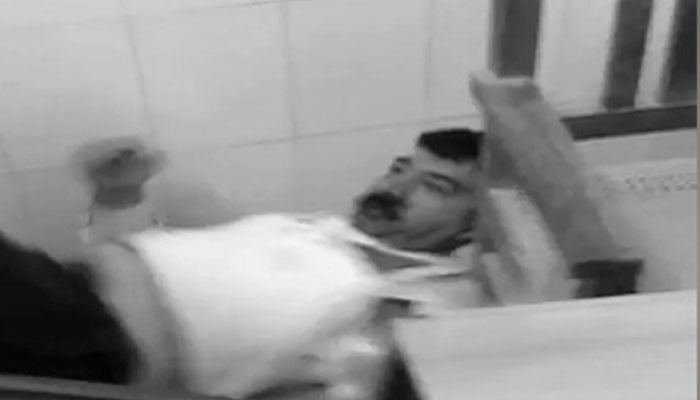 The doctor lying on the floor after being beaten by nurses accusing him of sexual harassment
Sobbing hysterically, a nurse claimed the doctor in question had been sexually harassing her and others in the operation theatre for a week.
The doctor, however, said he had only stopped the nurses from "doing makeup" in the operation theatre, after which they "attacked" him.
The hospital administration has constituted a three-member inquiry committee to probe the matter.
In the aftermath of the incident, it came to light that the doctor had been accused of and subsequently found guilty of sexual harassment in the past as well.
Hospital documents show that back in 2014, the doctor was accused of sexual harassment and, upon investigation by the hospital authorities, found guilty of engaging in inappropriate behaviour with a woman. He was then ordered to be dismissed, in a notification issued by the hospital chief secretary.
However, according to reports, he was able to stay on after exercising his 'influence'.
Minister of Health Dr Sikandar Mandhro, taking notice of the incident, said if found guilty, the doctor would be handed out the strictest punishment.
"In this profession [of serving humanity], such [behaviour] is unacceptable. We will ensure [if found guilty] he will be given the strictest punishment," Dr Mandhro told Geo News.
However, if he was restored despite being found guilty of questionable morals before, then "we are answerable", said the minister.
News / Protesting Unemployed Nurses to be Posted - Ghana Ministry of Health by katty:

February 19, 2018, 04:57:45 PM
The Health Ministry has given the assurance that the unposted nurses who are currently picketing at the premises of the health ministry will be posted.
According to the Public Relations Officer of the ministry, Robert Cudjoe, measures are being put in place to get the nurses posted to various health posts across the country.
"They will be posted, it's unfortunate they have come here and decided to picket in spite of the various meetings we have had with them. We are working towards getting them posted. Their coming here is unfortunate," he told Kwaku Obeng Adjei on the Starr Midday News Monday.
He however did not give timelines as to when the nurses will be posted.
The nurses who completed their studies in 2016 say they have held several meetings with the Minister for health with a view to address their concerns but to no avail.
They intend pitching camp at the Ministries and will not leave until their concerns are addressed.
President of the coalition Samuel Asante earlier told Starr News they believe picketing will resolve their concerns.
"We know that our seniors embarked on picketing and they got what they want. And even the private nurses that they are yet to post, they embarked on picketing and they have started filing their postings forms.
"We have engaged government on series of meetings and we think that the only way to get results is picketing so over 2000 of our members are coming there to picket," he said.
Source: Starrfmonline.com
MCPDP / West African College of Nursing (WACN), Emergency Preparedness/BLS Workshop by katty:

February 19, 2018, 04:33:50 PM
Certificate carries 3 CPD Units and can be used for license renewal
West African College of Nursing (WACN) Announces A one week certificate course on disaster nursing: Emergency Preparedness/BLS
Target Audience:
1. Registered Nurses/Midwives
2. A&E Nurses, Offshore Medics/Nurse, Filed Medics/Nurses, Rig Nurses
3. Nurse clinicians in the Multiple area of Practive.
4. Nurse Educators
Arrival Date: Sunday 18th March, 2018
Departure Date: Saturday 24th March, 2018
Venue: National Association of Nigerian Nurses and Midwives (NANNM) House, By Sansul Hotel, off Ordinance Junction, Transamadi, Port Harcourt, Rivers State.
Course Fee: N30,000
Registration Details:
Account Name: WEST AFRICAN COLLEGE OF NURSING, FIRST BANK PLC, SABO YABA-LAGOS.
Account Number: 2003831052
Bank: FIRST BANK
AFTER PAYNEBT SMS YOUR NAME TO 08035536276
Enquiries:
Okedo Henrietta (Mrs)
Executive Secretary,
West African College of Nursing
Tel: 08136731512
Mrs. Elizabeth okankwu (FWACN)
Co-ordinator/Principal
C/O School of Midwifery,
Port Harcourt, Rivers State, Nigria.
Tel: 08035536276
News / Unconfirmed Report: SA Nurse who took picture with Tsvangirai Commits Suicide by katty:

February 19, 2018, 12:52:27 PM
A South African Nurse who leaked a last photo of dying Morgan Tsvangirai alive On Hospital Death Bed last week is reported to have committed suicide, according to unverified reports.
Reports indicate that the troubled nurse featured in a widely circulated picture with the late MDC-T President Morgan Tsvangirai in his final moments in a hospital bed has been found dead in suspected suicide.
The yet to be confirmed information made available to ZimEye.com by very reliable sources indicates that the nurse identified as Nomsa Ncube was found dead late Sunday evening in a suspected suicide in Johannesburg, South Africa.
The nurse was subject of worldwide condemnation after a photo of her with a near lifeless Tsvangirai was circulated in social media platforms.
Health personnel and practitioners described the picture as very unprofessional of a nurse calling on the South African Nurses Council to deregister her from nursing practice.
Details on the suspected suicide are still stretchy and ZimEye.com will provide full details as soon as they become available.
Previous articleNdebele King Drama rages on, Second King Coronation, Third Due In March
Source:
https://myhararetimes.com/tsvagirai-nurse-commits-suicide/
News / Here are the 90 Skills UK Associate Nurses are Expected to Learn by katty:

February 19, 2018, 11:25:17 AM
-Manage the administration of oxygen
-Complete and interpret urinalysis results.
-Undertaking venepuncture and cannulation.
-ECG recording among others. See full list below

The Nursing and Midwifery Council has unveiled a list of ninety skills that nursing associates should be trained in.
The NMC's draft skills annexe contains around 30 communication skills and 60 clinical procedures, including medicines management, drug calculations, and clinical assessment skills that nursing associates should be competent in.

2,000 trainee nursing associates are currently half-way through their two-year training programmes to become registered nursing associates.

In October 2017, the NMC released the draft standards of proficiency for nursing associates which will work alongside the annexe.



According to Health Education England (HEE), the controversial new role is intended to act as a bridge between healthcare assistants and registered staff. HEE has plans to train a further 45,000 nursing associates before 2027.

The list of skills include;

Manage the administration of oxygen.
Use appropriate nasal and oral suctioning techniques.
Manage inhalation, humidifier and nebuliser devices.
Manage airway and respiratory equipment.
Carry out drug calculations for a range of medications.
Administer drugs via oral, enteral, topical and inhalation routes.
Administer injections using subcutaneous and intradermal routes.
Observe and reassess a patients' skin and hygiene status.
Manage catheters for both genders.
Provide stoma care.
Recording and interpreting vital signs.
Complete and interpret urinalysis results.
Complete and interpret blood glucose results.
Undertaking venepuncture and cannulation.
ECG recording.
Administer basic mental health and physical first aid.
Undertake wound care using aseptic techniques.
Appropriate escalation of clinical concerns.
Understand 'DNACPR' decisions and verification of expected deaths.

Other skills include the management of end of life care patients, infection prevention and management, managing falls and supporting nutrition, hydration and sleep and providing holistic care.

Finally, nursing associates will be expected to have a knowledge of common conditions including anxiety, depression, diabetes, dementia, asthma, cardiac disease, chronic obstructive pulmonary disease, cancer, skin problems, immune deficiencies, psychosis, stroke and arthritis.

The NMC has reiterated that these are draft plans and remain subject to change – a new version for consultation is expected in April 2018

Source :https://nursingnotes.co.uk/nmc-reveals-90-skills-nursing-associates-should-be-trained-in/
News / UK: Jeremy Hunt's apprentice-style training for nurses is a bad idea by katty:

February 19, 2018, 11:16:05 AM
-Nursing Apprenticeship has been introduced in UK due to shortage of Registered Nurses

"The idea of nursing apprentices is bad for nursing because it says that you do not have to be very clever to be a nurse".

Healthcare workers who want to become nurses but who lacked the qualifications to go to university will be able to train as nursing apprentices, says health secretary Jeremy Hunt. This is bad for nursing and bad for patients.

For good reasons, we long ago stopped this style of training. Nursing students were being used as "pairs of hands" and they were not being prepared well to work in the modern NHS. Anne Marie Rafferty, professor of nursing policy at King's College London, described the reinvention of nursing apprenticeships as "an act of historical amnesia".

I do not see the point behind apprentice-style training for nurses. According to the proposal, apprentices will be able to study at university while they are paid to work in the NHS. They will not be part of the nursing workforce, but will get a degree and become registered like other nurses. However, the university route to becoming a nurse is already open to anyone, if they have the right entry qualifications. Why do we need another route? If these healthcare workers lack the right qualifications, how will they cope with university education? How many will drop out, damaged and disillusioned? And why would it be attractive to the NHS to fund these apprentices when from 2017 it will no longer fund nursing student bursaries or pay fees? These questions need to be answered.

Smart people need not apply

The idea of nursing apprentices is bad for nursing because it says that you do not have to be very clever to be a nurse. If you do not have to be very clever then you do not have to be educated, and you can learn about nursing on the job. Of course, much of nursing education is learned working with patients. But that is after a lot of time learning about how the body works and how people behave when they are ill. Nursing students also practice with special manikins which can react almost like real patients. They meet patients early in their course, but are watched closely by qualified nurses. As they learn more they take on more important jobs.

Nursing students spend half of their time in clinical practice and half of their time in the classroom. If nursing apprentices learn mainly "on the job" and not in the classroom, then they will lack the skills of other nursing graduates. These skills are mainly about how to learn and how to apply what is learned, how to make connections and how to react in situations that are unusual. This is often called "thinking outside the box" and it could be what makes graduate nurses better at saving lives than nurses who are not graduates.

Graduate nurses are so valued in the US that in 2010 the Institute of Medicine, a division of the US National Academy of Science, said their numbers should be increased from 50% to 80%. In the UK all new nurses are now graduates of mainly full-time university courses.

Nursing apprentices will earn degrees, but the kind of degree will be different from the established degrees because these courses are designed for people without the right entry qualifications. We cannot be sure that nursing apprentice graduates will be as good as other graduates. The benefits of graduate nurses may be reduced with the introduction of apprentice-style training.

Allowing nursing apprentices to work with patients if they are not being prepared like university nursing students is a risk. They may not know what they are doing. To reduce this risk, they would have to be watched closely by qualified nurses. But qualified nurses already look after large numbers of nursing students. They will have little time to look after apprentices.

This reinvented route to a nursing qualification is unnecessary, ill-considered and dangerous. It creates two tracks to becoming a nurse and risks creating a two-tier system of nursing. Nurses qualifying by the nursing apprentice-style training may be looked at as being second rate. Unless Hunt can tell us what the value of apprentice nurses will be to nursing, to the NHS and to patients, universities currently providing nursing degrees should not become involved in supporting them.

Source :https://nursingnotes.co.uk/nmc-reveals-90-skills-nursing-associates-should-be-trained-in/
MCPDP / West African College of Nursing (WACN) 2018 Disaster Nursing by katty:

February 19, 2018, 09:47:13 AM
The West African College of Nursing (WACN) has released its calendar of events for the year 2018; highlighting the various workshops, lectures, examinations, dates and venues of the programmes.

The WACN 2018 calendar of events, described as a tentative one, as follows:

Disaster Nursing: Emergency Preparedness / Basic Life Support
Date: 19th -23rd March
Venue: NANNM Secretariat, Port Harcourt.

Emergency Preparedness/ Basic Life Support,
Date: 22th – 28th July,
Venue:National Orthopaedic Hospital, Dala, Kano.

Emergency Preparedness/ Basic Life Support,
Date: 26th August-1st September,
Venue: Conference Hall, West African College of Nursing Secretariat Yaba, Lagos.

Disaster Nursing: Emergency Preparedness / Basic Life Support,
Date: 3rd – 7th September,
Venue: NANNM Secretariat, Port Harcourt.

Contacts:
+234-803-673-1512
+234-808-124-5510
+234-803-909-7001
MCPDP / List of those who have registered to attend Ogun MCPDP in OOUTH in February 2018 by katty:

February 19, 2018, 08:57:32 AM
Please, find below the names of those who have paid their registration fee. Kindly note that we will not change the date, regardless of the number of the registered participants. Meanwhile, this edition will feature Public/Community Health Nursing Module 2. If you plan to do this module, please go and pay the fee and inform others too.
LIST OF THE PARTICIPANTS TO ATTEND MCPDP ON 26TH FEBRUARY - 2ND MARCH, 2018 AT OLABISI ONABANJO UNIVERSITY TEACHING HOSPITAL (OOUTH), SAGAMU, OGUN STATE.
1. Oyenuga Sadi Abiola
2/2/2018
2. Osidein Adeola
2/2/2018
3. Njoku Glory
5/2/2018
4. Jayeola Temitayo
6/2/2018
5. Bakare Basirat
6/2/2018
6. Aluko Omobolaji
6/2/2018
7. Egbewande Oluwakemi
6/2/2018
8. Sontan Ayoola
7/2/2018
9. Ayodele Funke
7/2/2018
10. Abdul Tolulope
7/2/2018
11.Akinode Lydia
7/2/2018
12. Oke Temitope
7/2/2018
13. Adediran Olushola
7/2/2018
14. Omotunde Olubukonla
7/2/2018
15. Olajitan Yetunde
7/2/2018
16. Adelaja Rashidat
8/2/2018
17. Anuforo Elizabeth
8/2/2018
18. Kehinde Ebunoluwa
8/2/2018
19. Adekanmbi Mulikat
8/2/2018
20. Ogunjimi Rachael
8/2/2018
21. Odunsi Adijat
8/2/2018
22. Osifeko Omowunmi
8/2/2018
23. Awoyomi Florencee
8/2/2018
24. Oyekan Oluremi
8/2/2018
25. Oyenuga Modupe
8/2/2018
26. Adesanya Sarah
8/2/2018
27. Akande Victoria
8/2/2018
28. Olaleye Adelani
8/2/2018
29. Aina Olufunmilayo
8/2/2018
30. Oyenuga Gbonjubola
9/2/2018
31. John Adesola
9/2/2018
32. Ayeni Alice
9/2/2018
33. Ejiko Omoyeni
12/2/2018
34. Odupitan Opeoluwa
12/2/2018
35. Adeniyi Mariam
12/2/2108
36. Sholeye Ajimo
12/2/2018
37. Ajala Omoyeni
12/2/2018
38. Bello Otaru
12/2/2018
39. Fapuro Olukemi
12/2/2018
40. Ojomo Mary
12/2/2018
41. Enaholo Kikelomo
12/2/2018
42. Oduyale Temitope
12/2/2018
43. Olatunji Victoria
12/2/2018
44. Sinna Odunsi
12/2/2018
45. Seriki Khadijat
12/2/2018
46. Idowu Christiana
13/2/2018
47. Fawole Folashade
13/2/2018
48. Fatunsi Paulina
13/2/2018
49. Bello Bridget
13/2/2018
50. Odubanwo Funmilayo
13/2/2018
51. Ogundein Yetunde
13/2/2018
52. Ademakinwa Ajoke
13/2/2018
53. Ogunsola Olamide
13/2/2018
54. Adesioye Oluwatoyin
13/2/2018
55. Odunsi Mojisola
13/2/2018
56. Mariam Chiwendu
13/2/2018
57. Ogunbanwo Adebukonla
13/2/2018
58. Oniyokor Adesola
13/2/2018
59. Akpabio Ruth
13/2/2018
60. Abiodun Abiodun
13/2/2018
61. Sigbekun Olasunbo
13/2/2018
62. Olutayo Omolara
13/2/2018
63. Adeola Funmilayo
13/2/2018
64. Olajubu Sarah
13/2/2018
65. Soyinka Dorcas
14/2/2018
66. Abijo Omobola
14/2/2018
67. Adekoya Lydia
14/2/2018
68. Omotoke Opeyemi
14/2/2018
69. Adetunji Victoria
14/2/2018
70. Koiki Rotimi
14/2/2018
71. Orepekan Eunice
14/2/2018
72. Olusola Olabisi
14/2/2018
73. Somotun Oyebisi
74. Adebayo Elizabeth
15/2/2018
75. Asagba Olabisi
15/2/2018
76. Fatade Kehinde
15/2/2018
77. Enike Omotayo
15/2/2018
78. Adeniran Adejoke
O
79. Oladipupo Folashade
15/2/2018
80. Ogunsemowo Olufunke
15/2/2018
81. Olubunmi
16/2/208
82. Atulomah Ellen
16/2/2018
83. Onigbinde Elizabeth
16/2/2018
84. Odunnaike Esther
16/2/2018
85. Tayo Folashade
16/2/2018
86. Odesesan Kingslord
16/2/2018
87. Onah Onyeche
16/2/2018
88. Hassan Amudat
16/2/2018
89. Oyefeso Morounranti
16/2/2018
90.Olowokere Emmanuel
16/2/2018
As usual, the programme will start everyday by 8:30am and end by 5pm. No late coming will be tolerated as punctual attendance will be one of the criteria for the issuance of MCPDP Participation Certificate by the Nursing Council. Equally, every participant is expected to be 100% (fully) on ground during the 5-day programme.
Roll call will be maintained randomly during the sessions on daily basis. Please, be reminded that we would not entertain more than the expected number (120) of participants during this coming edition.
Kindly note that if you DO NOT find your name on the above list for the next programme, you are NOT expected to participate in the edition.
As many of you are aware in the past MCPDP, we had been taken more than the required number of participants. From now on, we shall strictly abide with the above and Nursing Council directive. No additional or extra participant will be allowed after the required number has been reached.
Prospective participants with babies must come with their maid or someone that will stay with their kids. No one will be allowed into the hall with babies. We will ensure that this is followed. In the meantime, arrangement will be made as to where the babies will be kept during the sessions.
DO NOT FORGET TO BRING YOUR EXPIRED LICENCE and all your PAYMENT details to the MCPDP venue as those who DO NOT have these documents will NOT be allowed for the programme and the fee will NOT be refunded.
You are all encouraged to visit our site-
www.mcpdpogun.com
as regularly as possible for more updated information. Kindly give the aforementioned information the widest publicity it deserves. Thanks.
For further enquiries please feel free to contact the following: 08038312780 & 08035953947-OGUN MCPDP COMMITTEE.
MCPDP / Ogun State MCPDP Schedule for February 2018 Reminder by katty:

February 19, 2018, 08:49:15 AM
Ogun State MCPDP Reminder
Module : Public Health Nursing 2
Venue : OOUTH chapel Hall Sagamu,Ogun State
Date :26th February- 2nd March, 2018
Fees: #20,000
Bank Name: Guaranty Trust bank(GTB)
Account name - MCPDPOG
Account no- 0052781970
Amount- 20,000
step 1 (make payment)
BANK: GTBank Plc, Abeokuta Branch
ACCOUNT NAME: MCPDPOG,
ACCOUNT NUMBER: 0052781970
WORKSHOP FEE: N20, 000.00
and collect a copy of the Teller and E-Receipt
step 2,
visit
www.mcpdpogun.com
click on the register button and complete the workshop registration form.
make sure you confirm your details before you submit the form.
note: you cannot register twice.
step 3,
On the first day of the workshop, Please, come to the venue with the following documents.
(i) the original copy of your teller or Transfer receipt
(ii) your original licences (expired or not) or Certificate (RN)
For more info call:
Lead Facilitator: 08035953947
Asst State Fac; 08038312780
DNS: 08020565689
For more info : Call or visit
www.mcpdpogun.com
for more details.
News / Nurses Say Canada Registration Process for Foreign Nurses is Expensive & Complex by katty:

February 19, 2018, 08:34:44 AM
-The top five countries seeking registration are Philippines, India, the U.S., Nigeria and the U.K.
-Applicants have to cough out initial $650 to NNAS whose report can take 2 years to be issued

Nurses who were educated outside of Canada and want to work within our country can face a labyrinth of application procedures and a wait in limbo of two years or more, an Irish nurse said.

"I'm part of an ever-expanding group of internationally qualified nurses being forced to wait an inordinate amount of time for our qualifications to be recognized," Lisa McGowan said. "I will have waited three years come May."

Foreign nurses wanting to work in Canada begin their licensing or registration process with an application to the National Nursing Assessment Service (NNAS).

The body was formed in 2012 by 21 Canadian nursing regulatory bodies, including the colleges for licensed practical nurses, registered nurses and registered psychiatric nurses in B.C.

If a nurse's credentials are verified and they receive an advisory report, they can then apply to their provincial regulatory body for registration to practise.


According to the NNAS annual report for the 2016-17 fiscal year, 5,488 internationally educated nurses from more than 180 countries submitted applications. The top five countries were the Philippines, India, the U.S., Nigeria and the U.K.

The report states that the average processing time — from receipt of all documents to issuing an advisory report — fell from 12 weeks the previous fiscal year to 10 weeks in 2016-17. The entire process takes an average of eight months.

McGowan called those numbers "laughable" and a "ridiculous charade."

"And it's a near impossibility to contact (NNAS) after applying," she said.

The initial application costs $650 and the file will remain open and active for a year. If the application expires, then the applicant must pay $180 to reactive it.

Raquelle Forrester, interim executive director for NNAS, said delays are most often caused by problems with documentation, because the service doesn't accept copies and needs the information about applicants directly from universities, regulating bodies and workplaces in their home countries.

"Ultimately, the reason that we take these precautions is to make sure that everything is done in a certain fashion. At the end of the day it's about patient safety," Forrester said.

Everything is done on a case-by-case basis and some can take longer than others, she said. If a nurse's case is taking longer than it should, Forrester said the nurse should contact the NNAS Toronto office and make an inquiry. In some cases, an application's time can be extended for a month or more depending on the circumstances.

Forrester said she found the prospect of people waiting two years to receive an answer concerning: "That is something I would want to hear about personally."

She said the service has renewed its focus on quality improvement and dealing more quickly with files that have been escalated.

"It's a huge priority for us. We're focusing on that," she said. "They were definitely acting on things (before), but I'm not sure they had all of the staffing complement and that's the important piece."

According to the College of Registered Nurses of B.C., as of Dec. 31, 2017, there were 5,658 nurses practising in B.C. who were processed as internationally educated applicants. This is out of a total of 41,100 practising registrants.

The B.C. Nurses Union has heard complaints of long waits for years, both from its members and others who haven't become accredited but are working elsewhere in the health field, and has been advocating on behalf of internationally educated nurses to the government and the colleges.

"This is not news to us, and it's becoming of greater concern," said Christine Sorensen, the union's acting president. She described the process as long, expensive, "very arduous and difficult to navigate." She has heard of nurses waiting up to two years for their applications to be approved.

"That's extremely hard on our nurses financially and psychologically," she said.

The applications process is also a concern because B.C. is in the midst of a nursing shortage — particularly critical-care and specialty nurses. Sorensen said it's leading to heavy workloads, short staffing, congestion in hospitals and an inability to discharge because nurses aren't available in the community.

"It becomes a significant issue for the system," Sorensen said. "We have a looming nursing shortage and we need to make this province accessible."
McGowan, meanwhile, sits and waits, overqualified and underpaid (compared with nursing wages) in her job as office manager at a private clinic in Vancouver.

"It's at the point now of what is the point?" she asked.

Source : Jennifer Saltman Vancouver Sun