News / UK Nurse Suspended for Taking Hospital Syringe Without Permission by katty:

September 10, 2018, 01:36:12 PM
NURSE Rachel Ann Harris told a misconduct investigation she had taken syringes and bandages from East Cheshire NHS Trust for sessions with school children.

Miss Harris was employed as a registered nurse at the trust, where she had practised for at least seven years before the alleged incidents.

She worked in the medical assessment unit before being moved in December 2014 to the acute assessment unit, where she was the medical nurse practitioner on the unit.

A misconduct hearing of the Nursing and Midwifery Council's Fitness to Practice Committee was told in November or December 2015 Miss Harris worked a shift alongside a health care assistant.

It was alleged that at the end of the shift Miss Harris took syringes, needles and bandages from the clinic without permission and did so dishonestly.

Miss Harris was also charged with failing to co-operate with an investigation by the council into her fitness to practise.

The charges relating to taking the syringes and bandages, which Miss Harris accepted, were found proved, but the allegation relating to taking the needles, which she denied, was found not proved.

The charges that taking the items was dishonest and that Miss Harris failed to co-operate with the investigation were also found proved.

The committee made a suspension order for 12 months because the panel believed the seriousness of the case required temporary removal from the register.

It was satisfied that a period suspension would be sufficient to protect patients and mark the public interest in the case.

A report by the committee said that the health care assistant who allegedly saw Miss Harris taking the clinical items, said Miss Harris said she was taking them 'for kids to play with because they liked to play doctors'.

A disciplinary meeting in 2016 recorded Miss Harris having said said "I feel so stupid; it never occurred to me that it was theft. I have done sessions with school kids for the last six to seven years…I haven't done any sessions for about 18 months but due to do one soon".

She said the next session was to be at a school for 11 to 15-year-olds excluded from other areas, but inquiries with the school revealed it had no knowledge of any sessions.

The report said: "The panel did not consider Miss Harris genuinely believed she had permission to take the items, or that she took them to carry out teaching in local schools.

"The panel was of the view that in relation to the dishonesty found proved, although this represented a clear breach of a fundamental tenet of the profession, it related to a single incident of taking clinical items without permission, and there has been an admission by Miss Harris to the trust of taking items without permission and a recognition she should not have done so."

Given the suspension order would not take effect for at least 28 days, an 18-month interim suspension order was agreed to allow for the possibility of an appeal.

If no appeal is made the interim order will be replaced by the suspension order 28 days after Miss Harris has been sent the hearing decision.

Source: Knutsford Guardian
News / Myanmar Doubles Nursing Admission Intake to Address Shortage of Nurses by katty:

September 10, 2018, 12:58:27 PM
Myanmar will admit up to 3,600 trainees into the Nursing School this year, up from 1,800 last year to address the shortage of nurses in the country, Xinhua reported quoting the Myanmar News Agency.
Minister of Health and Sports Dr. Myint Htwe told the Myanmar Nurse and Midfwife Council (MNMC) in its first plenary session in Yangon Sunday that the country is prioritizing to offer promotion of opportunities for nurses and midwives, while producing human resources of the two fields through diploma courses, off-campus and on-campus programs as the vitality of their role is equal to that of doctors and other staff of the medical field.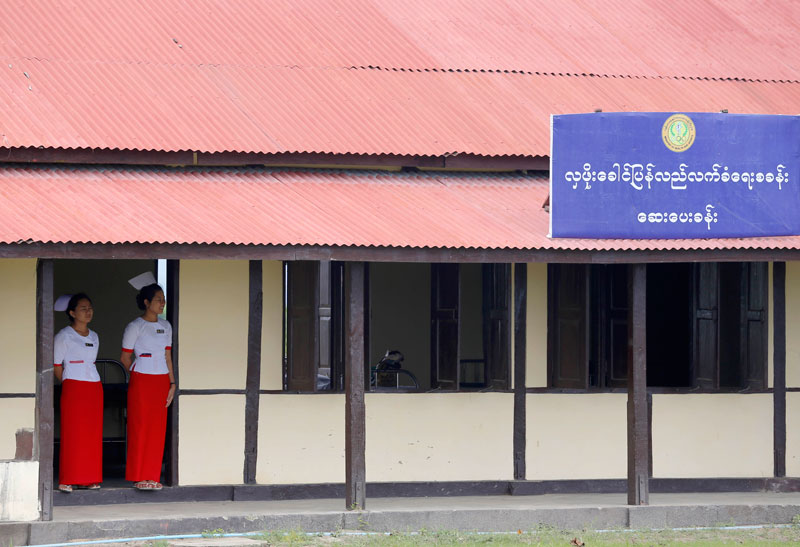 Myint Htwe urged the MNMC to establish links with international counterparts, develop efficiency promotion and other enforcement programs and enhance nursing and midwifery skill through cooperation with the Myanmar Nurse and Midwife Association.
Source : Mizzima.com
News / Counselor Adofoli Reveals Why Men are Not Marrying Ghanaian Nurses by katty:

September 09, 2018, 06:47:42 PM
Counselor Frank Edem Adofoli has given the reason why most nurses in the country are unable to marry despite attaining the mandated age.

In an article posted on his Facebook page, he observed most of them have issues with relationships.

His write up is in response to a report by some nurses who complained of not being proposed to.

A group of female Nurses in Ghana have lamented that Ghanaian men are not coming forward to ask them out on a date nor talk of asking for their hand in marriage.

The Nurses who are gainfully employed and reaped for marriage are now filled with anxieties and fears because the men are not forthcoming.

They told Fnnewsonline.com; "We are ready for marriage but the men are not coming forward to propose marriage. They just want to have fun with you and go. We have grown past that level now. What we want now is marriage, not fun".

Some of them in an attempt to find answers to as why men are not coming forward have concluded that they are in this situation because of the negative perceptions men have that Nurses are bad and promiscuous.

Read his full post below;

WHY OUR NURSES ARE NOT GETTING MARRIED

Is the title for Today's Motivational Message

On my way to a Television's morning show, I was trying to find out what was being discussed on the radio and I came across an interesting discussion; Single nurses were complaining that the men are not proposing marriage to them, so the presenter sought to ask the public why the men were not approaching the nurses.

These were some of the interesting responses from men; some cited disrespect, others talked about character and how they maltreated patients at the hospital whilst some are of the view that they like money and are not submissive.

It's really hard to speak for all nurses but one thing I can confirm as a Counselor is that, nurses are one the professionals who have lots of issues in relationships.

From those who visit my office to those who call and send messages, nurses form a large part. This message is not to paint the nurses black or bad, but to help them.

Growing up, I wanted to marry a nurse. To me they were the most caring people on earth. I came to this assertion due to how a nurse treated me when I was sick and was on admission at the hospital.

How this nurse could clean up my mess, be patient with me, encouraging me and being a friend as well. I felt that the nursing profession is about one's calling and not about the gain or salary.

How much money will be enough to pay for someone to take care of their mess? No amount of money can equal that, and to think about this nurse doing that with smiles on her face, was amazing.

Source: Mynewsgh.com

News / Ghanaian Unemployed Nurses To Be Posted By End Of 2018 –Health Minister by katty:

September 09, 2018, 06:39:58 PM
Unemployed bonded nurses and midwives will receive their appointment letters by the end of 2018, Minister of Health, Kwaku Agyemang-Manu, has indicated.

His assurance follows a series of protests by the bonded nurses and midwives over government's inability to offer them employment.

Speaking at the mid-year performance review of the Nursing and Midwifery Council, the Minister indicated that plans are far advanced to ensure the nurses are posted by the end of 2018. "After pressure, we have got the financial clearance issued and we start looking at how quickly we can put them on payroll. That can be accommodated for this year. I think that by close of year we might have given appointment letters and we might have posted them. What we do not want to do is to post them and then for two months they will go and sit there without salary and then we create salary arrears. We do not want to do that…Now that we have gotten the financial clearance, next two weeks, we will start doing interviews and posting for them to get some job to do."

Graduate Nurses and midwives have been protesting for sometime now over their postings.

In February 2018, some unemployed graduate nurses demanding posting picketed at the Health Ministry. A similar protest took place in Kumasi just last week.

No money for clearance

In response to the nurses' demands at the time, a Deputy Minister of Health, Tina Mensah, attributed government's inability to post them to lack of funds.

She indicated that the nurses will be posted as soon as they get clearance from the Finance Ministry.

NaBCo jobs not compulsory – Coordinator tells agitated nurses

The Coordinator of the Nation Builders Corps (NaBCo), Dr. Ibrahim Anyass, had earlier stated that although there are openings for graduate nurses to be employed under the scheme, application for the jobs is not compulsory.


According to him, the project had been initiated by the government as a stopgap measure to allow graduates from tertiary institutions who had completed their mandatory year of National Service gain vital work experience while ensuring that they continue to practice the skills they have learnt.

He thus explained that that nurses who do not wish to be part of the scheme cannot be forced to apply.

The Members of the Ghana Nurse and Midwives Trainees Association, have served notice they will be embarking on a mass demonstration to protest the NABCO initiative.

Even though the President is optimistic the programme will mostly solve the country's unemployment situation, the unemployed nurses and midwives have argued that it does not provide job security.

The Public Relations Officer of the Association, Akugri Gadafi, also stated on Eyewitness News that the remuneration package for nurses in the programme is unfair, suggesting that newly-employed certificate nurses earn about 1, 100 cedis, diploma nurses earn about 1, 600 cedis while the degree nurses earn 1, 800 cedis and above, all much higher than the 700 cedis persons employed under the scheme are set to earn.

Source: citinewsroom.com

News / Deputy Ashanti Regional Minister Insensitive to The Plight of Unemployed Nurses by katty:

September 08, 2018, 05:49:52 PM
The Deputy Ashanti Regional Minister, Madam Elizabeth Agyemang has been described as one who is insensitive to the plight of unemployed bonded nurses according to the Deputy National Democratic Congress (NDC) Youth Organiser, Onasis Kobby

In a statement copied to MyNewsGh.com, he said the party shares in the pain of the nurses who have been home without jobs describing his response to them as unfortunate and insensitive.

"We deem the response by the Deputy Ashanti Regional Minister as unfortunate and insensitive to the plight of the nurses, as she told them to go demonstrate in Accra instead, a comment which smacks of arrogance and pride", he said

Read the full text of his statement below;

ASHANTI NDC YOUTH WING STAND IN SOLIDARITY WITH DEMONSTRATING UNEMPLOYED NURSES

The youth wing and the regional youth directorate of Ashanti NDC stand in solidarity with the teeming graduate nurses in Ashanti and across the country who have been denied access to mainstream employment by government even though they have fully satisfied all the requirements to be absorbed.

Two days ago, hundreds of these nurses were on the streets of Kumasi and other regional capitals calling on government through the regional ministers to employ them.

We deem the response by the Deputy Ashanti Regional Minister as unfortunate and insensitive to the plight of the nurses, as she told them to go demonstrate in Accra instead, a comment which smacks of arrogance and pride.

The Ashanti Youth wing of the NDC would want to add our voices to the voice of these nurses calling on the government to with immediate effect listen to the cries of these nurses.

The PRO of the ministry of health announced a financial clearance for some 14000 nurses in September but the nurses would start work in February, this is an insensitive move and we call on the government to allow these cleared nurses commence work immediately to create room for another batch of nurses to be absorbed early next year.

We want to use this opportunity to also ask the government to pay attention to the youth of this country and implement policies that empower the youth and provide limitless opportunities for them in terms of employment and social development.

Signed:

Onasis Kobby

Deputy Youth Organizer, NDC

Ashanti Region.

Source: mynewsgh.com

News / Angola: Nurses Union Contests Job Vacancies by katty:

September 08, 2018, 05:46:35 PM
The provincial secretary of the National Nurses Union of Angola in southeast Cuando Cubango, Adelino David Moisés, said on Thursday, he was disgruntled about the short number of vacancies (six) for graduated nurses out of the overall (76) vacancies made available for public tender.

This discontent was expressed during a meeting held Thursday, in the hall of the General Hospital of Cuando Cubango, where the members participated, visibly unmotivated.

Adelino David Moisés defended that taking into account the reduced number of vacancies made available, at least 40 should be for nurses and 30 for physicians, ase there are several nurses graduated long time ago, who are able to secure medical assistance to the people.

However, he said, the recommendations will be addressed to the local government, with a view to revert the current picture.
News / Deputy Ashanti Regional Minister, Madam Elizabeth Agyeman Incurs Wrath of Nurses by katty:

September 08, 2018, 03:08:12 PM
Ghana: A group of bonded nurses have in recent developments vented their spleen at the Deputy Ashanti Regional Minister, Madam Elizabeth Agyeman.
The wrath of the aggrieved nurses was rekindled after the minister allegedly disrespected the angry nurses in public, last Wednesday during a demonstration.
The nurses had marched to the minister's office to protest over their unemployed status but Madam Agyeman, reportedly described the protest by the agitated nurses, as unnecessary.
The nurses, she noted, should have protested in Accra rather than hitting the streets in Kumasi.
According to the minister, key decisions in the country are taken in Accra?the national capital.
Elizabeth Agyeman further slammed the nurses for hitting the street though she had advised against it.
She said, she had earlier urged the nurses not to protest since their grievances were being considered.
She indicated that the nurses' decision to protest in the absence of the regional minister, Mr. Simon Osei Mensah was out of place.
Though the petition presented to Madam Agyeman was received, the aggrieved nurses descended heavily on the minister, describing her as uncaring.
"We have been jobless for long but the minister has showed no concern about their plight," an aggrieved nurse lamented.
Source: thepublisheronline.com
Nursing Heroes / Dr Edward M.I (RN) Shines As Ondo Workers Honour Outstanding Civil Servants by Idowu Olabode:

September 08, 2018, 02:29:18 PM
The Principal of Ondo State School of Nursing Akure and now HOD Medical-Surgical Nursing Department, UNIMED Ondo who handed over the School to the University, four days ago has been recognized by the Ondo State Senior Staff Club.
At an elaborate ceremony held yesterday in Akure the capital of Ondo State, Dr (Mrs) Edward M.I bagged
Career Excellence Award
in recognition of her commitment to improving Nursing education and career development in the Ondo State Civil Service.
Dr (Mrs) Edward Mary Idowu who assumed office as the principal of School of Nursing, Akure in 2015 began her Nursing journey in 1989 when she gained admission into OAUTHC School of Nursing, Wesley Guild Ilesa where she graduated in 1992 and became a Registered Nurse with the Nursing and Midwifery council of Nigeria. She immediately proceeded to Ondo State School of Midwifery, Igbatoro Road Akure for her Post Basic Midwifery program in 1993 where she graduated and became a Registered Midwife in 1994 according to findings by Nursesarena.com
Not wanting to stay at the crowded bottom ladder of nursing profession in Nigeria, Dr. (Mrs) Edward Mary Idowu enrolled for her Nursing Degree at the prestigious Nursing department in Nigeria- University of Ibadan where she graduated in 1999. She later returned to the institution in 2008 for her Master degree which she completed in no distant time.
Not satisfied with an average professional life, Dr (Mrs) Edward returned back to her alma mater in pursuance of her PhD in 2010. She defiled all odds to complete her course in 2017.
Dr (Mrs) Edward has served as NMCN Examiner at various times. She is also a course facilitator at the Nursing Department, National Open University of Nigeria among others. She is equally an astute writer and Nurse researcher who has had several publications in both local and international Journals to her credit. Two of her research works include:
*Perception of Objective Structured Clinical Examination and Traditional Practical Examination in Assessment of Nursing Students Clinical Competencies by Nursing Students in South West Nigeria published in International Journal of Medical Research in 2016.
*Relationship between School Quality and Student's Performance in Selected Schools of Nursing in South-West Nigeria published in IOSR Journal of Nursing and Health Science.
Her achievement thus far placed her as the only Nurse among 15 outstanding civil servants celebrated by the Club in Ondo State.
News / LAUTECH Upgrades Nursing Department to Full Fledged Faculty of Nursing by katty:

September 08, 2018, 11:20:40 AM
The Nursing department of the Ladoke Akintola University of Technology Ogbomoso has been upgraded to a full fledged faculty according to information in circulation on social media. This is coming just two days after the first medical university in Nigeria UNIMED, Ondo took over School of Nursing Akure where a full fledged Faculty of Nursing was created in the institution. Below is the message in circulation:

Another milestone has been achieved at the LAUTECH COUNCIL meeting of today by finally upgraded the department of nursing science LAUTECH to a full fledged LAUTECH FACULTY OF NURSING SCIENCE. Thanks to all nurses that contributed towads the realization of the milestone especially the Council Chairman and his team,the VC. Prof Gbadegesin,Provost CHS Prof S.S.TAIWO , the Dean FCS. Prof Peter Olaitan and academic and non-academic staff. God bless you all. GREAT NURSES

Congratulations!
News / "We Are Not Opposed to NABCO, but – GRNMA President by katty:

September 08, 2018, 07:01:57 AM
The Ghana Registered Nurses and Midwives' Association (GRNMA) says it was not against the employment of nurses and midwives under the Nations Builders Corps (NABCO).

Reverend Dr Kweku Asante-Krobea, President of GRNMA has however appealed to government to pay nurses and midwives under the NABCO the same salary of their colleagues who were already in employment.

Rev. Dr. Asante-Krobea said this because nurses and midwives, who had been mandated to render essential services, were going to offer the same services as their colleagues already in employment.

"We are not opposed to actions under NABCO, we want government to give nurses and midwives what they deserve as professionals."

The President of GRNMA was at this year's awards and closing ceremony of Military Nightingales Annual Week Celebration held at the 37 Military Hospital in Accra.

The week-long celebration was on the theme "Access to safe and Quality Health Care: Nurse and Midwives leading the advocacy.

Rev. Dr. Asante-Krobea further raised questions over the fate of nurses and midwives after serving three years under the NABCO.

"What happens to nurses and midwives who are not employed at their work places after three years under NABCO? Under the profession, they are expected to be promoted after three years of work," he quizzed.

Rev. Dr. Asante- Krobea said the GRNMA was working with government in the recruitment of 27,000 nurses and midwives adding that by "next week we will see positive response from government."

He said the Military nurses and midwives represented their hope since the demands of their employers had been difficult and nurses and midwives had in recent time been targets of insults and vilification because roles of some members lived much to be desired.

Despite this, Rev Dr Asante-Krobea said there were still some "Nightingales" among members and encouraged them to do what they were known for and the association was going to replicate 54 room facility for nurses across the country and indicated that it was ready to provide one of such edifices at the 37 Military hospital in Accra.

Lieutenant Col. Patience Owusu Aidoo, Chairperson of the 2018 Planning Committee of the Military Nightingale Week Celebration said the theme for the celebration was chosen to ensure that their clients got the best care and noted that the nursing profession in recent times had come under public scrutiny and criticisms and some of their clients were expressing dissatisfaction with the service they received.

According to her, clients were becoming more aware of their expectations and thus it behoved on them as "duty bearers to lead the advocacy for quality.'

She said the hospital had resolved to continue to lead in ensuring safe and quality health for their clients.

Serving and Retirees Nurses and Midwives were awarded for their hard work.

GNA