News / Zambia: Train Competent Nurses, Permanent Secretary Urges Training Institutions by katty:

February 06, 2019, 10:07:17 PM
Ministry of Health Permanent Secretary in charge of training Professor Elwyn Chomba has called on nurse training institutions to ensure they train competent health providers.
She says there is need to widen the training net in a bid to attain universal health care in the country.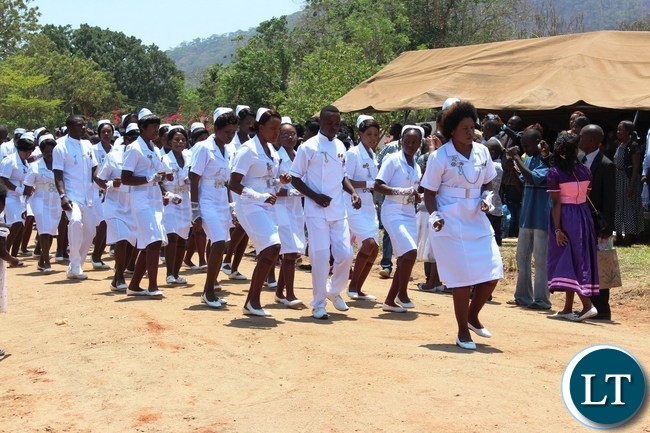 The Permanent Secretary said this when she graced the General Nursing Council meeting with nurse training institutions.
Professor Chomba says the Private Public Partnership policy in the health sector is yielding positive results as more private health training institutions has come on board.
She said the country has 37 private training institutions and 38 public and church owned institutions.
And General Nursing Council Registrar Dr Aaron Banda says nurses play a critical role in achieving universal health care.
He called for continued collaboration between government and the private sector in the training of nurses in the country.
Meanwhile for Former Minister of Health in the MMD government Dr Brian Chituwo says insisting on quality standards is cardinal in achieving quality health care providers
Source : Lusaka Times
News / Court Suspends Kenya Nurses' Strike for 60 days by katty:

February 05, 2019, 10:31:42 PM
As nurses in public hospitals insist on boycotting work, a court granted governors their wish and suspended the ongoing strike for 60 days.
Council of Governors chairman Wycliffe Oparanya said the court ordered nurses and their employers to attend conciliation meetings initiated by Labour and Social Protection Cabinet Secretary Ukur Yattani.
Last week, Mr Yattani formed a committee to look into issues raised by nurses and file a report within 30 days.
COUNTIES
The governors' council moved to court to challenge the legitimacy of the strike.
The health workers and devolved governments are required to file reports in court and wait further directions.
Kenya National Union of Nurses Secretary-General Seth Panyako dismissed calls for a meeting.
"We shall only engage in negotiations if the agenda is grading structures and harmonising salaries," he said.
The union accused the Labour Ministry of frustrating the implementation of the agreement reached by nurses and county governments.
Mr Panyako said devolved units "are playing with the nurses minds by failing to honour the agreement the parties in dispute signed on November 2, 2017".
The nurse are demanding uniform and nursing service allowances.
Nurses earn Sh20,000 every month in service allowance, which was to be increased to Sh30,000 over three years from 2017. The uniform allowance was raised to Sh10,000.
On Monday, nurses in West Pokot, Kisumu, Nairobi, Kisii, Taita-Taveta, Nyandarua, Trans Nzoia, Elgeyo-Marakwet, Wajir, Nyeri and Kitui counties went on strike.
Nurses in Homa Bay and Marsabit counties had planned to go on strike this morning while those in Kwale, Garissa, Samburu, Kirinyaga and Embu are to start theirs on February 11.
Those in Murang'a, Busia, Nakuru, Siaya, Narok, Makueni, Bomet and Tana River planned to go on strike from February 18.
The union has not called a strike in 18 counties, which have agreed to implement the return-to-work agreement.
Hospitals in Kisumu and Kisii counties were deserted Tuesday.
Patients at Mbagathi District Hospital in Nairobi were transferred to Kenyatta National Hospital and the rest handled by clinical officers and doctors.
Pumwani Maternity Hospital was offering services, more than 30 hours after the strike began.
Pumwani Hospital administrator Geoffrey Mosiria said nurses there are not members of Knun but belong to the County Government Workers Union.
"The workload may increase. Seventy-six nurses are on duty in three shifts daily. The hospital handles 220 admissions a day," he said.
Public dispensaries in Kayole remained operational.
Source :
https://www.nation.co.ke/news/Court-suspends-nurses-strike-for-60-days/1056-4968426-jd31k2/index.html
News / At Last Nursing and Midwifery Council off Nigeria Kicks of HND Nursing in Gombe by katty:

February 05, 2019, 10:10:34 PM
-Post Basic courses to change to Postgraduate diploma

The much talked about and anticipated reform in Nursing education in Nigeria which will see all Nursing schools either affiliated to a University or turned into monethecnic for the award of HND Nursing has kicked off. Below is the address delivered by the Nursing and Midwifery Council of Nigeria registrar at the flag off of the program in Gombe state

ADDRESS BY ALH. FARUK UMAR ABUBAKAR, SECRETARY-GENERAL/REGISTRAR, NURSING AND MIDWIFERY COUNCIL OF NIGERIA DURING THE FLAG-OFF OF The NATIONAL DIPLOMA/HIGHER NATIONAL DIPLOMA PROGRAMMES IN NURSING IN GOMBE , GOMBE STATE ON MONDAY 4TH FEBRUARY, 2019

PROTOCOL!

On behalf of the Board and Management of the Nursing and Midwifery Council of Nigeria, Iwelcome all of you to the flag-off ceremony of the National Diploma/Higher National Diploma (ND/HND) Nursing programmes taking place here in Gombe State. Before I continue, let me thank the Almighty God, Who in His infinite mercy and blessings, made it possible for us to arrive here safely and be part of this momentous occasion .Nursing and Midwifery Council of Nigeria has among its core mandates, ensuring high quality of nursing and midwifery education in Nigeria as well as the maintenance of high standard of professional practice in line with global best practices. This has informed the various restructuring/reforms undertaken by the Council over the years in order to provide direction, improve standard of training and quality of nursing practice to meet the evolving health care demands of our society.

Historically, nursing education started with the hospital-based training under the management of the Ministry of health with the professional qualification as registered nurse (RN) or registered midwife (RM) without academic qualification. Likewise, the post basic programmes are managed by the teaching hospitals and not the parent Universities where the programmes are domiciled. Since hospital-based institutions are not empowered to award academic certificates, it has created challenges and imbalance for nurses and midwives in the areas of career and academic progressions despite their robust entry qualifications, quality of knowledge and length of years invested in the training. These are some of the indications that reforms are necessary in the contemporary system of nursing and midwifery education in Nigeria.

It may interest this gathering to know that the reform agenda in contemporary nursing education in Nigeria was conceived right here in Gombe State during the 10th Nursing Leaders Conference in 2005. One of the cardinal reform agenda of that conference is the conversion of all schools of nursing to collegiate system, as well as their affiliation or absorption by the Universities in order to provide holistic University education in nursing.

The journey started and over the years, the Council has made several efforts and taken bold steps to reposition nursing and midwifery education in Nigeria with major intents to ensure that nursing education in Nigeria progress in line with the national policy on education as well as meet the evolving socio-economic and health care challenges of the 21st century.

The Council believes that for nursing education reforms to be relevant, recognized, sustainable and acceptable, it should be in line with the philosophy and basic principles of the national policy on education affecting tertiary education in the country. It is worthy of concern that
this revised national policy on education did not mention or make any reference to the schools of nursing and midwifery or the post basic nursing programmes. In its avowed determination to address this problem, the Council made consultations with relevant stakeholders in attempts to bridge the gaps in hospital-based system of nursing and midwifery education for the award of academic certificates and in providing balance in nursing and midwifery education and practice in Nigeria.

Some of the strategies explored by the Council include the collegiate system, which is absorption and assimilation of the basic schools of nursing into the University degree programme. This however, yielded very little or no result at the end of 2015 which was the target period to measure the progress of the reform.

Subsequently, the Council restratergised and approached the Federal Ministry of Education in 2007 in order to provide a link to achieve quantification of nursing certificate. The Federal Ministry of Education Experts
Assessors Committee accorded official recognition to the Council and its professional qualifications. The General Nursing qualification or the Basic Midwifery qualification is rated as Higher National Diploma (HND) but for the purpose of employment only.

Looking at the national education framework, regulation and quality assurance agencies of the educational system are:

• The National Universities Commission (NUC)
• National Board for Technical Education (NBTE)
• National Commission for Colleges of Education (NCCE).

Institutions being regulated by the above can only award academic certificate. The board of the Couawards its 41th meeting resolved and directed management of the
Council to conclude arrangement with the NBTE and hospital-based Schools of Nursing in. Nigeria for award of ND/HND Nursing. I wish to state clearly that though not the best of options, but is considered expedient in the present circumstances in providing qualified and adequate manpower of nurses and midwives in Nigeria. The Schools of Nursing are to be upgraded to Colleges to be qualified for the mounting of ND/HND nursing programmes.

Interestingly, many schools which indicated interest have upgraded their schools to colleges. It worthy to mention that the Council has signed a Memorandum of Understanding with NBTE in January, 2017 for the commencement of the ND/HND nursing programme and also updated the already developed ND/HND curricula in collaboration with NBTE. The new system will lead to the award of academic certificate in addition to the professional certificate as RN, RM, or RPHN.

Furthermore, the ND/HND nursing programmes were structured to accommodate the provisions of the new scheme of service for nurses and will also allow for improvement in career and academic progressions for nurses and midwives. It will also make it easier for nurses to align in the structured educational system of Nigeria.

Requirements/Modalities.

The programme is for four year course for the award of ND/HND Nursing.
➢ Entry requirements remain 5 O' Level credits in English, Mathematics, Biology, Physics and Chemistry at all levels of nursing and midwifery education in Nigeria.
➢ All graduates will sit for the Council's professional examinations for the award of registered nurse certificate and each of them shall have option for specialization in Midwifery or Public Health Nursing.
➢ The institution under this new system must operate as Colleges of Nursing and admission shall be through JAMB. The Colleges shall also have an Enabling Law
establishing it and a Governing Board.
➢ The College shall have Departments – ie Nursing, Midwifery,Public Health, and Basic Sciences all with qualified Lectures and instructors.

However, Schools of Nursing and Midwifery which are not able to meet up with the above requirements shall be allowed to continue for a specific period – 2023 to enable them meet up with the accreditation requirements.

Presently, the Council regulates 279 nursing, midwifery, post basic nursing and department of nursing in Nigeria. These institutions comprised of 99 Schools of Nursing, 94 Schools of

Basic/post Midwifery, 58 School of Post Basic Nursing programmes and 29 Departments of Nursing. Let me at this juncture reecho that much attention and emphasis will be given for the establishment of more department of nursing at Universities in Nigeria.

I wish to emphasize also that ND/HND is only for the current institutions and not meant for the establishment of new training institutions. Regulation and control for the establishment of new nursing training programs is under the Council. Any attempt to deviate from these arrangements attracts appropriate sanction and non-recognition from the Council.

Permit me to also stress here that all other areas of nursing education are not left out but carried along in the Council's reform agenda. The post basic and nursing specialty programmes are coming on board and arrangements have commenced to absorb or run these
programmes as post graduate under departments of nursing in the Universities.

In conclusion, let me once again stress that all aspects of the nursing and midwifery education reforms require nurses with higher degree. While the Council appreciates the fact that manpower development in nursing has improved, but it also advocates for more nurse/midwife educators, nurses with M.Sc., and Ph.D. in Nursing for the reform to succeed.

Distinguished ladies and gentlemen, it is now my pleasure to formally launch the take-off ofthe ND/HND Nursing programmes commencing with the College of Nursing, Gombe, Gombe State.

Thank you and God bless.a for the mounting of ND/HND nursing programmes.






News / New Craze: Indonesia Teens are Reportedly Boiling Used Tampons to Get High by katty:

February 03, 2019, 06:24:57 PM
Some teens in Indonesia are boiling used tampons in water and drinking the resulting concoction in order to get high.
Police all around Indonesia have arrested multiple teens caught using the sanitary devices in order to get high, according to Straits Times.
It gets worse (if that's even possible). Most of the time, these used pads are taken from the trash, meaning they're drinking a stranger's menstrual blood! It's actually not the blood, but the gel inside the pads and tampons that get the teens high. They prefer to use unused products when they can (obviously), but when they grow desperate, they have to resort to taking used sanitary devices out of the garbage.
But what is it inside these sanitary products that's actually getting teens high? To be honest, no one knows for sure. Since tampons and pads are regulated and approved as medical devices by the Food and Drug Administration, manufacturers are not required to fully disclose what goes into them. Companies have recently begun sharing more information about their materials thanks to activists who are pushing for full transparency. I mean: Don't you want to know what you're putting inside your body?
One teen who admitted to drinking the concoction, "morning, afternoon and evening," described the liquid as "bitter." According to the Indonesian National Drug Agency (BNN), drinking the mixture results in feelings of "'flying' and hallucinations."
Indonesia's extremely strict drug laws may be what led teens to resort to these strange ways of getting high while avoiding traditionally illegal drugs. Those caught with "modest quantities" of drugs can find themselves facing the death penalty.
"The materials they're using are legal, but they're not being used in a way that's intended, so it ends up being used like a drug," said Senior Commander Suprinatro head of the BNN in Central Java, Indonesia.
Commander Suprinarto explained the process that the teens take in making the concoction. "They used pads they took from the trash were put in boiling water," he said. "After it cooled down, they drank it together."
It's easy to laugh at how ridiculous this all sounds, but in reality, it's extremely dangerous. We still don't know the affects that drinking boiled tampons has on teens, but it's safe to say that it can't be good and should not be attempted.
Source :
https://www.yahoo.com/lifestyle/teens-reportedly-boiling-used-tampons-165900716.html?fbclid=IwAR3A49LcMJmycSw-yYH4QnQ4FTTZ4woENY_XsPrSBhckTS4rNFlHbgCfQ40
News / World Health Organisation Designates 2020 As The "Year of the Nurse and Midwife" by katty:

February 03, 2019, 06:18:44 PM
The Executive Board, on 30th of January, designated the year 2020 as the "Year of the Nurse and midwife", in honor of the 200th birth anniversary of Florence Nightingale. This proposal will now be presented to Member States of the 72nd World Health Assembly for consideration and endorsement.
The year 2020 is significant for WHO in the context of nursing and midwifery strengthening for Universal Health Coverage. WHO is leading the development of the first-ever State of the World's Nursing report which will be launched in 2020, prior to the 73rd World Health Assembly. The report will describe the nursing workforce in WHO Member States, providing an assessment of "fitness for purpose" relative to GPW13 targets. WHO is also a partner on The State of the World's Midwifery 2020 report, which will also be launched around the same time. The NursingNow! Campaign, a three-year effort (2018-2020) to improve health globally by raising the status of nursing will culminate in 2020 by supporting country-level dissemination and policy dialogue around the State of the World's Nursing report.
Nurses and midwives are essential to the achievement for universal heath coverage. The campaign and the two technical reports are particularly important given that nurses and midwives constitute more than 50% of the health workforce in many countries, and also more than 50% of the shortfall in the global health workforce to 2030. Strengthening nursing will have the additional benefits of promoting gender equity (SDG5), contributing to economic development (SDG8) and supporting other Sustainable Development Goals.
News / JOHESU Shelves Strike, Mobilizes For National Rally Over Unmet Demands by katty:

February 02, 2019, 06:56:30 PM
AGGRIEVED workers under the aegis of Joint Health Sector Unions (JOHESU) have shelved their plan to down tools in public hospitals across the nation over the failure of the Federal Government to meet some of their demands.
However, they have equally commenced mobilisation for a national rally in Abuja to draw the attention of the Nigerian public and the international community to the actions of government perceived to be against their best interests.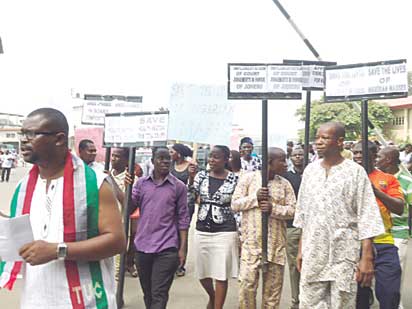 Briefing journalists on Friday in Abuja, Chairman of JOHESU, Comrade Josiah Biobelemoye, explained that the aggrieved workers took those decisions after reviewing the events related to the January 31st, 2019 ultimatum issued to the Federal Government to their needs.
Some of their needs, he mentioned, include the withholding of salaries of JOHESU members for the months of April and May 2018, headship of hospital departments, upward adjustment of CONHESS salary structure, implementation of consultancy cadre for health workers amongst others.
His words: "After a painstaking appraisal of the totality of events, JOHESU resolved that all members would dedicate Sunday February 3, to prayers for God to fight its pending battles with her adversaries.
"JOHESU in collaboration with NLC/TUC will stage a National Rally in Abuja to draw attention to the tyranny of officials of health ministries in both federal and state against health workers in public health facilities on Monday February 4.
"Zonal and state rallies involving generality of JOHESU members to continue on Tuesday, February 5. This must be held in conjunction with stakeholders."
Biobelemoye called on the over one million members of JOHESU, their spouses and voting age children who together form a block of over 2.4 million members to collect their PVCs in view of this month's presidential election.
He stressed that while JOHESU remains nonpartisan, it is committed to establishing the building blocks of a better Nigeria.
"All JOHESU members are to await further directives which shall be communicated from JOHESU headquarters forthwith," he concluded.
Source : Vanguard
News / Respect Nurses, Uganda President Museveni Tells Public by katty:

February 02, 2019, 06:41:54 PM
"President Museveni has asked the public to stop despising nurses and said their value is only felt at the verge of someone's death."
The Commissioner for Nursing in the Ministry of Health, Ms Petua Kiboko, has said the quality of nursing in the country has slackened because of bad attitude towards the profession and the quality of training.
"We have challenges with the disease burden, limited skills. We have limited funding and bad attitude towards the profession which need to be addressed as well as developing policy guidelines for training," Ms Kiboko said at the closure of a two-day nurses conference on the future of nursing education on Wednesday in Kampala.
While addressing the conference, the president of Uganda National Academy of Sciences, Prof Frederick Kayanja said President Museveni has asked the public to stop despising nurses and said their value is only felt at the verge of someone's death.
He said the President had told him to inform the participants that he is committed to improving welfare of nurses.
"I was privileged to speak to President Museveni this afternoon and he asked me to inform you that only when you lay on the bed helpless, that is when you understand the importance of the nurse," Prof Kayanja said.
Source : Uganda Monitor
News / Kenyan Nurses vow to proceed with strike on Monday by katty:

February 02, 2019, 06:34:18 PM
The Kenya National Union of Nurses has vowed to proceed with its planned nurses' strike planned to kick off on Monday.

The move comes a day after Labour Cabinet Secretary Ukur Yattani appointed a three member conciliation committee to arbitrate the industrial dispute between nurses and county governments.

KNUN maintains that its members will down their tools if a return-to-work formula signed in November last year is not fully implemented.

The strike will kick off in Kisii, Kiambu, Homabay and Marsabit counties with the industrial strife spreading to Kwale, Garissa, Samburu, Kirinyaga, Embu as well as Mathari hospital, spinal special hospital, port health and at the blood bank five days later.

Murang'a, Busia, Nakuru and Siaya counties will see their nurses down their tools on the 18th of this month.

Mombasa, Tharaka Nithi, Migori and Machakos counties will have normal operations with the administrations having honored their part of the bargain.

Kenya National Union of Nurses Secretary General Seth Panyako saying he has no powers to call off the strike as it now lies with members.

The union is however yet to issue strike notices in seventeen other counties but Panyako says they will be left with no other option but to suspend their services if the administrations fails to honor the comprehensive bargaining agreement.

This development comes after the union announced on Wednesday that nurses would enforce industrial action if the return-to-work formula is not fully implemented, a move that Labour Cabinet Secretary Ukur Yattani moved to avert by appointing a three member conciliation committee to reconcile concerned parties.

Source : KBC

News / Will 2020 be the official Year of the Nurse? by katty:

February 01, 2019, 09:38:59 PM
Efforts to raise the profile of nursing globally took a step forward with the recommendation that 2020 be the official Year of the Nurse and Midwife.
The Nursing Now campaign made the proposal to the World Health Organization (WHO) last year, and this week the WHO executive board endorsed the suggestion.
The proposal must now be confirmed by its decision-making body the World Health Assembly in May, however Nursing Now said it was confident the recommendation would be accepted.

Crucial to universal health coverage
A spokesperson said the campaign is 'thrilled' to have received support for the idea from WHO director-general Tedros Adhanom Ghebreyesus.
The year will also mark the 200th anniversary
of Florence Nightingale's birth.
Speaking at the executive board meeting yesterday, Dr Adhanom Ghebreyesus stressed the importance of nurses in achieving the ambition of Universal Health Coverage (UHC) – where all individuals and communities receive the health services they need without suffering financial hardship.
'Nurses, especially in many low- and middle-income countries, are the bridge between the community and the health institutions,' he said. 'Their role, especially in front-line services, is very important and that is why in UHC their role is crucial.'
He said 2020 was an appropriate year to raise the profile of nursing, as it would also mark the 200th anniversary of the birth of Florence Nightingale.
'We need to celebrate people like her who have contributed greatly to humanity,' he said.

'A great year for nursing'
The three-year global Nursing Now campaign is being run by the Burdett Trust for Nursing, in collaboration with the International Council of Nurses and WHO.
It aims to raise the profile of nursing and develop the profession's reach and influence at all levels, including in government policy.
A Nursing Now spokesperson said: 'This is a great cause for celebration and a step towards our goal of improving health, gender equality and economic strength by raising the profile and status of nursing.
'2020 will be a great year for nursing.'
The WHO estimates nurses and midwives represent almost half the total number of healthcare workers around the world.
Source :
https://rcni.com/nursing-standard/newsroom/news/will-2020-be-official-year-of-nurse-144731
News / JOHESU Prepares for Nationwide Strike by katty:

January 31, 2019, 10:02:39 PM
The Joint Health Sector Unions (JOHESU) is holding a crucial meeting on Thursday in preparation of a resumption of their suspended nationwide strike.

The union had threatened to resume the industrial action it suspended last May and the meeting was called after the two weeks' ultimatum it gave the government to resolve "issues in dispute" elapsed today.

"The meeting will determine the format of the strike and how it should go," Ogbonna Chimela, the national vice chairman of JOHESU, told PREMIUM TIMES via a phone interview.

JOHESU is a body of all health workers, except doctors. Since 2014, they have been asking the government to increase their pay and improve their members working conditions, among other demands. This has resulted in pockets of strike actions, over the period.

Last year, Nigeria's health sector suffered one of its biggest blow when JOHESU members downed tools on April 17 over similar demands.

The strike, which lasted six weeks, caused many deaths and left millions without care. Patients passed through untold pain and their relatives grumbled as both federal, state and local government health institutions were brought to their knees.

The strike was however suspended on May 31.

Silent government

Mr Chimela said the government is yet to call them for a continuation of negotiations, despite the two weeks strike notice given.

"We gave 15 days' ultimatum to the government to call us so we can start negotiations and be on the same page. They have not invited us.

"The law provides that during the period of an ultimatum, it's the responsibility of the government to invite the aggrieved party to a meeting but they (government) have acted as if the ultimatum was not given them.

"We heard nothing from the federal ministry of health, the parent body," he Mr Chimela said.

No Work No Pay

According to Mr Chimela, health workers remain undeterred by the no work no pay rule.

"The government in their usual spirit has kept quiet and maybe they are still relying on their old tactics of no work no pay. That will never deter us from asking them to do the needful."

The federal government invoked the 'no work no pay rule' rule on health workers during their suspended six weeks' strike last year.

Upon resumption, the government did not pay them for the period they were on strike (two months).

Section 43 of the Trade Dispute Act states that where any worker takes part in a strike, he shall not be entitled to any wages or other remuneration for the period of the strike, and any such period shall not count for the purpose of reckoning the period of continuous employment and all rights dependent on continuity of employment shall be prejudicially affected accordingly.

"That particular rule was erroneously implemented on us because we followed all the due process before the strike action", the JOHESU official noted.

"Two months salaries were not paid then but we are not deterred. We are willing to go on strike again in as much as it is a call for justice and fair play.

"We are ready to make more sacrifices for what is due us. Besides, that (two months salary) has not gone down the drain. It is one of the things we are asking for in the ultimatum, it is part of our demand."

The minister of health, Isaac Adewole, could not be reached on phone, for inquiries on the matter.

Samuel Olowookere, director of the press, ministry of labor and employment, did not respond to calls or return text messages seeking government's reaction on the development, as at press time.

Source : Premium Times