News / Nigeria: Quack Nurse Who Pulled Baby's Hand Out Arraigned in Court by katty:

January 19, 2017, 07:31:41 AM
A 43-year-old auxiliary nurse, Kemi Oyekanmi, was yesterday arraigned before an Ebute Meta Magistrates' Court for allegedly killing a child.

Magistrate O.I Adelaja granted the accused bail because the baby had died in the mother's womb before her hand was pulled off.

Magistrate Adelaja asked the late child's parents Mr Alaba and Mrs Adeola Adebayo, question before her ruling.

Oyekanmi is a relative of the late baby's father.

Prosecuting police Inspector Chinalu Nwadione said the accused committed the offence last December 24 around 11:30pm at 23, Gboye-Obe Street, Odongunyan, Ikorodu, Lagos.

The charge reads: "That you Kemi Oyekanmi last December 24 at about 11:30pm did kill one unborn child by pulling off his left hand during delivery and thereby committed an offence punishable under Section 234 of the Criminal Law of Lagos State, 2011."

Oyekanmi pleaded not guilty.

Magistrate Adelaja granted her N200,000 bail with a surety in the like.

She referred the matter to the office of the Director of Public Prosecution (DPP) for advice and adjourned till February 27.

Source : The Nation Newspaper
News / Red Cross deplores the deaths of civilians and 6 Nigerian Red Cross aid workers by katty:

January 18, 2017, 06:34:28 PM
The International Red Cross and Red Crescent Movement is shocked by the deaths of civilians and six aid workers from the Nigerian Red Cross following an airstrike on the town of Rann, near the border of Nigeria and Cameroon.
"We are deeply saddened by the loss of our six colleagues and shocked that an incident of this magnitude has occurred in a civilian area," said Elder (Chief) Bolaji Akpan Anani, President of the Nigerian Red Cross Society. "Our hearts and prayers are with the bereaved and the wounded as we remain undaunted and focused on our commitment to those who need help,"
The six Red Cross workers were in Rann as part of a humanitarian operation bringing food to more than 25,000 displaced people.
Hours after Tuesday's airstrike, a surgical team from the International Committee of the Red Cross (ICRC) deployed to Rann, while another ICRC surgical team in Maiduguri prepared to support the Ministry of Health in receiving casualties. The team in Rann triaged around 100 patients, while nine patients in a critical condition were evacuated by helicopter to Maiduguri on Tuesday. Around 90 patients remain in Rann, out of whom 46 are severely injured and need to be evacuated to Maiduguri as a matter of urgency. Patients are attended to in an open-air space in a precarious environment.
"We started medical work in Rann shortly after the incident. The conditions for post-operative care are not adequate, so all the patients must be evacuated to Maiduguri as soon as possible," said Dr. Laurent Singa, an ICRC surgeon in Rann.
The Red Cross and Red Crescent Movement extends its heartfelt condolences to the families of all those killed or injured, including those affiliated to the Médecins Sans Frontières.
"It is unacceptable that so many civilians were killed and wounded. All measures must be put in place to ensure that such a tragic incident never happens again. We stand committed to continue providing humanitarian assistance to the persons affected by the conflict in the North East of Nigeria," said Eloi Fillion, Head of Delegation for the ICRC in Nigeria.
The Red Cross and Red Crescent Movement reminds all that aid workers must be able to operate safely and be allowed to deliver vital assistance where it is needed, without fear of losing their lives. Parties to the conflict must comply with their obligations under international humanitarian law to ensure that civilians are not affected by the hostilities.
For further information, please contact:
Nwakpa O. Nwakpa, Nigerian Red Cross Society, tel: +234 803 473 62 00, email:
nwakpaon@redcrossnigeria.org
Aleksandra Matijevic Mosimann, ICRC Abuja, tel: +234 706 418 90 02 or +234 703 595 41 68
Jason Straziuso, ICRC Nairobi, tel: +254 733 622 026
Elodie Schindler, ICRC Geneva, tel: +41 22 730 21 86 or +41 79 217 32 17
Benoit Matsha-Carpentier, International Federation of the Red Cross and Red Crescent societies Geneva, tel: +41 22 730 46 96 or +41 79 213 2413
Travel Nursing / Re: How do I apply for MOH Oman Exam for Nurses? by

zee:

January 18, 2017, 05:53:52 PM
Good day. Could I possibly use my own credit/debit card from PH to pay for my data flow or should the card be from Oman?.. TIA
News / Kenya : Nurse arraigned in Kwale court over wrong HIV test results by Idowu Olabode:

January 18, 2017, 05:50:24 PM
A Kwale County nurse has been charged with erroneously diagnosing a mother as being HIV-positive in July 2016.
Irene Orina was arrested on Tuesday and charged before Kwale Resident Magistrate Paul Mutai on Wednesday with recklessness and negligence, causing harm and giving false information to a person working in a public institution.
Ms Orina denied the charges and was released on a Sh100,000 bond or Sh50,000 cash bail.
Investigating officer Amon Adiema told the court that police had for two weeks been looking for the accused and that even her employer, the county government, had not provided information on her whereabouts.
Her lawyer, George Mungai, asked the court to intervene and order the police to release his client's seized phone.
But the magistrate ruled that the officers continue holding the phone to facilitate investigations until January 23, when the case will be mentioned.
POLICE RETAIN PHONE
"Your honour, it is true we still have the accused's phone. We have only had contact with her just yesterday (Tuesday) when we arrested her and we are still investigating. She used the phone to communicate and that is what we want to establish," Mr Adiema told the court.
Ms Orina is the second person from the public health centre to be charged in relation to the case in which a pregnant Esther Mwakazi was misdiagnosed at the Diani Health Centre and put on antiretroviral drugs for three months along with her one-year-old son.
She is now seeking justice after another test by a government agency found that she is HIV-negative.
On Wednesday, nurses from various hospitals in Kwale County, on the urging of their union, flocked the court to show solidarity with their colleague.
Also in court was county Chief Health Officer Kishindo Mwaleso and executive for health Athuman Chiguzo.
Source :
http://www.nation.co.ke/counties/kwale/Kwale-HIV-test-case/3444918-3522222-lv97td/
News / India: Government hospital makes nurses work 16 hours a day by Idowu Olabode:

January 18, 2017, 09:58:35 AM
Health services remain severely affected at Civil Hospital, which is grappling with a severe shortage of nursing staff. Nurses are overworked, attending to around 40-50 patients on an average daily. Also, working double shifts has become a daily affair, they allege.
The hospital has a sanctioned strength of 95 nurses to tend to the 200 beds and attend an average of 1,500 OPD patients daily. However, the hospital currently has only 42 nurses, less than half of the sanctioned strength. In such a scenario, the nurses are compelled to pitch in for more than 16 hours on a usual day. The patients end up waiting for 30-40 minutes before a nurse can attend to them.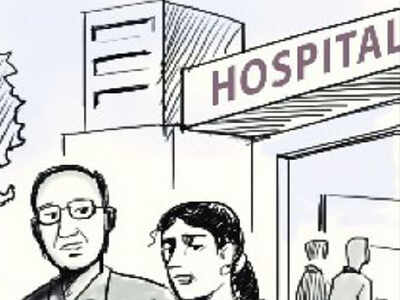 "A nurse is responsible for administering a patient medicine and injections, maintaining the healthcare chart for the doctors, and keeping a check on a patient's diet. Ideally, a nurse should be like a personal attendant. But here, we can barely spend a minute with a patient. We don't even have time to see if they are recovering or not," a nurse told TOI, pleading anonymity. She added that in the maternity ward, which witnesses 20-25 deliveries everyday, only three nurses are deployed in a single shift.
According to the staff, no recruitments have been made in the last few years in the hospital even as the higher authorities are aware of the staff crunch.
A health official said, "The nurses hired on contractual basis turned out to be less efficient to handle emergency cases, while recruitment of permanent employees by state authorities is a long process." The hospital has deployed 10 nurses from urban PHCs in the district.
Source :
http://m.timesofindia.com/city/gurgaon/government-hospital-makes-nurses-work-16-hours-a-day/articleshow/56633884.cms
News / Australia: Nurses vote for industrial action over bed closure in SA hospitals by Idowu Olabode:

January 18, 2017, 09:53:01 AM
Nurses will take industrial action at two major Adelaide hospitals this weekend, limiting numbers in emergency departments to try to have targeted bed closures scrapped.

The Australian Nursing and Midwifery Federation said the bed closures were part of cuts to four wards at the Royal Adelaide and Queen Elizabeth hospitals.

SA Health has disputed claims that beds are being closed, instead saying 55 will be be "relocated" to the Lyell McEwin Hospital in Adelaide's north.

As part of the industrial action planned to take place on Saturday, emergency department admissions will be limited and patients only admitted to approved beds at the Royal Adelaide and Queen Elizabeth Hospitals.

Chief executive of the federation's SA branch Elizabeth Dabars said while the action may lead to ambulance ramping, patients will not be put at risk.

"We, as much as possible, want to make sure that our patients are receiving appropriate care," Ms Dabars said.

"But in this case we have been forced to act and it would seem to be preferable to our patients in these instances to be ramped, rather than to be sitting in a corridor or a treatment room."

SA Health 'agrees to discussions with nurses'
Ms Dabars said if the industrial action was to compromise patient care, it would be cancelled.

"We will lift the ban in the event that patient care could be compromised," she said.

But SA Health's chief executive Vickie Kaminski hopes to stop the industrial action before it takes place.

"What I'm agreeing to today is to continue the discussion with our nurses and physicians to see what the issues really are and what [is] the best solution," Ms Kaminski said.

The nurses union last week said emergency department patients were already being treated in corridors due to a shortage of beds, and the proposed cuts would make the situation worse.

It said industrial action at the Lyell McEwin Hospital and Flinders Medical Centre over staffing and beds was also imminent.

Source :http://mobile.abc.net.au/news/2017-01-18/nurses-to-take-industrial-action-adelaide-hospital-bed-closures/8192002?pfmredir=sm
News / Colorado regulators seek mandatory criminal checks on nurses and doctors by Idowu Olabode:

January 18, 2017, 08:45:54 AM
Nurses and doctors seeking professional licenses in Colorado would have to pass fingerprint-based criminal background checks — a requirement in most states — under a proposal backed by state regulators.
The Department of Regulatory Agencies is pushing for the change. Rep. Janet Buckner, a Democrat from Aurora, is the primary sponsor of the legislation the state agency is backing.
"These expanded background checks would be part of initial licensure, licensure by renewal, endorsement, reinstatement of a license, and when a licensee is the subject of a board investigation," said Lee Rasizer, spokesman for DORA's Division of Professions and Occupation.
The legislation would affect doctors, nurses, dentists, optometrists, podiatrists and veterinarians. Buckner and DORA officials planned to release more details Wednesday.
Colorado is one of only five states that do not require fingerprint background checks for licensure of nurses and one of only six states that do not require them for physicians. During the past decade, many states have put the checks in place to screen applicants, identify criminal histories and flag legal problems that surface after an applicant is licensed.
Colorado primarily identifies disqualifying criminal convictions through complaints submitted to discipline boards or by self disclosure from those seeking a license and those who already are licensed.
The move for background checks follows investigative reports in The Denver Post detailing how nurses with criminal convictions that would have disqualified them in other states had continued working as licensed professionals in Colorado.
There are more than 81,000 registered and licensed practical nurses in Colorado and about 20,000 physicians with active licenses in Colorado.
Last year, similar legislation requiring fingerprint-based checks for about 2,000 surgical techs and about 700 surgical assistants registered to work in Colorado was signed into law over the objections of some Republicans who argued the legislation was overkill because hospitals already say they do background checks.
Source :
http://www.denverpost.com/2017/01/17/colorado-mandatory-criminal-checks-nurses-doctors/
Schools of Nursing / Re: Kenya Medical Training College Intake for 2016/2017/2018 Application Form is on by

GeraldObade:

January 18, 2017, 06:35:37 AM
When do i apply for regular intakes2017?
Travel Nursing / Re: FENS no longer requirement for Foreign Nurses in Texas by

Lore:

January 18, 2017, 04:53:51 AM
Hi! I just want to ask if I'm still eligible for this new rule: i graduated 6 years ago and worked as a registered nurse last february 2012 up to april 2014.. do you think I'm still eligible to get the texas licensure for nclex? Thanks

News / Breaking News: ICM Appoints Dr. Sally Pairman as New Chief Executive by Idowu Olabode:

January 17, 2017, 09:38:24 PM
The International Confederation of Midwives announces the appointment of Dr. Sally Pairman as its new Chief Executive effective 16th January 2017. She succeeds Frances Ganges, who was the Chief Executive for 3 ½ years.
Dr. Sally Pairman brings to ICM more than 33 years of leadership, project management, strategy development, management and implementation, midwifery education and regulation, curriculum development, accreditation and evaluation. She also brings strong skills in advocacy and diplomacy when making the case for midwifery, whether it be for professional autonomy, pay equity, funding or for regulatory structures.
Most recently she was the Professor of Midwifery and Director at the Otago Polytechnic in New Zealand. She will be known to many in her capacity as co-chair of the ICM Regulation Standing Committee, a role she has held since May 2008.
Sally has also held governance roles as Chair of the Midwifery Council of New Zealand and as President of the New Zealand College of Midwives. In these roles, she chaired the governance groups and liaised closely with the Chief Executive.
Sally has successfully lobbied governments for significant funding to improve midwifery education and persuaded the publishers Elsevier to fund the writing and publication of the Australasian midwifery textbook, 'Midwifery: preparation for practice' now in its 4th edition.
"ICM is delighted to announce Sally's appointment and to welcome her as the new CE of the ICM" said ICM President, Frances Day-Stirk
Don't forget to like our facebook page
https://m.facebook.com/nursesarenaforum/