News / Nigeria Needs 10 Times More Health Workers to Achieve Universal Health Coverage by katty: Today at 07:45:59 AM
Nigeria needs to produce an estimated 450,000 health workers yearly in the next ten years to achieve the Universal Health Coverage (UHC) and Sustainable Development Goals (SDGs).

The Senior Technical Advisor for Development Research and Project Center (dRPC)-PAS, Emmanuel Abanida, said this in Abuja on Thursday, quoting the World Health Organisation.

He was speaking at a meeting of non-governmental organisations called to deliberate on their role in implementation of the 2014 Task Shifting/Task Sharing (TSTS) policy.

TSTS is a strategy of government formulated to accelerate progress towards achievements of the Millennium Development Goals.

The policy focuses on priority areas such as Family and Reproductive Health, Maternal and Child Health services (RMNCH), HIV, TB, Malaria and other communicable and non-communicable diseases It aims to help the country achieve universal health coverage and meet the health needs of Nigerians.

Mr. Abanida stressed the country cannot achieve universal health coverage if there are no health workers to do the job.

Currently, Nigeria produces only about 45,000 health workers yearly, about one tenth of what the WHO said is required.

Speaking further on the human capital gap, Mr Abanida said Nigeria needs about 237,000 medical doctors, but currently has only 35,000 doctors.

"Nigeria is second in terms of inadequate number of nurses and midwives in Africa with only 152,000, closely followed by Ethiopia.

"Besides, about 65 per cent of Nigerians still lack proper access to healthcare services, while 70 per cent of the rural populace has no access at all to healthcare services in the country, according to World Health Organization (WHO).

He said the federal government introduced TSTS to move tasks from highly specialised to less specialised health workers.

He said task shifting can make more efficient and effective use of human resources currently available by reallocating tasks among the front-line health care workers.

Mr Abanida noted that the meeting was necessary to brainstorm on the ongoing review of the TSTS so as to ensure smooth implementation across the country.

The Director and Head Reproductive Health Division, Federal Ministry of Health, Kayode Afolabi, said the implementation of the TSTS policy is above 57 per cent across the country, as more states are adopting the policy.

He urge the professionals involved to fast track the implementation of the policy with the aim of repositioning family planning programme on its investment agenda and to ensure that all women of reproductive age have unhindered access to modern family planning methods of their choice in the communities.

The Executive Director, Women, Children and Youth Health and Education Initiative, Bauchi State, Halima Mukaddas, said the TSTS policy has given health workers the mandate to carry out some services in primary healthcare centres (PHCs ) across the state.

She said the policy has been well accepted in Bauchi because the workers see the importance of sharing some of their works to other people.

WHO Country Director, Wondi Alemu, said said the TS policy is important for Nigeria to move towards achieving Universal Health Coverage.

Represented by the National Professional Officer, Maternal, Sexual and Reproductive Health, Olumuyiwa Ojo, Mr Alemu, however, stressed that UHC cannot be achieved without proper attention to the patients themselves.

He said WHO will continue to support the process and the government in implementing this policy.

The one day meeting was organised by the Federal Ministry of Health and the development Research & Project Center (dRPC) under the Partnership for Advocacy in Child and Family Health (PAS) project.

PAS project is an intervention anchored by the dRPC and implemented by a coalition of 12 indigenous Nigerian CSOs and professional health associations holding government at national and state levels accountable on policy, programme and budgetary commitments in the health sector.
Source: Premium Times
News / Sudanese Man 31, Who Stabbed a Nurse in Israel for not readmitting him Indicted by katty: Today at 07:17:02 AM
Oshar Bakhit, a 31 year old Sudanese national in Israel on a tourist visa, charged with stabbing 65-year-old Nurse Rachel Kovo in the stomach, seriously injuring her
A man was indicted Friday for stabbing a nurse in Shmuel Harofe Geriatric Medical Center in the central Israel town of Beer Yaakov, where he had previously been treated.
According to the indictment, 31-year-old Oshar Bakhit, a Sudanese national, entered the hospital on July 2, carrying a knife with a 19-centimeter blade hidden in his pants. Bakhit, who had been a patient in the hospital from January to May, planned to attack one of the staff due to his anger that the hospital would not readmit him.
Ignoring the guard's call for him to stop, Bakhit allegedly made his way to the nurse's station. When the guard confronted him, Bakhit drew his knife and threatened him, and the guard fled
Bakhit then allegedly stabbed a nurse, 65-year-old Rachel Kovo, plunging the knife deep into her abdomen. According to the indictment, the nurse grabbed Bakhit's hand and held on to him to prevent him from stabbing her again.
The guard returned with his pistol drawn and forced Bakhit to drop the knife. He was then overpowered by staff.
Kovo was seriously wounded in the stabbing. She required two operations, was sedated for some two weeks and remains in intensive care.
Bakhit, who is in Israel on a tourist visa, was charged with serious intent to cause injury and with threatening others.
The Health Ministry strongly condemned the attack and ordered security increased at health institutions.
Esti Ayalon Kovo, the daughter of the nurse injured in the attack, spoke then about the need for action.
"Cases such as this should not happen again, and decision-makers must understand that they have an equally important role — to create a culture with zero tolerance for violence. Something has to change," said Ayalon Kovo.
"She was attacked by a patient who wanted to be hospitalized again. He did not single her out — he hurt her because he was frustrated, because he was angry. I cannot understand it," she added.
According to a December 2017 report issued by the Health Ministry committee examining the issue, there are more than 3,000 incidents of violence against medical personnel per year, with only 11 percent of them reported to police. Only a small portion of that percentage are ever brought to trial.
In March last year, 78-year-old Asher Faraj doused nurse Tova Kararo at his local HMO clinic in the city of Holon with flammable liquid and set it alight, killing her.
Source: Times of Israel
News / Malta: Nurses have been waiting 18 months for final interview results by katty:

July 20, 2018, 07:34:24 PM
Nurses who applied to fill in one of the 120 deputy charge nurse vacancies at the various hospitals and health centres in Malta have been waiting 18 months for their interview results, their union is protesting.
The nurses initially received their results a year ago, however these were recalled by the Public Service Commission when it transpired that the six examination boards had taken into consideration different criteria - such as qualifications and experience - for the promotion.
Nurses who sat for an interview at two different places realised they received varying results because of this discrepancy, the Malta Union of Midwives and Nurses said in Valletta on Friday morning.
Following a revision of criteria, results were published again in the following months, however, these too were recalled.
"Nurses thought this must be some joke as the situation was unprecedented. Committing a mistake once is understandable, but the MUMN cannot understand how this mistake could have been repeated," general secretary Colin Galea said in front of the PSC offices.
The union is now registering a protest over the 18-month delay.
"Just like any other human beings, these people are anxious to hear about the results. They went through the ordeal at least twice, and are going to go through it a third time when they finally get the results in hand.
"Some of them have already gone through the trauma of receiving a good result the first time around, and a much poorer one the second time."
Mr Galea told the Times of Malta that while the union was voicing its concern now, it did not exclude further action in the coming weeks.
Source: Times of Malta
News / India: Protesting Nurses Climb Atop Medical College Building by katty:

July 20, 2018, 09:39:38 AM
After protesting in front of the OPD at Government Rajindra Hospital and Medical College for three consecutive days, a couple of nurses on Thursday climbed atop the college building, leaving the authorities panic-stricken. The police and Fire Department officials immediately rushed to the spot after getting information about the incident.
Medical Superintendent BS Brar and Principal BS Sidhu met the protesters in the morning and gave a written assurance on the behalf of the Directorate of Research and Medical Education but they turned down the assurance. They alleged that the government did not keep it word on earlier occasions as well and betrayed them by not releasing their 33 per cent increment.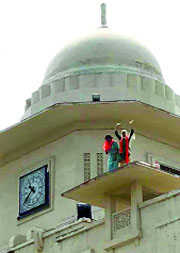 The protesting nurses also locked down the main gate of the college and staged a sit-in in front of the college principal's office. The nurses were demanding the release of increment for 2015.
Patients were also at the receiving end as the protest hit the services at the hospital.Karamjit Kaur Aulakh, president, Nurses' Association, Punjab, said: "We are only demanding that the increment be paid as soon as possible as the pay of contractual nurses is meagre."
After a meeting with the DRME, Avinash, in the evening, Karamjit Kaur said," Our nurses will not come down until we get a written assurance from the Health Secretary or Finance department."
In the evening, on getting a written assurance from the Finance Department, the nurses atop the college building came down. The Finance Department has cleared their file and sent it to the Chief Minister for approval. However, the protest is still on.
In 2016, four members of the Contractual Nurses Union had climbed atop an iron-bridge on the Bhakra canal and the president of the association, Karamjit Kaur, had jumped into it. She was saved by the police personal.
Source: India Tribune
News / NMCN Release of Notification of Registration for Nurses and Midwives by katty:

July 19, 2018, 09:46:31 PM
The Nursing And Midwifery Council Of Nigeria has today the 19th of July, 2018 released a memo to the Principals/Provosts Schools/Colleges of Nursing and Midwifery, Coordinators, Schools of Post Basic Nursing Programmes and Heads Departments/Faculty of Nursing in all Universities with the title:

COLLECTION OF NOTIFICATION OF REGISTRATION

The memo reads:

I am directed to inform you that notification of registration for successful candidates in the September/November 2017 and March/May 2018 Professional Examinations fOr Nurses and Midwives respectively are ready for collection. In the light of the above, the Heads of the underlisted Institutions are hereby directed to collect their notifications of registration at the nearest Council's Zonal Offices across the country
News / Hospitals in India Withhold Nurses' Experience Certificates by katty:

July 19, 2018, 06:59:40 PM
Nurses in the city do not have it easy while on the job, be it in terms salary or working hours. But now, the latest struggle is getting their experience certificates from the hospital while resigning.

For nurses aspiring to go abroad, an experience certificate is the most crucial document, but private hospitals don't have it easy for them. In fact, while appointing a nurse, these hospitals take a caution deposit of Rs 5,000 to Rs 10,000.

On resigning their jobs, the management delays the process of relieving them, nurses allege.

Speaking to News Today, Global Nurses Association secretary A Raj says, "Nurses are eligible for getting experience certificate within 10 months of working. It is supposed to be issued by the human resource department of the hospital and by the nursing director or superintendent. But hospitals insist on giving it only if the nurses complete two years of service. This is done to ensure they stay for that period."

Years ago, nurses were made to sign a bond for two or three years. After a huge protest, it was removed, but now the caution deposit and experience certificate are used to hold them back.

Nurses have provision of putting in their papers in 24 hours, under which they forgo a month's salary and leave instead of serving the notice period. But most of the time, they are inconvenienced by not being given their certificates.

"Many nurses who have to leave for foreign countries for work compulsorily need their experience certificate or they risk their chance of landing a good job," Raj says.

OTHER SIDE OF COIN

IMA Nursing Home Board chairman Dr M Balasubramanian, said, "I agree that the certificates must be given. Both sides (hospital and nurses) must stick to whatever agreement is made. Many nurses join reputed hospitals for a low salary only to get the experience certificate to go abroad eventually. For local hospitals, they do not insist on the certificate: a pay slip would do for the document is important in foreign hospitals."

"The hospitals also see a lot of cases where the staff do not turn up for work after getting a month's salary. So, hospitals need to take caution deposit from nurses. If any hospital is withholding certificates, the nurses can bring it to our notice," he said.
Source: News Today
News / Nurses applying for jobs in Germany need not pay anything: POEA by katty:

July 19, 2018, 06:53:27 PM
Now accepting applications. See details below
The Philippine Overseas Employment Administration (POEA) on Thursday reiterated that the hiring of 400 Filipino nurses in Germany is a government to government project so applicants are not required to pay anything.
In an interview, POEA Administrator Bernard Olalia said: "It's a government to government employment project, applicants need not pay anything. Private recruitment agencies are not involved in this project."
The POEA is the one supervising the hiring of Filipinos which is under the Triple Win Project, a government-to-government project with the German Federal Republic.
Applicants must be a Filipino citizen and permanent resident of the Philippines with Bachelor of Science in Nursing, have active Philippine Nursing License, and at least two years of related professional experience (bedside) in hospitals, rehabilitation centers and/or care institutions.
Job seekers must also have German language proficiency or are willing to undergo German language training in the Philippines to attain Level B1 (to be paid by the employer), and must be able to attend the language class in October and November 2018; or with Bl or B2 Language Proficiency Level in accordance with the Common European Framework of Reference for Languages.
Once hired, successful candidates are entitled to receive a starting monthly gross salary of €1,900 (PHP118,000) which will be increased to €2,300 (PHP143,000) after recognition as a qualified nurse.
The employer will pay the visa and airfare from the Philippines to Germany and will assist the employee to find a suitable accommodation. The selected nurse will bear the expenses in full or in part of the board and lodging.
Qualified applicants are asked to register online at
www.ereqister
. poea.gov. ph and personally submit the required documents (fastened in a folder) under the heading "German Federal Employment Agency RSF No. 180018" at the Manpower Registry Division, Ground Floor, Blas F. Ople Bldg., Ortigas Avenue corner EDSA, Mandaluyong City.
"They should first register online and then they have to personally submit required documents to POEA main office and Regional Offices, where they are located," Olalia said.
The documents to be submitted are cover letter and curriculum vitae with colored passport size picture; notarized copies of high school and Nursing diplomas; board certificate and copy of license from the Professional Regulation Commission (PRC); certificates of employment in related field (previous and current, notarized copies); attendance and/or level certificate for German language, if available; and copy of valid passport.
Applicants are required to present their original documents for authentication of written information before forwarding the resume to the employer.
The deadline for submission of applications at the POEA Central Office and its Cebu office is on Aug. 17, 2018 while applicants in other areas may also submit the required documents at other POEA Regional Offices until Aug. 14, 2018.
Interviews are set on September 3 to be held in Manila and Cebu.
News / Kenyan Nurses Oppose Plan to Introduce HND in Clinical Nursing Course by katty:

July 19, 2018, 03:42:28 PM
The Association of Public Health Officers- Kenya has opposed a proposal by the Ministry of Health to introduce a three year Higher National Diploma in Clinical Nursing and Clinical Medicine courses in all Medical Training Colleges across the country.
They termed the move ill-advised since the country already have trained nurses and clinical officers who are yet to be employed by the government
According to Secretary General Mohammed Bagajo Duba the proposed introduction of the two courses will affect the running of rural health facilities which are manned by nurses and clinical officers once they are transformed into community health workers. Duba further termed the move as a probable way that would waste tax payers' money
"We would like chairman of the Board Chairman of the Kenya Medical Training Colleges (KMTC), Prof. Philip Kaloki to know that Kenya already have trained professionals in the two proposed fields who graduated at degree, diploma and certificate levels who are experts in hygiene and sanitation. They should be used to drive the government's Big Four Agenda of Universal Healthcare to Kenyans,"Dubo said.
He said that the Ministry of health should instead hire over 2000 trained public health officers and public health technicians who are still jobless many years after they graduated from the same KMTCs.
"We have very many public health officers and technicians still in government service and many others tarmacking without jobs who can be absorbed to drive the rolling out of the Universal Health care agenda', said Duba during a press conference at the Association's offices in Nairobi Sunday morning.
Dubo asserts that Kaloki sidelined the Public Health Officers and Training Council which deals with training for public health officers, technicians and other cadres in the field of promotive and preventive health when making the decision. In this sense, he argues that there is no clarity on which entity will be charge of formulating the syllabus.
He swiped at the Ministry for abdicating its role of coming up with tailor-made policies designed to ensure good standards in the public health sector.
The Secretary General states that such energy should be redirected elsewhere. One area being rolling out a training programme for community health workers on community health hygiene since they work closely with PHOs on promotive and preventive health services.
This comes two weeks after Prof. Kaloki was quoted by a local daily saying that KMTCs have already introduced two courses to equip health workers in preparation for the government plan to roll out universal health care.
Kaloki who was speaking at the Mwingi KMTC in Kitui County further said the two courses have been tailor made to not only address the shortage of highly trained community health practitioners, but also provide skilled medical personnel for realizing the implementation of the universal health coverage agenda.
Source : Standard Digital
News / Lagos Doctor Who Slapped Nurse Arraigned in Court for Assault by katty:

July 19, 2018, 03:35:33 PM
A 35-year-old medical doctor, Emmanuel Okolo, who allegedly slapped a nurse working in his hospital, was on Thursday brought before an Epe Magistrates' Court in Lagos State.

Police Prosecutor Moses Oyekanmi, told the court that the accused committed the offence on Wednesday, at 2 am at Awoyaya hospital in Ibeju-Lekki.

The police charged Okolo, who lives at Epe with assault.

Oyekanmi said Okolo argued with Dorcas Adeyara, who was a resident nurse in his hospital over the state of a patient's room and during the course of the argument, he slapped her across her face.

"My Lord, the accused caused serious bodily injury to the complainant. He slapped her just because she worked for him. He should be punished for it," he said.

The offence contravened section 172 of the Criminal Law of Lagos State, 2015. (Revised)

The offence of assault attracts three years' jail term.

After he pleaded not guilty, Magistrate O.A. Fowowe-Erusiafe, admitted him to bail in the sum of N50, 000.

She ordered that the sureties must be gainfully employed with evidence of two years tax payment to the Lagos State Government.

Fowowe-Erusiafe adjourned the case until Aug. 19 for trial.

(NAN)
Credit Punch Newspaper
Nursing Jobs / PAMO University of Medical Sciences Associate Professor of Nursing Vacancies by katty:

July 19, 2018, 02:46:43 PM
PAMO University of Medical Sciences (PUMS), Port Harcourt, Rivers State, invites applications from suitably qualified candidates to fill the vacant Academic position below in the University:

Position: Associate Professor

Location: Port Harcourt, Rivers
Faculty: Allied Health Sciences
Department: Nursing Science

Required Qualifications and Experience
* Applicant must have been a Senior Lecturer for at least four (4) years and possess a Doctorate Degree in the relevant discipline with at least eight (8) years of experience in University teaching and research in the relevant areas
* Must have a good record of scholarly publications of at least thirteen (13) Journal papers of which at least four (4) must be published offshore or sixteen (16) Journal papers of which at least four (4) must be published offshore plus four (4) referred proceedings.

Salary and Allowances
* Salaries and allowances are at enhanced levels above those presently in Public Universities in Nigeria.

Conditions of Service
* As contained in the Human Resource Policy Document.

Application Closing Date
15th August, 2018.

How to Apply
Interested and qualified candidates should submit twelve (12) copies of their Applications and Curriculum Vitae with full documentation including passport photograph and photocopies of Certificates and Awards. All documents, with the position applied for at the top left hand corner of the package, shall be addressed to:
The Registrar,
PAMO University of Medical Sciences,
Port Harcourt,
Rivers State.

Note:
* Candidates must request their referees to forward references on them in a sealed envelope marked "Referee Report" with the name of the candidate underneath directly to the Registrar.
* Applicants should also forward three (3) bound copies of their publication to the Registrar along with their applications.