News / The American Health Council Nursing Board Appoints Rebecca Dean, ADN, TNCC, PALS by katty:

December 12, 2017, 08:41:10 PM
The American Health Council would like to name Rebecca Dean, ADN, TNCC, PALS, ACLS, BLS as an affiliate of their Nursing Board.
NEW YORK, NY, December 12, 2017 /24-7PressRelease/ -- The American Health Council would like to name Rebecca Dean, ADN, TNCC, PALS, ACLS, BLS as an affiliate of their Nursing Board. She has spent four years as a nurse offering her care and services to the Anderson Regional Medical Center, specializing in Emergency Medicine and Trauma.
Ms. Dean became involved in her profession during her time spent as a ward clerk, where she worked alongside a team of ER physicians. Seeing those physicians provide their expertise with utmost care, gave Dean the realization that she too could help others. With that, she made the decision to go back to school.
The one thing Ms. Dean values most is the continuation of her education. She considers herself lucky to have gotten this far in her career. She is also grateful for the opportunity to work alongside other talented nurses, and having the opportunity to learn and teach one another as they provide care to their patients. Dean attributes her success to her passion for nursing and her hard work. She prays for a bright future in her career, and for the futures of her loved ones who have given nothing but support in her endeavor to help those in need.
Ms. Dean has spent the entirety of her adult life trying to gain her licensure. She has spent time working as an office nurse while attending classes at a junior college but was forced to stop in her last semester. Even though she took this pause in her education, she did what she could to keep connected to those in her medical network. This led to Dean graduating from the University of West Alabama in 2014 with her ADN in Nursing. After she received her licensure, she was offered a position at Anderson Regional as a Registered Nurse in their ER. She continued to attend classes in her time off from work for her other certifications.
Ms. Dean worked there until the unfortunate loss of her husband on March 29, 2017. Since then, she has stepped away from her work to grieve her loss. She wishes to continue caring for her patients in due time, within her new community of Poplarville, MS.
Her usual day spent in the ER consists of providing patient care and serving as an educator amongst her fellow nurses. She also involved herself in Triage, Trauma Care, and kept herself up to date with new procedures. Dean believes that patient education and safety are the most important part of this profession, as well as persistent assessment and evaluation of her patients' progression.
Looking towards the future, Ms. Dean wants to continue mentoring younger nurses and helping them learn more about how to positively impact their patients' lives. She would also like to expand her training even further, by becoming a Crisis Intervention Instructor and receiving her certification in Emergency Nursing. She would also like to focus more on Forensic Nursing, Hospice Care, Wound Management, and becoming a SANE Nurse.
Ms. Dean has a strong belief in promoting patient education, safety, and advocacy. The safety of her patients is an essential and vital component of quality nursing care. With an immense amount of strategy and support, she continues to strive for excellence in her patient care. Thoroughly dedicating herself to assuring her patients only have positive outcomes in their treatments.
In her free time, Ms. Dean tries to make the world a brighter place in other ways, such as donating regularly to the American Cancer Society. She has also attained her Private Pilot's license with instrument rating. When at home she enjoys gardening and reading, and occasionally enjoys traveling.
About the American Health Council:
The American Health Council is the nation's only organization with a constituency representative of all sectors of the healthcare industry. From the coasts to the heartland, the American Health Council has drawn Affiliate from major metropolitan hubs and small communities. These Affiliates span generations and have reached different stages of their careers -- from recent graduates to retirees. More information about the American Health Council and its mission can be found at:
http://americanhealthcouncil.org
Additionally, the American Health Council strives to provide recognition and support for those individuals and institutions making the difference in patients' lives day in and day out. Throughout 2017, the AHC is honoring "America's Best Doctors and Nurses," as well as the nation's best medical universities and hospitals. The American Health Council's "Best in Medicine" and "Best in Nursing" awards programs honor the individuals and institutions that have contributed significantly to medicine and nursing, as well as the training and education of physicians and nurses. The most current selections for these honors may be viewed here:
http://bestinmedicine.org
and
http://bestinnursing.org
.
News / Ghana: Coalition of Concerned Nurses Locks Horn with GRNMA over Increased Dues by katty:

December 12, 2017, 07:51:34 PM
There is simmering tension within the Ghana Registered Nurses and Midwives Association (GRNMA) over what the Coalition of Concerned Nurses and Midwives described as illegal increment of the dues and building levies without recourse to them.

According to them, the leadership at their 16th Biennial Delegates Conference in Cape Coast required two-third of their 109 delegates to form a quorum to take such a decision but the decision was taken without quorum.

The national president of the Coalition of Concerned Nurses and Midwives Justice Badam Parmaak told the DAILY HERITAGE in an interview that they are unhappy with the decision of the leadership and therefore made frantic effort for them to reverse the decision but to no avail.

According to him, beginning January 2018 their dues has been increased from 1.5% of their basic salary to 2.0% while their building levy also moves from GHc10.00 to GHȼ20.00.

He said, the members would this either today or tomorrow petition the National Labour Commission, the Labour Ministry and the GRNMA and if their petition is not addressed, it would proceed to court to place an injunction on its implementation in January.

Few members pay

According to the Parmaak, the leadership of the association has failed to ensure that all registered members pay their dues and that has left only a few people being over burdened.

He added that the nurse's fund has also been increased from GHȼ50.00 a development they are unhappy about.

Confusion

At the GRNMA conference the nurses were told that both the Professional Identification of Nurses (PIN) and the Assisted Identification of Nurses (AIN) had expired automatically and "whether it actually expired or not, it demands that every nurse renew their PIN or AIN before the beginning, because the Nurses and Midwives Council is introducing a new policy from January next year.

According to them, even members who have defaulted years for non renewal of PIN or AIN should pay the usual GHȼ50.00 to renew. However, their dues and building levy had been reviewed to 2% from 1.5% and GHȼ20.00 from GHȼ10.00

More shock

Some of the regional representatives who were not part of those that took the decision they are yet "to come out of the shock! If you were at that Conference, you would clearly appreciate the fact that there was no voting there to decide anything!"

According to them, "the figures being circulated out there were figures cooked from Accra and brought to Cape Coast. The Conference was characterised with threats, intimidation and suffocations."

"Indeed, it was the worst form of autocracy ever witnessed anywhere in the world. The ordinary nurse/midwife had no voice in this conference," the source told the paper.

Efforts to get the president of the GRNMA for his reaction failed as calls directed to his telephone lines went unanswered.



Source: Daily Heritage
News / Mother and Child Hospital Akure Detains Mother & Baby over N40,000 Hospital Bill by katty:

December 12, 2017, 02:54:39 PM
An Okada rider, Oladapo Omotoso, narrated yesterday how his newborn baby Temitope Omotoso, and her mother, Taiwo, were "detained" for 22 days by the Management of the Ondo state-owned Mother and Child Hospital for his inability to offset N40,000 hospital bill.
Baby Temitope was given birth to in the government hospital, solely for the delivery of babies and taking care of children under age five, through caesarean operation.
Findings by Vanguard in Akure, the state capital, showed that the baby and the mother were detained following the inability of the breadwinner of the family, Oladapo to offset the money billed them for the operation. Under the immediate past administration, such caesarean operation and normal delivery of babies were totally free Vanguard gathered that while baby Temitope was detained between November 16 and December 10th, 2017.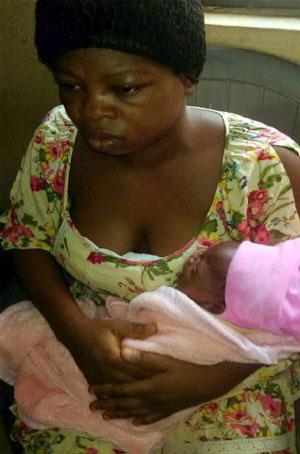 Reports had it that those who could not pay their medical bills in the government hospitals were made to deposit their belongings such as motorcycles and generator sets to the hospital until they offset their debt. Narrating his baby and wife's ordeal to newsmen, Oladapo said they were made to pass the night for that number of days " on the chair in the hospital".
" My inability to pay the N40.000 required by the hospital made my new baby named Temitope and her mother to suffer untold hardships in the hospital. "On the 16th of November, I rushed my wife to the hospital. On getting there, they asked me to make some payments before they can proceed with any operation. I said I don't have much on me. They gave me an emergency form to fill so that they would be able to take care of her just to save the life of the mother and baby first.
"They did the operation successfully, the following day which was 17th; I was called to buy some drugs. I told them I could not get money to buy those drugs. "On the emergency form which I had already filled the day I came to the hospital, they said I should take the form to the pharmacy so that I can use the form to buy those necessary drugs for my wife. They discharged her four days after. "On the 21st, they asked her that she should sit on a chair because they have already discharged her so as to create enough space for other people to come in. "I said I will go and look for money. I went out I could not get any money. I came back to the hospital and I started begging. I went to the CMD. He said if he has to waive everything, he can't waive the caesarean pack. "
He said the caesarean pack does not belong to the hospital. He said some companies brought it to the hospital, adding that he will waive the hospital bill which is within his capacity. He will waive the bed fees and the items which they used for normal delivery. The total money waived for me was N15.000.
"However, they said I will need blood clearance. On the 28th, I could not raise the money; I went to Ministry of Women Affairs for financial assistance. But they declined to help me. I went back to the hospital.
"The Welfare officer told me to pay for the caesarean pack and the blood clearance. Five days ago, I paid N15, 000 out of the money for the CS pack.
"I later paid the balance of N5, 000 making N20, 000. After the payment, I went to the Welfare he said he had helped me enough that I should go to the lab for blood clearance.
" It was after I donated blood that people in the lab said I owed them. I asked how much and they said N6, 500. "The total amount they expected me to pay is N40, 000. I have paid N20, 000. I paid the money 15 days after delivery. "They are now expecting me to pay the lab fee which is N6, 500 before my baby and wife can be released." He said that Temitope was his second child that was given birth to in the hospital noting that he did not pay a dine when his first child was delivered at the same hospital. Contacted, the Chief Medical Director of the hospital, Dr Adesina Akintan, said that the economic reality in the country necessitated the hospital insistence that those treated should pay for such treatment. Akintan said that the hospital normally informs patients that they would be treated and that later they will defray the debts. He said that in the case of the baby, the mother was brought in an emergency condition and to save the mother and the child we decided to swing into action. The CMD said "We did not detain the baby and the mother. We informed them right from the beginning that they will have to pay but to save both the mother and the baby we decided to carry out the operation. But we found out later that he was having some challenges in defraying the debt. According to him "the hospital was owing to its contractors over N26million for the supply of drugs and other items required for operation in the hospital.
Source:
https://www.vanguardngr.com/2017/12/baby-mother-detained-ondo-hospital-n40000-bill/
Scholarships / Commonwealth Scholarships in Low and Middle Income Countries, 2018 by katty:

December 12, 2017, 02:46:30 PM
Commonwealth Scholarship and Fellowship Plan (CSFP) is pleased to offer scholarships for citizens of all Commonwealth countries to study in member countries. Scholarships are available for masters degree programmes in any subject at participating universities.
CSFP aims to promote and support excellence in higher education for the benefit of individuals and societies throughout the Commonwealth and beyond.
The Association of Commonwealth Universities (ACU) is the world's first and oldest international university network, established in 1913.
Applicants must be a citizen of any Commonwealth country other than the host country.

Scholarship Description:

Application deadline: February 2018Course Level:
Scholarships are available for pursuing masters degree program at participating universities.
Study Subject:
Scholarships are awarded in any subject.
Scholarship Award:
Each scholarship provides:
Approved airfare from your home country to the UK and return at the end of your award (the CSC will not/reimburse the cost of fares for dependants, nor usually the cost of journeys made before your award is finally confirmed)
Approved tuition fees
Stipend (living allowance) at the rate of £1,065 per month, or £1,306 per month for those at universities in the London metropolitan area (rates quoted at 2017-2018 levels)
Warm clothing allowance, where applicable
Thesis grant towards the cost of preparing a thesis or dissertation, where applicable
Study travel grant towards the cost of study-related travel within the UK or overseas
If applicants are widowed, divorced, or a single parent, child allowance of £458 per month for the first child, and £112 per month for the second and third child under the age of 16, if you are accompanied by your children and the are living with you at the same address in the UK
Nationality:
Students from developing Commonwealth countries can apply for these commonwealth scholarships.
Number of Scholarships:
Not given Scholarship can be taken in UK
Eligibility for the Scholarship:
Eligible Countries:
Botswana, Cameroon, Ghana, Kenya, Lesotho, Malawi, Mauritius, Mozambique, Namibia, Nigeria, Rwanda, Seychelles, Sierra Leone, South Africa, Swaziland, Uganda, United Republic of Tanzania, Zambia, Bangladesh, Brunei Darussalam, India, Malaysia, Maldives, Pakistan, Singapore, Sri Lanka, Antigua and Barbuda, Bahamas, Barbados, Belize, Canada, Dominica, Grenada, Guyana, Jamaica, Saint Lucia, St Kitts and Nevis, St Vincent and The Grenadines, Trinidad and Tobago, Cyprus, Malta, United Kingdom, Australia, Fiji, Kiribati, Nauru, New Zealand, Papua New Guinea, Samoa, Solomon Islands, Tonga, Tuvalu and Vanuatu (except for which they are applying i.e. Bangladesh, Botswana, Cameroon, Caribbean (Barbados, Jamaica, Trinidad and Tobago), Ghana, Kenya, Mauritius, Pakistan, Papua New Guinea, South Pacific (Fiji, Samoa) and Sri Lanka).

Entrance Requirements:Applicants must meet following criteria:
Be a citizen of or have been granted refugee status by an eligible Commonwealth country, or be a British Protected Person
Be permanently resident in an eligible Commonwealth country
Be available to start your academic studies in the UK by the start of the UK academic year in September/October 2018
By October 2018, hold a first degree of at least upper second class (2:1) honours standard, or a second class degree and a relevant postgraduate qualification (usually a Master's degree)
Be unable to afford to study in the UK without this scholarship
English Language Requirements:Applicants from outside the home country will often need to meet specific English language/other language requirements in order to be able to study there.

Master Scholarship

Application Procedure:

How to Apply:
Applicants must apply to one of the following nominating bodies in the first instance – the CSC does not accept direct applications for these scholarships:
National nominating agencies– this is the main route of application
http://cscuk.dfid.gov.uk/apply/national-nominating-agencies/
Selected non-governmental organizations and charitable bodies
http://cscuk.dfid.gov.uk/apply/phd-scholarships-low-middle-income-countries/nominating-ngos/
All applications must be made through one of these nominating bodies. Each nominating body is responsible for its own selection process. Applicants must check with your nominating body for their specific advice and rules for applying, their own eligibility criteria, and their own closing date for applications. The CSC does not impose any age limit on applicants, but nominating bodies may do so in line with their own priorities.
Applicants must make an application using the CSC's Electronic Application System (EAS), in addition to any other application that you are required to complete by your nominating body.
Applicants application must be submitted to and endorsed by one of the approved nominating bodies listed above. The CSC will not accept any applications that are not submitted via the EAS.
News / RCN survey finds a third of Scottish nurses want to quit by katty:

December 12, 2017, 07:52:54 AM
MORE than a third of all Scottish nurses are looking to leave the profession, a new survey has warned.

The poll of nursing staff by the Royal College of Nursing (RCN) will make grim reading for ministers, and with money at the heart of much of that unhappiness, it will add pressure to Finance Secretary Derek Mackey to find money to hike public sector salaries when he delivers his draft budget on Thursday.

With wages stagnating and prices rising, around 38 per cent of nurses say they wouldn't recommend the profession – despite most finding it "rewarding".

RCN Scotland say nursing staff across all sectors and grades are now facing financial difficulties with three-quarters saying they feel worse off now than five years ago.

Four in 10 say money worries are making them lose sleep. Thirty-six per cent of nurses say they are looking for a new job, while 65 per cent say their job band or grade is inappropriate for the work they do, feeling that it no longer matches the responsibilities or intensity of their role.

Sixty-one per cent said they were too busy to provide the level of care they would like.

Theresa Fyffe, director of RCN Scotland, said: "Given the prolonged pay freeze and soaring nursing vacancies left unfilled it is no surprise that our survey highlights that the morale of nurses and health care support workers in our NHS is plummeting.

"For too long the concerns of Scotland's nursing teams have been ignored, and nurses have been suggesting they don't have the resources to fulfil their jobs properly.

"The Scottish Government must fulfil its commitment to raise living standards and aid recruitment by confirming an above-inflation pay award for hard-pressed nursing staff in the budget.

"It shouldn't be the case that nurses and health care support workers are taking on a second job, or leaving a job that they love because they are struggling to make ends meet.

"The survey's findings should fire a warning shot across the bows, for the Scottish Government our nursing workforce is at breaking point. The Scottish Government has the opportunity to ensure nursing staff receive the pay they deserve and to address the workload challenges with its proposed safe staffing legislation, safeguarding nursing in Scotland for generations to come.

"Nursing teams on the frontline have spoken out; it is now up to those in positions of power to listen and to act fast."

Around 800 Scottish nursing staff were polled in June and July as part of a UK-wide survey, which, the RCN say, will be used to feed into public pay sector review board negotiations.

Scottish Labour health spokesperson Anas Sarwar said: "This survey is utterly damning and confirms what Labour has been saying for some time – Scotland's nurses are underpaid and undervalued under the SNP.

"Almost three-quarters of Scotland's nurses feeling worse off is an absolutely damning indictment of the SNP's pay policy. Over 60 per cent feel they are too busy to provide the level of care they would like.

"These figures should be setting off alarm bells ahead of the Scottish budget. We cannot expect our NHS to deliver the care Scots deserve if staff don't get the support they need."

Tory health spokesman Miles Briggs said the results of the survey exposed "the challenges faced by hard-working NHS staff".

The Tory MSP said: "The SNP is in sole charge of health, and has been for more than a decade.

"It can't blame anyone else for this situation, and should set out how it's going to make life better for Scotland's over-stretched nurses."

Source:http://www.thenational.scot/news/15715233.A_third_of_Scottish_nurses_want_to_quit_due_to_stagnating_wages/

News / Chinese, S.Korean nursing experts win Thailand's Princess Srinagarindra Award by katty:

December 12, 2017, 07:50:51 AM
Thailand's Princess Maha Chakri Sirindhorn on Monday presented Princess Srinagarindra Award for the year 2016 and 2017 respectively to a Chinese and a South Korean nursing expert here at the Grand Palace.

Princess Sirindhorn said the leadership of the Chinese awardee, 58-year-old Wu Xinjuan and her dedication continuously improve the quality of nursing care in China, which is reflected in her outstanding work when the SARS outbroke in China in 2003, according to a pamphlet released to the media on Monday.

The princess also praised the South Korean awardee, 71-year-old Kim Euisook, for her success in the advancing nursing profession of South Korea to an international level and for her contribution to the improvement of health of mothers and children living in low socio-economic countries.

Both Wu and Kim are excellent models of nurses and midwives around the world to perform good deeds to benefit the health of humankind, the princess said.

During the SARS epidemic in China in 2003, Wu, director of the Nursing Department of Peking Union Medical College Hospital, led a team of nurses and took effective procedures to prevent the spread of the infection of SARS and implement efficacious nursing care for some 300 patients and there was no cross-infection among all nurses working with these patients, according to organizers, which they considered as Wu's most impressive, outstanding achievement.

Wu also shared her experience at that time at a press conference after the awarding ceremony.

"I will devote my whole life to nursing," Wu said, adding "All nurses and people working in the nursing are a family and I think China and Thailand should have more exchange in terms of nursing to contribute to the development of nursing around the globe."

Kim, according to organizers, is a distinguished pioneer in nursing education and research in South Korea.

Kim, during the press conference, emphasized the great need of nurses in many developing countries.

Princess Srinagarindra Award Foundation was established in 2000 in commemoration of Princess Srinagarindra Mahidol, mother of revered late King Bhumibol Adulyadej. The foundation, with Princess Sirindhorn being its current president, is under royal patronage.

One Srinagarindra Award is conferred annually upon an individual or a group of registered nurses or midwives who have made a significant contribution within the nursing profession.
News / Wisconsin Governor Signs Nurse Compact Licensure Law by katty:

December 12, 2017, 07:10:46 AM
Governor Scott Walker is also making it easier for nurses to practice in other states.
He signed a bill into law in Platteville earlier Monday.
To practice in other states, nurses wouldn't need a separate license. The law enters Wisconsin into the Enhanced Nurse Licensure Compact.
"This allows our people to do good work," said Governor Walker, "Whether they are in Iowa or Wisconsin and hopefully in other states. And that's critically important not only to keep the talent we have but to attract more people into health care to help seniors with long term care, to help provide care in our hospitals and clinics, this is critically important."
There are 26 states that are part of the compact.
The new law is part of the governor's rural agenda by enabling nurses to work in multiple states and provide nursing services in rural areas with less access to optimum health care services.
Source:
http://www.wsaw.com/content/news/New-bill-allows-nurses-to-practice-in-other-states-463528943.html
News / Nurse named president of Johns Hopkins Health System by katty:

December 12, 2017, 12:02:45 AM
Kevin W. Sowers, a distinguished clinician, educator, and academic health care leader, has been appointed president of the Johns Hopkins Health System and executive vice president of Johns Hopkins Medicine, an $8 billion academic medical center and health system. He is the second person to hold this role.
Sowers joins Johns Hopkins Medicine after 32 years with the Duke University Health System, where for the last eight years he has served as president and CEO of Duke University Hospital.
The boards of trustees for Johns Hopkins Health System, Johns Hopkins University, and Johns Hopkins Medicine approved his appointment on Friday. Sowers will assume his new role on February 1, 2018.
Paul B. Rothman, dean of the medical faculty and CEO of Johns Hopkins Medicine, announced the appointment to faculty and staff today through an email and via a live-streamed news conference.
"Kevin is a visionary leader with a deep understanding of the role and responsibilities of academic and community health centers, as well as the challenges we face," Rothman says. "With his experience leading a prestigious academic health center, his ability to forge strong collaborative relationships, and his demonstrated knack for thriving in complex environments, Kevin will be instrumental in advancing our mission and reinforcing our commitment to the communities we serve."
Sowers' predecessor, Ronald R. Peterson, announced in June of 2016 his plans to retire as president of Johns Hopkins Health System and executive vice president of Johns Hopkins Medicine by the end of 2017. A search committee led by Rothman and David Hodgson, chair of the Johns Hopkins Medicine Board of Trustees, conducted an extensive national search.
As president of Johns Hopkins Health System and executive vice president of Johns Hopkins Medicine, Sowers will help Rothman oversee a system of six hospitals in Maryland, Washington D.C., and Florida. Johns Hopkins Medicine also comprises several suburban health care and surgery centers; more than 40 outpatient primary health care sites; a full-service home care provider; managed care plans; and hospital management, consulting, and clinical education services around the world.
Together, the components of Johns Hopkins Medicine—the Johns Hopkins University School of Medicine and the Johns Hopkins Health System—employ more than 40,000 full-time faculty and staff.
At the news conference today, Rothman was joined by Johns Hopkins University President Ronald J. Daniels, who offered his enthusiastic endorsement for the appointment.
"Navigating an ever-changing health care landscape and caring for patients and communities in the 21st century demands a rare combination of strategic planning and the ability to expect—and respond to—the unexpected," Daniels says. "Kevin has proven himself to be that rare leader, as he is someone who can see the future, then put in place the programs, practices, and partnerships necessary to get there."
Sowers, who attended the news conference, spoke of the impressive teamwork he experienced at Duke.
"One of the things that brings me to Johns Hopkins is that same kind of teamwork, the kind that saves lives and changes the world," Sowers says. "I wanted to come to another world-class organization to work with some of the brightest minds and biggest hearts. I am here today because that same spirit is so palpable at Johns Hopkins Medicine."
Sowers also acknowledged predecessor Ron Peterson's "unparalleled and extraordinary" impact on the health system and the Baltimore community. Peterson joined the news conference to offer his endorsement of his successor for these two roles.
"Based on Kevin's track record of success in positions of increasing responsibility in health care administration, I am comforted to know my successor understands the role of the health care executive in a world-class, academically focused health care system," Peterson says. "The combination of Kevin's clinical background, business acumen, and sensitivity to the human condition within the context of an academic medical system bodes well for the future of Johns Hopkins Health System and Johns Hopkins Medicine."
At Duke, Sowers held several faculty positions, including adjunct professor at the UNC Gillings School of Global Public Health and Duke University Fuqua School of Business, and clinical associate at Duke University's Graduate School of Nursing. He served as a consultant to the Sun Yat-sen Cancer Center in Taiwan, establishing a much-needed department of oncology nursing and educating nurses on oncology care.
Prior to assuming his current position at Duke University Hospital, Sowers held numerous senior leadership positions across the Duke University Health System, including chief operating officer for Duke University Hospital and interim CEO for Durham Regional Hospital. He also held a variety of senior administrative roles overseeing the consolidation of Duke's clinical lab services, emergency and trauma services, and managed care and patient care services.
"I had the great fortune to witness the beauty, complexities, and challenges of health care delivery," Sowers said. "Whatever my position was at any moment, I consistently saw in my colleagues dedication and compassion, and a commitment to better the lives of others through advancing science and caring for the human spirit."
Sowers began his career with Duke University Medical Center Hospital in 1985 as a staff nurse in oncology. For the next nine years, he held several nursing leadership positions, including nurse educator, director of medical oncology and nurse internships, and director of cancer care consortium/unit manager for hematology/oncology/GYN oncology.
Sowers earned his bachelor of science degree from Capital University School of Nursing and a master of science from Duke University School of Nursing. He has published extensively and speaks nationally and abroad on issues such as leadership, organizational change, mentorship, and cancer care.
Active in many professional and community organizations, Sowers serves as chair of the AmSurg Board and is a member of the Vizient Board of Directors, North Carolina Hospital Association Board of Trustees, the North Carolina Institute of Medicine Board of Directors, and the Council of Teaching Hospitals Administrative Board. He is an American Academy of Nursing Fellow and has collaborated on numerous research efforts as well as consulted internationally. He has also served in leadership roles with the American Heart Association, Susan G. Komen, and the Oncology Nursing Society.
Sowers, 56, will be joined by his partner, Anthony Evans.
"Anthony and I are now happy to call Baltimore and Johns Hopkins Medicine home," Sowers says.
Source:
http://medicalworldupdate.com/nurse-named-president-johns-hopkins-health-system-executive-vice-president-johns-hopkins-medicine/
Nursing Jobs / Vacancies for Senior Nurses and Registered Nurses at Dako Medical Center Lagos by katty:

December 11, 2017, 09:31:17 PM
URGENT VACANCIES:
The following positions are wanted for urgent employment by Dako Medical Centre Limited:
Matrons
Registered Nurses
Note:
All applicants MUST be resident in Lagos State and have a minimum of 3 years post NYSC experience. Only applicants who meet the above criteria would be contacted for interview.
Application process:
Applicants should send their one-page cover letter and detailed CV as a single attachment to
dakomedicalcentre@yahoo.com
.The Job title and Location must be the subject of the email.
Or
Applicants can send a hardcopy of their one-page cover letter and detailed CV to:
The Medical Director,
Dako Medical Centre Limited,
185 Muyibi Street, Olodi -Apapa,
Lagos State.
News / OPINION: Whats Really Wrong With ECWA School Of Nursing, Egbe (ESON)? By Ernest by katty:

December 11, 2017, 09:21:04 PM
I learnt recently that ESON has asked some Nov. 2016 Nursing Council candidates to return to the school to re-submit their passport photographs for fresh processing of their initial license. This is coming 13 months after these candidates wrote their Council exams.

The reason is that there was an error and as a result NMCN could not process their licenses! The candidates are going through hell to travel thousands of miles back to school to submit fresh passports just like they did during registration and the exam proper. They would have to probably wait for another one year because they will be processed and issued licenses.

That is not just the only case of lack of good management exhibited by the school.

After the release of result by the NMCN in January 2017, the school mandated all candidates to pay their registration and license fees, latest by first week of March, 2017. The school refused to forward the names and fees to NMCN until August, 2017 (five months after).

By July 2017, the Principal of the school, Mrs. Zakari had started issuing Letters of Authority to the candidates to go and collect Notification of Registration from NMCN, Abuja. She collected #2000 naira to issue these letters, knowing fully well the forms and registration monies paid have not been sent to NMCN.

The candidates were turned back by NMCN and informed that Council hasn't received their forms and fees from their school. Only those who boycotted the school and went on self-registration succeeded.

The candidates were later registered on 9th August, 2017. Yet again, NMCN printed date of registration to be 9th August 2016 instead of 9th August, 2017. There is of course no way examination date would bear Nov. 2016 and registration date would be August, 2016.

Again, the school dished out these notifications of registration to candidates without dictating this error. They seemed to be more interested in the #1000 naira they were collecting to give out out these notifications.

Unfortunately, an outsider, who is not even a nurse dictated this error and called attention to it. The school had to direct all candidates to return the notifications.

If despite all the millions of Naira that ESON made from these innocent students, it still cannot develop a proper management system in handling students affairs, then we can only wonder what their money making drive is all about.

I paid you a fee for exam and registration, your management system failed to deliver about 13 months later, you ask me to come make another submission as a result of your system failure and you keep me for close to two years before I can have my registration and license as a nurse.

What a school Indeed!