News / India: Tamil Nadu Announces New Uniforms for Government Hospital Nurses by katty: Today at 01:38:08 PM
The Tamil Nadu health department on Monday released new uniforms for nurses in the government hospitals. A recent government order has given the details of the new uniforms, which varies among different category of male and female nurses.
With this, the nurses in the government hospitals may finally bid adieu to the British-era uniforms.
The proposal was first mooted last year but was pending and a government order dated December 7 has given the specifics of the new uniforms. The department has also released photos of the model uniforms.
The description of the new uniforms for nurses are as follows:
1. Female nurses with 10 years or lesser experience will sport white half sleeve top with white pants.
2. Female nurse for above 10 years experience will wear white half sleeve chudidhar and white bottom.
3. Female nursing superintendent (Grade 2) will wear pink colour saree with white overcoat.
4. Female nursing superintendent (Grade 1) will wear pista green colour saree with white overcoat.
5. Nurses at the Neonatal intensive care unit (NICU) will wear a white half sleeve pink top and pink pants.
6. Male nurses with 10 years or lesser of experience, will wear a white half sleeve shirt and white colour pants.
7. Male nurses for above 10 years of experience will wear white half sleeve shirt and white colour pants.
8. Male nursing superintendent (Grade 2) will wear pink full sleeve shirt and navy blue colour pants.
9. Male nursing superintendent (Grade 1) will wear pista colour full sleeve shirt and navy blue pants.
Present uniform:
The British-era uniform nurses were wearing until now are:
1. White gowns with an apron over it, a belt, cap and long stockings with buckle sandals for entry-level female nurses.
2. Gown with full hand sleeves, a bigger cap than juniors, and long stockings with buckle sandals for grade 1, 2 and 3 nurses.
Source : India Express
Post Basic Courses / Federal Neuro Psychiatric Hospital Kaduna 2019/2020 Post Basic Nursing Form by katty: Today at 01:31:34 PM
Applications are hereby invited from suitable qualified Nurses for admission into the 18 months Post Basic Psychiatric Nursing Program 2019/2020 academic session

ENTRY QUALIFICATIONS
* Candidate must be a qualified Nurse
* Evidence of Registration with the Nursing and Midwifery Council of Nigeria
* Current license to practice Nursing issued by the NMCN
* Possession of five (5) credits at not more than two sittings in olevels these must include english, chemistry, physics, biology and maths. A combination of WAEC and NECO is accepted
* Any other qualification in Nursing will be an added advantage

METHOD OF APPLICATION
Application forms can be obtained from the program coordinator, School of Post Basic Psychiatric Nursing, Federal Neuro Psychiatric Hospital kaduna

APPLICATION FEE
A non refundable fee of N10,000 for application form.

CLOSING DATE
Completed forms should be submitted with photocopies of relevant credentials and two (2) passport photographs (coloured on white background) to the above address on or before 15th March 2019. Pre test and interview will hold on 19th and 20th March 2019 respectively.

Please not that succesful candidates would be expeted to resume training first week of May, 2019

For further enquiry contact the programme coordinator on 08028434918, 07034693344 or 08033329078.

SIGNED:
Programme Coordinator
For: Medical Director
Inventions / Nurses Could Replace Surgeons Soon Thanks to Robots by katty:

December 08, 2018, 03:04:14 PM
Nurses could soon be tasked with performing surgery with the help of robots and other forms of artificial intelligence, a new report predicts.
The Times reported Friday on the study that looked at the next 20 years of surgical procedures. The findings suggest that doctors could be freed from performing what are seen as routine surgeries because of the rise in AI.
Replacing the steady hand of a surgeon, for example, could be nanarobots that repair the body from the inside and virtual reality headsets worn by nurses and other medical professionals to assist in procedures. 3-D printed organs could also be mass produced for use when they are needed, the Royal College of Surgeons report said.
"We're standing on the verge of transformative changes in surgery that have the potential to dramatically improve patients' care, helping them to live healthier lives for longer," neurosurgeon Richard Kerr said in the report, according to the Times.
"We are now moving from the era of freehand surgery to the digitalization of surgery — where surgeons are supported by data, genomic analysis, and new tools such as robotics."
Robots are already used for medical training, and other industries have embraced the technology in recent years as the world turns to automation to get things done.
Source : News Max
News / Namibia: Nurses Urged to Serve in Rural Areas by katty:

December 07, 2018, 06:02:17 PM
HEALTH minister Bernard Haufiku has urged nursing graduates to not only serve in urban areas, but in rural areas as well.
In a speech read on his behalf by health permanent secretary Ben Nangombe during the graduation ceremony of 210 National Health Training Centre (NHTC) nursing students in Windhoek yesterday, Haufiku said Namibia faces a shortage of nurses and midwives across the country, and therefore called on nurses and future nurses to be open-minded when it comes to employment in small towns and villages.

The NHTC has training centres in Windhoek and, at Rundu and Keetmanshoop.

The nursing graduates completed a three-year diploma course at the three centres from 2015 until 2017, which was provided by the health ministry.

Haufiku said that nurses should put patients' needs first, because they are providing a service to the people. He also advised nurses to spend less time on their cellphones in order to assist patients properly.

"I urge all nurses to improve their competence with time, because if they don't, then the quality of their service will suffer," Haufiku said.

Miryam Hangula, one of the Keetmanshoop graduates, said that her journey was not easy.

"Things got very tough at times and a lot of hard work was required from us.

I felt like giving up at times, but I ultimately realised that I had to achieve this through dedication and commitment to my studies," Hangula said. She went on to say that she also wanted to make her parents proud because they invested so much in her education.

Hangula said that she was thankful for the lecturers at the various health centres who taught the students with such diligence throughout the past three years. Anneli Nepembe received the award as the best practical student from the Windhoek centre, while Lydia Shikongo was acknowledged as the best student from the Rundu centre, while Rooy Ruanche of Keetmanshoop the best overall student.

Shikongo was also honoured as the best overall student. The acting project coordinator of NHTC, Ansie Benjamin, said that the Rundu centre was not as technologically advanced; yet they had the best achievers out of all the towns.

"That centre does not even have air conditioners, especially in times when it's warm like this, yet they still achieved so much with so little," Benjamin said.

She praised all the students for their hard work.
News / Uganda Nurses, Midwives Deserve Better By Opiyo Oloya by katty:

December 07, 2018, 12:32:52 PM
My sister Caroline Akota Omoya was buried four Saturdays ago, on November 10, 2018, in Kirombe, Gulu. She was 65 years old. A relatively young age to die, she had been sick for some time during the past several months, following a knee replacement.
All her life, she had been a nurse, working extremely hard in different hospitals all over the country, including Gulu General Hospital, Jinja, Masindi and elsewhere. She never missed a day of work if she could help it and, as many of her former colleagues who attended the funeral attested, she was the kindest soul one could meet.
I know, she was my sister. While it is sad to lose a sibling, as she neared the end of life, what deeply disturbed me was the financial situation she was in. She worked very hard to get her pension from the Ministry of Health, what she rightfully worked for, but all she got was the run around, sent back-and-forth to different offices, asked to fill meaningless forms that were going nowhere, then told to wait patiently, while the claims were being sorted out.
She waited, honestly, she did. That was sometime in 2015, but nothing happened. When she made no headway, she harnessed my help in contacting certain ministry officials who gave me the same honeyed assurances that she was on the list of pensioners soon to be paid. To the day she died, she was still waiting to collect what she worked for and, which rightfully, now, belongs to her two surviving sons, my nephews David Omoya and Dr Sebastian Omoya.
But my sister had brothers and sisters who took good care of her during her time of need and, when she passed on, she received a most beautiful and decent burial. Instead, my worry now is about all the nurses who are out there today, alive, who have reached the age of retirement, but who have nothing to show for their many years of caring for other people. In their time of need, who looks after them and what happens to their pension money?
The issue is two-fold, one is the pay squeeze that nurses, nursing assistants and other medical workers already face as among the lowest-paid public servants in Uganda. Salary increase is expected next year, following the signing of the collective bargaining agreement in June this year, between the Government and the National Organisation of Trade Unions and its affiliates, which include Uganda Medical Workers Union and Uganda Nurses and Midwives Union.
But these pay increases are not retroactive and will not address historical wage gaps for nurses who, given the long work hours and issues they deal with every day, are grossly underpaid. When, in November last year, nurses demanded the equivalent of 400% increase in wages, no doubt, their calculations took into account the extraordinary long hours they work every single day, to care for the sick, the weak and those in palliative care who cannot care for themselves.
However, and this is the issue my sister faced, when nurses retire, they should not depend on handouts or the goodwill of others. They should not live in dire poverty, without a single coin to their names. If there is justice at all, it should be that in their retirement days, nurses are allowed to put up their feet and enjoy the rest they surely deserve.
That, unfortunately, was not the experience of retired nurse Caroline Omoya. Her dignity and human worth were degraded at her most vulnerable moment. She had a small house she had built for her family, which kept the rain away, but for everything else, she depended on the goodwill of others. She did not lack for anything because her siblings took care of that, but she should not have had to depend on anybody.
The issue for me is this: Can the Ministry of Health say with clarity and specificity what happened to my sister's pension and the pension of many nurses who are alive and waiting to receive what is deservedly theirs?
Can the ministry assure these retirees that they do not have to wait another month while someone in the huge bureaucracy demands more paperwork?
Can the Ministry of Health promise nurses that, wherever they are, who are waiting for their pension, will receive the money promptly or, at the very least, an assurance that the money is coming on a very specific date?
As a nation, as Ugandans, we should care deeply that our nurses do not go hungry because we have failed to pay them enough money or withheld their pension. These are the people to whom we look for care, sympathy and human love at our most vulnerable moments.
They deserve better treatment than the raw deal they are getting right now. Our very lives depend on their welfare.
Opiyo.oloya@gmail.com
,Twitter: @opiyooloya
News / South African Man Arrested for Harassing A Nurse on Duty by katty:

December 06, 2018, 09:05:39 AM
Nurses have stopped working night shifts following the incident due to safety concerns.
The MEC for health in Limpopo, Dr Phophi Ramathuba, has welcomed the arrest of a man captured on cellphone video footage harassing and assaulting a nurse on duty at the Vaalwater Clinic.
The man allegedly assaulted the nurse after she refused to act out of policy and re-issue his companion with a second birth notification form as per his demands, reports Polokwane Review.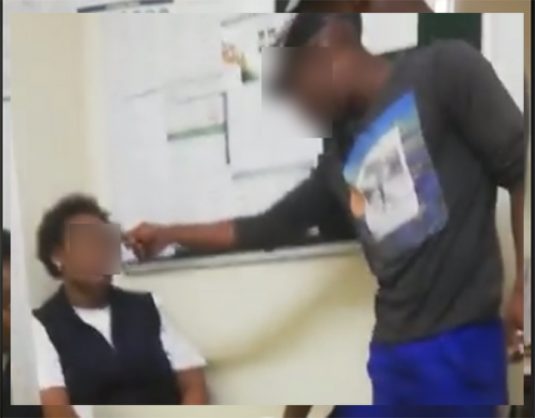 By law, birth and death notification forms can only be issued once for every individual in order to avoid corruption and collusion, said the spokesperson for the department, Neil Shikwambana.
"The nurse in question acted in the best interest of government and the country as guided by the law. It is for this reason that the department did not hesitate to report the man to the police," he said.
The man's arrest follows MEC Ramathuba's visit to the clinic on Tuesday, where she held meetings with the police, community stakeholders, organised labour, and nursing staff.
During the visit, the MEC reassured employees the department was committed to protecting them under any circumstances. She said the arrest should serve as a warning and a deterrent to anyone who dared commit any form of criminal activity in a health facility and further called on communities to neither harass nor assault staff members, but rather to escalate their complaints in line with the department's complaint process mechanisms.
MEC Ramathuba explained: "Communities have a responsibility to protect our staff and facilities, even where they think there are misunderstandings. If they are not satisfied with the kind of service they receive, they need to escalate complaints to us, as authorities, so that we deal with them. If they dare assault them, we will have to have them arrested."
She went on further to say that clinics which are open overnight, do so in order to handle emergency cases and that communities need to utilise them for that purpose only.
"The perpetrator in the case in question was not even a patient but he came to demand an administrative service after hours and that we condemn."
The department is now working with community stakeholders and organised labour to ensure the clinic runs for 24 hours again as soon as possible, as nurses have stopped working night shifts following the assault incident.
Source: The Citizen
News / Placing of Newly Qualified Nurses in South Africa Going on Smoothly by katty:

December 06, 2018, 08:56:50 AM
A total 3,535 nurses qualified in 2018, of whom 3,470 have already been placed, MPs told
Virtually all SA's newly qualified nurses have been placed in public sector posts for 2019, a senior health department official assured MPs on Wednesday.
In contrast to the last-minute scramble to find positions for new nurses in previous years, the process of placing nurses who qualified in 2018 has gone smoothly, according to the department's chief operating officer, Gail Andrews.
A total of 3,535 nurses qualified in 2018, of whom 3,470 had already been placed, she told parliament's portfolio committee on health. SA nurses have been given priority, and the handful of nurses who have not been offered posts in the public sector are foreigners who are studying in SA, she said.
All 248 bursary holders from Limpopo have been placed in posts in the province, she said. Bursary holders are required to work for a period in the province that funded their studies.
The department's chief nursing officer, Nonhlanha Makhanya, briefed MPs on ongoing reforms to nursing qualifications, and the rationalisation of nursing colleges.
Nursing colleges fall under the jurisdiction of provincial health departments, which determine their five-year enrolment plans based on their needs and the available resources.
Following several years of reorganisation, each province now has a single nursing college with satellite campuses, and the nursing schools previously located in hospitals are being converted into clinical training units or sub-campuses, she said. The South African Military Health Services also runs a nursing college.
From 2020, a new three-year diploma in general nursing will be offered by nursing colleges. This will be the entry-level nursing qualification, and students can obtain advanced diplomas in skills such as midwifery or oncology. Studies that lead to qualifying as an enrolled nurse or staff nurse will not be offered after 2019.
Makhanya said general nurses will be more highly skilled than enrolled and staff nurses, and will not require supervision from more senior nursing staff.
In line with legislative requirements, health minister Aaron Motsoaledi has formally requested the higher education and training minister to declare the nursing colleges as public higher education colleges, she said. All the provinces except Northern Cape have already submitted their programmes for accreditation with the Council for Higher Education, she said.
Makhanya said universities are also revising their nursing curriculums to meet the requirements of the new nursing qualifications.
Source : Business Day
News / Tanzania: At Least 10 Nurses Reprimanded for Breaching Job Ethics by katty:

December 05, 2018, 07:59:46 PM
At least ten nurses from different areas of health sector have been reprimanded in the past three years over provision of services contrary to laid-down ethical guidelines.

In several other cases, the Tanzania Nursing and Midwifery Council revealed,decisions will be made and punishment meted any time from now.

The Registrar of the Tanzania Nursing and Midwifery Council, Ms Agness Mtawa, made the comments on Monday, December 3, this year, in Kibaha Town, where the general meeting of the council took place.

Besides the reprimand, Mtawa said 15 cases involving midwives and nurses have been reported to the police. They involved forgery of certificates, including licences,midwives and nurses.

Earlier, the chairman of the council, Reverend Abner Mathube,said the meeting had brought together 80 participants from all regions in the country.

Reverend Mathubesaid the main goal of holding the meeting was to remind participants of their obligations.

Some participants said the main challenge they had been facing was the non-observance of job ethics by some nurses.

"The nurses work on behalf of others. So, this area needs monitoring of the highest level," says Alhaji Ahmed Chibwana, Mtwara Region's head nurse.

Source : Citizen Paper
News / Nurses refuse to work night shift following assault in clinic by katty:

December 05, 2018, 07:55:37 PM
South Africa : Limpopo's health MEC, Phopho Ramathuba, has welcomed the arrest of a man who allegedly assaulted a nurse at a clinic in Vaalwater after the nurse refused to act contrary to departmental policies

The man was apparently angry because the nurse refused to reissue his companion with a second birth notification form.

Cellphone video footage of the incident has gone viral and since the incident, nurses stopped working night shifts.

The MEC says the health practitioner acted in the best interests of the government and the country, as guided by the law.

"It is for this reason that the department did not hesitate to report the man to the police."

She said the arrest should serve as a warning and deterrent to anyone who dared to commit any form of criminal activity in a health facility.

She also urged people to rather escalate their complaints whenever they were dissatisfied with the department's complaint process mechanisms.

"If they (communities) dare assault them (health practitioners), we will have to have them arrested," Ramathuba added.

The department is working with community stakeholders and organised labour to ensure that the clinic works for 24 hours again as soon as possible.

Author: News24.com
News / Gunmen Kidnap Doctor, Nurse Working with FMC Owó Demand #50million Ransom by katty:

December 05, 2018, 03:06:30 PM
Armed men have abducted three workers of the Federal Medical Centre (FMC), Owo in Ondo State, SaharaReporters has just learnt.

The health workers were kidnapped on Tuesday along Emure-Ile/Owo road on their way to work at the Federal Medical Centre (FMC) in Owo, a 45-minute drive from Akure, the Ondo State capital.

A medical doctor, nurse and records officer were kidnapped.

Our correspodent gathered that one of the kidnapped victims has been identified as Jospehine Fanikasi, a records officer at FMC.

A source, who confirmed the news to SaharaReporter on Wednesday, said the medical workers were abducted on a "bad portion" of Owo road.

The source, who preferred not to be named, explained that the gunmen double-crossed the vehicle that was coveying the health workers. The hoodlums later marched the three victims into a waiting vehicle, before they drove into the bush.

"Yes, it is true. Three of our medical workers were abducted yesterday (Tuesday) while on their way to their place of work at FMC, Owo. They are: a medical doctor, a nurse and a records officer, who are all working with the Federal hospital in Owo town of Ondo State," the source said.

"The three kidnapped victims were double-crossed with another vehicle along Owo road at gunpoint. The kidnappers spoke a different kind of English, and couldn't speak the language well."

A church member of one of the victims also confirmed the incident via phone call, stating that they had gone spiritual on the matter.

She said the abductors have contacted the family of the victims and are demanding N50million for their release.

"They have contacted their families and they were told to raise the sum of N50million to effect their release. Even in the church, we have resorted to fasting and prayer for God to touch the hearts of the kidnappers and let them release their victims," she said

Femi Joseph, Police Spokesperson in Ondo State, confirmed the incident to SaharaReporters.

Although he claimed that only two persons were abducted by the gunmen, he stated that the Police have begun investigation into the incident.

"I only know of two persons who were kidnapped by the gunmen in Owo, but our boys have swung into action and we will rescue the victims. Already, we have deployed our men into the bush and they have started combing everywhere. Investigation has also started on the case and we shall bring the peptrators to book," he said.

Source: SaharaReporters