News / Maggot Therapy: Using Maggots To Heal Wounds (Disturbing Photos) by katty:

June 24, 2018, 08:40:09 PM
Its called Maggot therapy. Its a type of biotherapy involving the introduction of live, disinfected maggots (fly larvae) into the non-healing skin and soft tissue wound of a human or animal for the purpose of cleaning out the necrotic (dead) tissue within a wound (debridement) and disinfection.
Pressure ulcers (bed sores), venous stasis ulcers (common in people with leg swelling, varicose veins, or blood clots), neuropathic foot ulcers (often found in diabetics), post-surgery wounds, or traumatic injury wounds can all benefit.

How does it work?
Maggots can't properly digest living tissue. They eat only necrotic, or dead, tissue. These medical-grade maggots have the natural instinct to crawl away from living skin to find dead matter, which they consume before moving on to find more necrotic tissue. Once the necrotic tissue is all gone, they will leave the host body on their own in search of other sources. When used for maggot therapy, these larvae are place on the wound site for two to three days, typically contained within the affected area by a wound dressing that keeps them from migrating.
One of the greatest benefits of maggot therapy is "debridement," or cleansing wounds of dead and infected tissue. But maggots also release enzymes that help disinfect the wound, stimulate the growth of healthy tissue, and dissolve biofilm,which is a collection of microbial cells that form on the surface of wounds, making it difficult for antimicrobial agents to enter.
The thought about being eaten alive is scary but Maggot therapy doesn't hurt , its completely safe and hygienic .
In maggot therapy, large numbers of small maggots consume necrotic tissue far more precisely than is possible in a normal surgical operation, and can debride a wound in a day or two. The area of a wound's surface is typically increased with the use of maggots due to the undebrided surface not revealing the actual underlying size of the wound. They derive nutrients through a process known as "extracorporeal digestion" by secreting a broad spectrum of proteolytic enzymes that liquefy necrotic tissue, and absorb the semi-liquid result within a few days. In an optimum wound environment maggots molt twice, increasing in length from 1–2 mm to 8–10 mm, and in girth, within a period of 48–72 hours by ingesting necrotic tissue, leaving a clean wound free of necrotic tissue when they are removed.
News / Invitation to NANNM Ogun State Nurses Week And Scientific Conference 2018 by katty:

June 24, 2018, 05:53:16 PM
NATIONAL ASSOCIATION OF NIGERIA NURSES AND MIDWIVES [NANNM] OGUN STATE CHAPTER
Invites you to her Nurses Week & Scientific Conference 2018
THEME:
Nurses A Voice To Lead; Health As A Human Right
Personalities
Dr. Babatunde Ipaye (Commissioner for Health. Ogun State) Chairman
Oba Dr. Abdul Majeed 'Toye Alatishe (The Gbegande of Ososa (and) Royal Father of the Day
Chief (Mrs.) Yetunde Onanuga (Deputy Governor, Ogun State) Special Guest of Honour
Comrade Nurse Roseline Solaria (Chairman NANNM, Ogun State) Host
Nurse Abdrafiu Alani Adeniji (National President, NANNM) Chief Host
Professor Omolola lrinoye (Dept. of Nursing Science, O. A. U, Keynote Addressee
Date:
8th - 14th July 2018
Venue:
Nurses House, Oluwo Village Road, via Madojutimi Junction, Abiola Way, Abeokuta
News / Invitation to NANNM Lagos State Branch 2018 Nurses Week Conference by katty:

June 24, 2018, 05:50:30 PM
NATIONAL ASSOCIATION OF NIGERIA NURSES AND MIDWIVES (NANNM) LAGOS STATE BRANCH 2018 NURSES WEEK
THEME:
NURSES: A VOICE TO LEAD; HEALTH IS A HUMAN RIGHT.
Date: Friday 27th July - Friday 3rd August, 2018.
Venue: Nurses House, NANNM Secretariat, 19, Amaraolu Street, Agindingbi,lkeja,Lagos.
CONFERENCE TOPICS
1. UNIVERSAL HEALTH COVERAGE; THE ROLE OF NURSES.
2. CULTURAL PRACTICES THAT ARE INJURIOUS TO HEALTH.
3. DOMESTIC VIOLENCE/CHILD ABUSE/CHILD PROTECTION.
4. NURSING THE NURSE.
5. NURSE /PATIENT RIGHT AND SAFETY
6. RESPECTFUL MATERNITY CARE.
7. NURSING PROCESS UPDATE/NURSING.
8. NURSING AND CLINICAL RESEARCH; THE ROAD MAP TO EXCELLENT HEALTH CARE SERVICES.
9. ARTHRITIS/RHEUMATISM
10. EMOTIONAL INTELLIGENCE
11. NURSING IN PARTISAN POLITICS; THE MERITS
12. INFECTION CONTROL
13. CANCER; CAUSES, RISK, PREVENTION, TREATMENT, PALLIATIVE CARE AND BEREAVEMENT
14. DEPRESSION /INCREASED SUICIDAL TENDENCY IN OUR SOCIETY.
15. ENTREPRENEURSHIP IN NURSING.
CONFERENCE FEE: N15,000
PAYMENT:
ACCT; NATIONAL ASSOCIATION OF NIGERIAN NURSES & MIDWIVES
BANK; STERLING BANK
ACCT NO.; 0068464461
CONTACT:
COM. ADEBOBOYE C.O
08122917758, 08177769089
Research / The Good Old Days of Nurse Training: Rose-tinted or Jaundiced View? by katty:

June 24, 2018, 01:53:54 PM
As a profession we are disadvantaged with a descriptive verb for what we do—namely nursing! Many people feel that nursing is common sense, a trait with which you are born, that the caring woman next door can do it expertly and that kindness, respect and compassion are the main criteria for becoming a nurse. In the 21st century, these traits are important but they do not make a competent and professional nurse. To meet present and future health and social care challenges, nurses must also be analytical, assertive, creative, competent, confident, computer literate, decisive, reflective, embracers of change and the critical doers and consumers of research. Most of these qualities were not inculcated in the old apprenticeship system of nurse training.
In the United Kingdom, there has recently been a plethora of newspaper articles and letters stating that recently qualified nurses are 'too posh to wash' and 'not fit to practice' (Magnet, 2003) and calling for a return to the 'golden age of nurse training' (Meerabeau, 2004). This call has also been supported by some nurse managers and policy makers who feel that the move to university-based education was a mistake. They too embellish their assertions by harping back to the past. This retrospective 'rose-tinted' view of how nurses were trained previously is often peppered with anecdotes highlighting qualities such as caring and obedience. This reflects the quasi-religious sisterhood of veils and vocation, the militaristic belts, buckles and epaulettes and the unquestioning devotion to duty. Perhaps they should remember Nightingale's remark that obedience was "suitable praise for a horse"! (Nightingale, 1859).
The claim that nurse training in the past was better merits some analysis. According to Revans (1964), total attrition from UK nursing in the early 1960s was around 50% per year and this figure remained high over subsequent decades. Reform of UK nurse education in the mid-1980s (Project 2000), which moved nurse education into the universities, was an attempt to halt this decline by increasing the attraction of nursing as a career through improving its status. It was based too on the great success of degree courses for nurses in some universities (King's College London, Edinburgh, Manchester, Ulster, Nottingham and others) established in the early- and mid-1970s. These courses ran in parallel with hospital-based pre-registration programmes from the early- to mid-1970s, but attracted well-motivated university students with good A-levels, who chose to read for a degree over 4 years in Nursing Studies in preference to other degree programmes. These graduates received a liberal education and high-quality clinical supervision from well-qualified and experienced staff, and produced excellent academic and clinical work. Research into the careers of graduates showed also that, contrary to their critics, these university programmes produced graduates who were retained longer in clinically based nursing than nurses from the hospital-based programmes (Montague and Herbert, 1982; Howard and Brooking, 1987). Project 2000 was thought to be a mechanism by which the standards of care delivered by the majority could be raised to that of this university elite. How far this has occurred is debatable, but our judgement is that without Project 2000 reforms, recruitment to nursing would be very much more difficult than today and standards of care would be lower overall.
It is conveniently forgotten that nurses in the 'good old days' were often regarded as handmaidens—subservient, dependent and unthinking, and patients were subjected to ritualistic and routine practices passed down without question from one generation of nurses to the next. Examples of evidence-based practice 20 years ago were salt and Savlon baths, soap and water back rubs, older patients sitting around walls in tilt chairs for most of the day, and reference to disease entities rather than persons.
Most nurses of our generation can recall being placed in charge of a ward on night duty while they were still students and witnessing large pressures sores that would be rare today—possibly made worse through the inappropriate use of EUSOL, a desloughing agent which also harmed granulation tissue. The philosophy of 'batch processing' was commonplace, where all patients were treated the same regardless of their individual needs; they all had their temperatures, pulses, respirations and blood pressures taken (and most tended to read 36.8°C, 80bpm, 20rpm, and 120/80mmHg, respectively!), were weighed, medicated and subject to backs rounds every 4 hours. Paradoxically, there was also less pressure on staff: patients often spent weeks in hospital and, as they recuperated, many assisted nurses to distribute meals, feed other patients and make beds.
How does this compare to today? Nursing has become 'intensified'; health-care assistants carry out procedures, ONCE THE REMIT OF QUALIFIED NURSES, and nurses are extending their role into medical and even surgical practice (McKenna, 2004). The fact is that there is now less time to 'nurse' than there was previously. Patient throughput has increased and new treatments and technologies require confident and competent practitioners. Modern health care is complex and hospitals are little more than large intensive care units where, as soon as patients are over the acute stage of their illness, they are discharged to community care. This means that community nurses are undertaking home-based interventions, which were recently practised in the safety of a 'hi-tech' clinical setting. Contemporaneously, public expectations of health care are rising and their tolerance of error is diminishing.
Therefore, nursing is no longer the common sense carrying out of uncomplicated tasks under the direction of others, nor is it a vocation for which short-term technical training will suffice. It is a profession that requires highly knowledgeable individuals frequently making sophisticated decisions, often with inadequate information and resources. Newly registered nurses from the mid- to late 20th century would be unprepared and overwhelmed if faced with the complexities and pressures of a 21st century health-care setting. Calls for returning to the 'sitting next to Nelly' system of training are based upon selective reminiscences and a lack of acceptance that nursing and health care have changed, as have the people who require nursing care.
A report completed by the Judge Institute,(1999) in Cambridge, England, examined future trends and patterns in health and social care. It noted that over the next 15 years and beyond, there will be complex changes in demography, disease patterns, lifestyle, social and physical environment, targeting health and social need, public expectations and information technology. To meet and address these challenges expertly, we require intelligent and well educated, as well as highly motivated and caring nurses.
The anti-intellectual notion of the 'overqualified nurse' is not new and has been propagated in literature from the 19th, 20th, and 21st centuries (Bradshaw, 2001). Interestingly, Thompson and Watson (2005) pointed out that physicians are seldom castigated for being over-educated or too well qualified. Who wants to be in a busy medical ward looked after by a caring nurse who cannot calculate the correct infusion rate or know the difference between micrograms and milligrams when distributing medication such as Digoxin?
People require and deserve to be cared for by intelligent, caring and skilled nurses who have been educated in an environment where the best knowledge, skills and understanding in their field is being produced, challenged, tested and then applied. In essence, this means nurses having a university qualification. Other than anecdote, there is no evidence that degree-qualified nurses are less caring. In contrast as outlined above, there is a plethora of research reports illustrating the benefits of graduate nurses (Howard and Brooking, 1987). More recently, in a cross-sectional study of 168 US hospitals, Aiken et al. (2003) found that a 10% increase in the proportion of graduate nurses was associated with a 5% decrease in the likelihood of death and failure to rescue within 30 days of admission.
All professions have a small number of individuals within their ranks who are incompetent and potentially dangerous; nursing is no exception. Such individuals did not first appear with the advent of university-based nursing programmes and calling for a return to imaginary halcyon days will not lead to their demise.
Citation : Hugh McKena, David Thompson, Roger Watson, Ian Norman
The good old days of nurse training: Rose-tinted or jaundiced view?
DOI:
https://doi.org/10.1016/j.ijnurstu.2005.09.007
News / Nurse-Patient Ratio: A Major Determinant of Care Neglected by Managers by katty:

June 24, 2018, 10:33:47 AM
Nurse-Patient Ratio: A Major Determinant of Care Neglected by Managers Of Healthcare Industry By Olufemi Iseyemi Folakemi

How Many Patients Per Nurses? Correct Nurse To Patient Ratio:

Nurse to patient ratio is probably one of the most talked about issues in nursing. And apparently, it's also one of the most common reasons why nurses leave the profession. When an institution suffers from short staffing, bad things start to happen. Nurses become grumpier and the quality of care they deliver decreases.

Infections increase and patients stay longer in the hospital. These things don't only affect nurses and patients; they can be bad for the health institution, too.

The Problem Worsens
There are tons of things that force nurses to hang their nursing caps and just quit work. Bullying, burnout, and poor working conditions are probably some of the reasons you are already familiar with.

These things easily make one out of five fresh nurses quit the profession within their first year of getting a license. One out of three, on the other hand, quit within the first two years of starting work.

With more nurses quitting work, most institutions require nurses to take longer shifts, reduce their off days and take on more patients than necessary. One good reason is that institutions don't see hiring more nurses as cost-effective.

In reality, however, they actually end up spending more in addressing the poor outcomes of short staffing and poor nurse-patient ratio.

What Is The Correct Nurse-Patient Ratio?
The American Nurses Association advocates for a legislative model wherein nurses have the autonomy to create a staffing plan that will meet the demands of their units and patients. This approach allows for a staffing plan that's flexible and can be adjusted based on the following:

Number of admissions
Minimum number of nurses
Staffing level advised by specialty nursing organizations
Number of discharges and transfers
The level of education, training and experience of the staff
The intensity of patient needs
Unit geography and availability of technology
Patient numbers
Availability of ancillary staff and other resources
In determining staffing ratios, it's a good idea for institutions to sit down with their nurses as they are the people who are in direct charge of patient care. They have a realistic view of what goes on in each unit and what problems they encounter.

What Does The Law Require?
In California, there are clearly and legally defined minimum nurse to patient ratios that are supposed to be maintained at all times. For example, for Intensive/ Critical Care, one nurse should only care for two patients. The same ratio applies to Neonatal Intensive Care, Post Anesthesia Recovery and Labor and Delivery. A 1:1 ratio applies for the Operating Room and Trauma patients in the ER.

Apart from California, there are 14 other states in the country that legally address nurse staffing. Seven of these states legally require hospitals to have staffing committees that will take charge in creating staffing plans and policies. This includes OH, OR, CT, NV, WA and IL.

Just recently, Democratic State Senator Mike Skindell reintroduced a bill that mimics the California law on safe staffing. It mandates a 1:1 nurse to patient ratio in certain areas of the hospital as well as prevents nurses from being overloaded and overworked.

The bill prohibits mandatory overtime as well as the use of cameras to substitute for nurses. It also prohibits the layoff of supporting personnel and practical nurses.
Why Does Proper Nurse To Patient Ratio Matter?
Proper nurse to patient ratio doesn't only help achieve clinical improvements but it also offers economic benefits.

Here's what adequate staffing can provide:
Decreased patient care cost related to readmissions from poor outcomes
Reduced medication errors
Decreased length of patient stay
Increased patient satisfaction
Reduced patient mortality
Safe staffing has also been found out to increase chances of stroke survival. When there are enough trained nurses, patients have a better chance of getting over the aftermath of stroke.
In the study, the addition of one trained nurse per 10 beds can reduce patient death after a month by as much as 30%. After a year, chances of death goes down by 12%.

What Can You Do?
Short staffing can be hard to deal with, particularly if you'll be dealing with the actual institution you are working for. There are, however, a few things you can do to advocate safe staffing while staying employed.
Use the SBAR method in communicating your ideas
The SBAR method simply refers to Situation, Background, Assessment, Response. It's a technique you can use to discuss staffing issues with the management. You can start with your immediate superior since most institutions follow a chain of command. Assess the response you get and find out the next best person you can talk to in order to get a better response.

Join nursing organizations
There are a couple of nursing organizations and groups that advocate for nurses' rights. If you happen to belong to a union, make sure that your group is respectfully and positively working with your employer to avoid any conflicts that can affect the nurses in your institution.

Update your skills
As short staffing continues to be a problem, you should be more consistent in updating your training and improving your skills. This way you'll be able to provide the best care to your patients despite your poor working conditions. It will also put you in the best position possible to advocate for your rights as well as your patients'

A NURSE TO FOUR PATIENT IN A STANDARD HOSPITAL
A NURSE TO EIGHT PATIENT IN A MEDIUM OR SEMI STANDARD HOSPITAL

WHAT DO WE HAVE IN NIGERIA?
A NURSE TO THIRTY PATIENTS IN MOST PLACES
TWO NURSES TO THIRTY PATIENTS OR MORE IN TERTIARY HOSPITALS.
INCREASE NURSE PATIENT RATIO AND IMPROVE CARE AND REDUCE HOSPITALISATION.
NURSES ARE OVERWORKED
UNDERPAID, OVERSTRESSED, MISINTERPRETED AND UNDERMINED. LISTEN TO THE PLIGHT OF NURSES AND MAKE THE NECESSARY AMENDMENTS.
News / NANNM Wants Niger Govt To Bond Student Nurses To Fight Nursing Shortage by katty:

June 23, 2018, 09:23:09 PM
The National Association of Nigerian Nurses and Midwives (NANNM) on Saturday advised Niger Government to bond student nurses to address the dearth of personnel in the state public health facilities.
Mrs Ruth Adore, the Chairperson of the association, General Hospital, Minna Chapter, gave the advice in an interview with the News Agency of Nigeria (NAN) in Minna.

Adore said that many nurses, after securing employment with the state government, relocated to other states to join their spouses or go for more juicy appointments.

"This is one of the issues that we are contending with; a hospital with 100 nurses before now left with just 50 or less than that," she said.

Adore said that if nurses were bonded, it would prevent the dearth of nurses being experienced in the public hospitals.

"I think if they are bonded for like 10 years, that will pay off for quality healthcare; it will also help the government to plan better.

"In such a situation, the bonded will think before breaking the bond, knowing the legal implications of such an act.

"The way out is for nursing trainees to be on bond; this, I think, will help address the problem of inadequate nurses.

"A situation where nurses are employed today and leave after few months is not good enough for quality healthcare delivery," Adore said.

She, however, lauded the Nursing and Midwifery Council of Nigeria (NMCN) for the full accreditation granted the School of Midwifery, Minna, and the School of Nursing, Bida
News / Nepal Nurses Demand High Level Positions At Ministry Of Health by katty:

June 23, 2018, 09:16:36 PM
Nurses today staged a demonstration in front of the Ministry of Health and Population, demanding that nursing staff also be provided high-level positions in the ministry.

Tara Pokhrel, president of Nursing Association of Nepal, said, "There used to be senior level positions for nurses in the Ministry of Health and Department of Health Services earlier. However, nurses are now not given posts higher than the fourth level." The posts of senior nursing staff have been removed at all levels.

NAN also claimed that the Ministry of Health and Population and the Ministry of Home Affairs had differences over distribution of scholarship to nursing students. "Nursing classes are beginning from July, but the ministries have still not taken any decision on distribution of scholarships."

Likewise, Nurses of Shahid Dharma Bhakta National Transplant Centre claimed that they have not been provided night duty allowance and salary by the hospital. Nurses claimed that the hospital had not provided them salary for the last three months.

Trajina Jati, one of the nurses at the transplant centre, said they had reached an 11-point agreement with the hospital after protests a year ago. " The hospital had agreed to regularly provide us our salary and allowances, but it did not keep its promise," said Jati.
Source: Himalayan Times
News / Court Grants Senator Adeleke's Nurse N10m Bail by katty:

June 23, 2018, 04:10:23 PM
An Osun State High Court, sitting in Ede, has granted bail to Alfred Aderibigbe, the nurse who treated Senator Isiaka Adeleke, before his death.

Aderibigbe was indicted by the coroner inquest led by Magistrate Olusegun Ayilara for allegedly administering overdose drugs on the late Senator before his death.

He was arraigned on Friday, June 8, 2018, and he pleaded not guilty to the murder charge preferred against him.

The presiding Judge, Ayo Oyebiyi, however, ordered that the accused be remanded at the Ilesha prison till June 29, 2018.

In his ruling, Justice Oyebiyi granted bail to Aderibigbe with N10million and two sureties in like sum.

The Judge said one of the sureties must be a civil Servant not below grade level 10, while one must be a blood relation of the accused person.

He added that the sureties, who must reside in the state, must also provide three years tax clearance and the copy of bail bonds should be deposited with Department of Public Prosecution, Osun State Ministry of Justice.

The bail application was initially filed by counsel to the accused, Soji Oyetayo, on Tuesday. Judge Oyebiyi, then, adjourned the ruling on the bail application till Friday 22nd of June, 2018.
Source: Channels News
News / Lekki Hospital Queries Doctor, Nurse for Fighting by katty:

June 23, 2018, 10:33:54 AM
-They were lovers -Hospital Claims

The Awoyaya Hospital and Maternity Centre, Ibeju Lekki, Lagos State, has queried a medical doctor, Dr Emmanuel Okolo, and a nurse, Dorcas Adeyera, for allegedly fighting in the presence of a patient at the hospital.

The Medical Director of the hospital, Dr Odunayo Olafisoye, who spoke to Saturday PUNCH on Friday, said the duo had refused to report at the hospital to collect the queries.

Olafisoye said the hospital management had concluded investigation into the matter, adding that at the bottom of the crisis was a love affair gone sour.

Our correspondent had reported that Okolo and Adeyera had a face-off at the hospital on Monday after an accident victim was rushed into the hospital.

Adeyera had claimed that the doctor faulted her for admitting the patient without his consent, adding that the 35-year-old ordered her to send the patient away.

The 23-year-old said the doctor later ordered her to kneel down, but when she refused, Okolo slapped and beat her with a belt.

The police at the Elemoro division were said to have launched a manhunt for the doctor, who declined comment when contacted by our correspondent.

The managing director of the hospital told Saturday PUNCH that the hospital had investigated the matter and found the duo guilty of violating rules of the workplace and the medical profession.

He said, "As I speak, I am at the police station with the Lagos State Chairman of the Nigerian Medical Association. We have been waiting for both the doctor and the nurse; but they have refused to report at the station. I am at the station to write what I know about the case.

"However, as a hospital, we have concluded investigations and issued both of them queries for fighting on the premises of the hospital and in the presence of a patient, which is against the rule of the hospital. But they have not reported for duties to collect the queries."

He said the action of the two medical workers had "adversely" affected the operation of the hospital.

Olafisoye noted that he could not tell if the duo would be dismissed for the alleged misconduct.

The managing director explained that findings of the hospital management showed that Okolo and Adeyera were lovers, adding that the fight was the climax of a bottled disagreement.

He said, "They had been going out for some time without the knowledge of the hospital. The man, about three weeks ago, went to tell the nurse that he was no longer interested in the relationship because he had seen someone he wanted to marry.

"This, however, did not go down well with the nurse. No matter how old you are as a man, when you are having an affair with a younger girl, you will lose your respect and that is the reason we don't encourage such at the workplace.

"Ideally, when a doctor and nurses are on duty, the doctor must issue instructions, which the nurses should carry out. But the nurse had stopped respecting the doctor because of their erotic affair. What she was supposed to have done, she did not do it to the patient that was brought. It was another nurse on duty that took charge.

"When the doctor came out, he was surprised and was like, 'Why the delay? Why didn't you people call me to treat the patient?' That was what triggered off the fight. They hid the love affair between them and brought up frivolous things. They had been having an affair for some time now and the other nurses know about it and can testify," he added.

He said the nurse had given the police several addresses of the doctor, adding that he had not been found.
Source: Punch Newspaper
News / #NHEA18: Prof. Omolola Irinoye Wins 2018 Nursing and Midwifery Excellence Award by katty:

June 23, 2018, 06:52:31 AM
Prof. Omolola Irinoye has emerged the winner of this year's Nursing and Midwifery Excellence Award.
Prof Irinoye, the former HOD of the Department of Nursing Obafemi Awolowo University ile -ife was recognized for her contributions to Nursing development in Nigeria beating four others to win the prestigious award.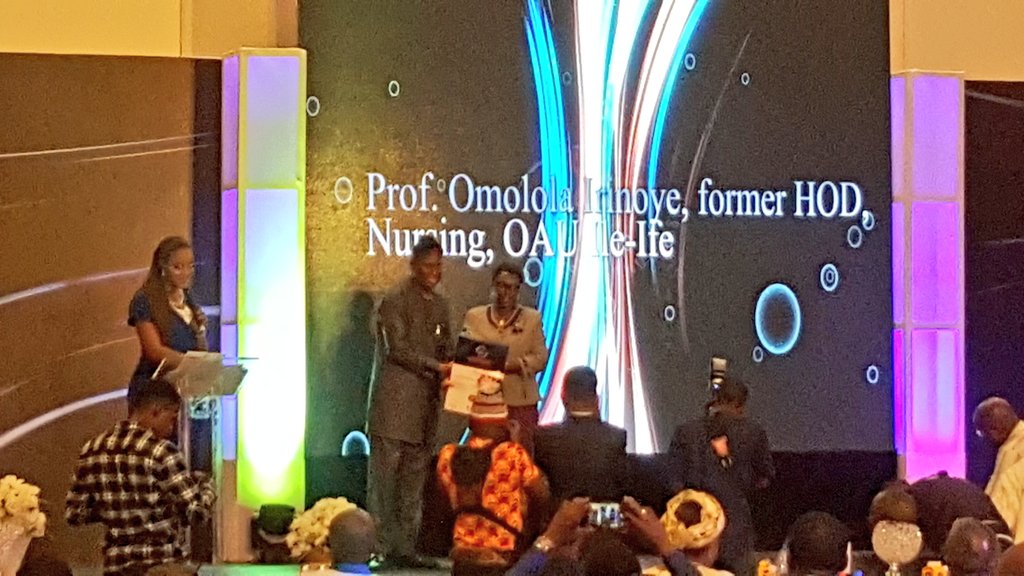 Nigerian Health Excellence Award is an initiative of Global Health Project and Resources in Partnership with Anadach group.The award is designed to celebrate and recognise the best individuals and organisations
Congratulations to Prof. Omolola Irinoye from Nursesarena