News / How Fake Recruitment Agency Scammed Indian Nurses with fake Singapore job offers by katty: Today at 02:48:38 PM
-They even issued some of their victims fake visas and some of them learnt they have been Scammed at the airport while trying to board a plane to Singapore to resume their jobs

31-year-old Nimmy Jose, a nurse from Kerala, walked into the Cochin International Airport, one day mid-February, all set to board an airplane to Singapore to join her new workplace. A job she had secured through a recruitment agency.

However, Nimmy soon realised that her visa was in fact fake and that she was cheated by the recruiting agency - Elite Professionals. This, after months of formalities, interviews and paying a sum of about Rs 60,000 in total to the recruiting agency based in New Delhi.

Nimmy soon realised that it was not just her, but several other people from Kerala, Karnataka and Tamil Nadu, who had fallen victims to the visa fraud and lost thousands of rupees in the process. The 'recruitments' were made to Amydgala Nursing Home and Orange Valley Nursing Home, both of which, it turns out, do not exist at all.

A month after Elite Professionals cut off all contact with Nimmy and several others who applied for jobs through the agency and paid money, there are at least 10 complaints filed with the Kerala police in the matter. Victims have also reportedly filed complaints in Bengaluru and Tamil Nadu. Despite this, the victims are yet to receive any respite for their crisis.

How did the scam take place?
33-year-old Bijoy Sebastian, a native of Iritty in Kannur district, is one among the many people who was scammed by the company. Having worked in a hospital in Rajasthan for the past five years, he was looking to shift to Singapore.

Speaking to TNM, Bijoy, who is now unemployed, says that Elite Professionals had managed to effectively convince him that they were a legitimate agency. Having worked in the UK for about three years, it came as a rude shock for Bijoy when he realised he had fallen victim to the visa fraud.

"I had put up my resume on Naukri.com and it was in April last year that Elite Professionals got in touch with me and said my profile had been shortlisted. They said that their service was completely free. After the interview that took place the same month, they said that it will take 4 months for visa procedure to be done and after that, I was good to go," Bijoy says.


He adds that the agency had contacted him through phone calls and emails. While the agency had initially promised that their services were free, after sending the offer letters to the job seekers, they began demanding money.

"A sum of Rs 15,000 was initially paid as a caution deposit, this was supposed to be refundable. After the interview, they sent me a Foreign Identification Number (FIN) and sent me a link called checkthevisa.com. When I entered the FIN number in it, it showed all my details and looked legit. At one point, I went to an Singpore government website and entered the number, but it showed as invalid then. When I enquired, they said that I had to clear some dues, after which it would be sorted," Bijoy says.

In the months that followed, the agency allegedly demanded more money from the applicants, claiming that the visa rules had changed. Vinod, a nurse currently working in a private hospital in Bengaluru, paid nearly Rs 25,000 to the agency.

His wife, Renjani, a native of Bengaluru, tells TNM that the agency had been in touch with them for about 6 months, before they went incommunicado.

"They got in touch with us sometime in July and by September, a telephonic interview was done and we were told we will be given the offer letter. After the interview, they suddenly called up my husband and gave him just 2 hours to pay Rs 15,000. While we said we won't be able to pay up, we contacted them after a few days. Finally, they sent us an offer letter and instead of Vinod, they had entered the name as Vijay. So we refused to pay the money until they corrected this error. That process went on for a few weeks. Then there was so much delay and every time we enquired, they gave numerous explanations. Finally, it was only in February that we realised we had been fooled. They stopped contacting us, their numbers went off," Renjini says.

Nimmy's husband Titto Antony, who works in Bengaluru, says that the agency had a foolproof plan in place to dupe people.

"They never demanded any money initially, and so there was no reason to suspect any foul play. Plus, the website checkthevisa.com had photographs of Modi and the Singapore PM, and it looked very much like a government website. So did the websites of the hospital to which the recruitment was made. The hospital website had contact details, the location, job vacancy information, everything" Titto says.

Complaints
Since February, a number of victims have come together to form a group and are looking to take legal action against the agency. In Kerala, there are at least 15 complaints given to the police. Ponkunnam police in Kottayam confirmed to TNM that they have received 7 complaints in the past one month. Two complaints, including that of Bijoy, were filed at the Kannur SP office.

However, no FIR has been registered in this matter yet.

According to the Ponkunnam police, the preliminary inquiry has been started based on the complaints."We have sent a request to the concerned police station in Delhi, seeking information about the company. We are yet to get an inquiry report from them.".

Even as complaints to the police have failed to nab the members of the agency till now, the victims hope that their coordinated effort in bringing the culprits to book will work out.
By Megha Varier, The News Minute
News / International Council of Nurses: Nurses Leading the way to End Tuberculosis by katty: Today at 02:40:44 PM
On World Tuberculosis Day, the International Council of Nurses (ICN) is drawing attention to the role of nurses as leaders for a TB-Free World.
Nurses account for half of all healthcare workers globally and this percentage is higher in many parts of the world most affected by tuberculosis (TB) such as sub-Saharan Africa.
Often, nurses are the only source of care. WHO estimates a shortfall of nine million nurses globally and it is estimated that an additional 12 million nurses are needed to meet the sustainable development (SDG) goals by 2030. Nurses are crucial in the prevention, detection and treatment of TB and MDR-TB (multi drug-resistant tuberculosis), even though they often work in extremely low-resourced and understaffed settings, with poor access to adequate training and supplies. Nurses play a critical role in improving case detection, initiating patients on appropriate treatment, providing ongoing support to patients and improving treatment outcomes.
This year's theme for World TB Day is Wanted: Leaders for a TB-Free World to continue to build on the momentum of the high-level Ministerial Conference on Ending TB held in Moscow in November 2017. The theme aims to bring attention to TB and to attract heads of state, ministers, health professionals, affected communities as well as community and local level leaders and citizens to raise awareness and demand more resources and global commitments to end TB once and for all. There is a great need for leaders and champions at all levels to demand action leading up to the high-level meeting on TB in September this year at the United Nations General Assembly in New York. This will be the first ever meeting of its kind for TB.
Nurses are well positioned to be leaders to end TB. As a nurse from Uganda said, "Nurses spend the most time with patients, so when empowered with knowledge on treating TB, it is a benefit to all because this leads to good adherence, good outcomes, a healthy community for all, and through this we will reach our goal strategy; a TB-free world in 2030." She also said, "I believe that as a nurse I can make life better for people with TB" and she is not alone. Nurses are on the front lines every day across the globe leading the way and are a voice to lead for healthcare for all.
While there have been positive developments in the fight against TB in recent years, including new medications to treat drug-resistant TB (DR-TB), better and faster diagnostics, new treatment formulations for children, and 53 million lives saved over the past 16 years, TB remains a major global health threat with alarming statistics.
TB continues to affect more than 10 million people worldwide every year and roughly 1.7 million people die from TB every year, or in other words, 4,600 people die every day from this curable disease. TB remains the leading cause of death from an infectious disease and kills more than HIV/AIDS. Of an estimated 600,000 people who fell ill with DR-TB in 2016, only 54% of all DR-TB cases were being successfully treated. Deaths due to DR-TB account for more than 25% of all deaths due to antimicrobial resistance.
On this World TB Day and leading up to the UN High level meeting on Tuberculosis in September 2018, we encourage nurses to become leaders for the end of TB in their settings.
Note:
The International Council of Nurses (ICN) is a federation of more than 130 national nurses associations representing the millions of nurses worldwide. Operated by nurses and leading nursing internationally, ICN works to ensure quality care for all and sound health policies globally.
For further information contact Julie Clerget at:
media@icn.ch
Tel: +41 22 908 0100
www.icn.ch
@ICNurses
#ICN2018
News / New Date for Nursing and Midwifery Council of Nigeria Research Workshop by katty: Today at 02:35:57 PM
Please here is the new dates for the NMCN research workshop:
Abuja : 17th to 19th April 2018
Benin : 22nd to 24th May 2018
Kano: 29th to 31st May 2018

Please circulate this information in different platforms for all our colleagues to know about the new dates.
All inconveniences this might have caused are sincerely regretted.
Thank you.
News / Nationwide Shortage of Nurses to Continue in USA by katty: Today at 01:39:29 PM
A shortage of nurses has had an impact across the country since the 1960s. Current projections show it will likely continue until at least 2040, and the Bureau of Labor Statistics estimates there will be a need to fill more than 1 million nursing positions by 2024.
One of the main causes of the shortage is that more than half of nurses are over 50 years old and reaching retirement age. The increasing elderly population and increased prevalence of chronic diseases has also caused a higher demand for nurses, leaving those in the field overworked and to many choosing to leave the profession.
The impact of the nurse shortage is directly felt by their patents.
"If we have a shortage of nurses in the United States, that will have a direct impact with the quality of care a patient will get if that nurse is possibly overworked, or caring for too many patients," said Joe Tacy, the Associate Director for undergraduate programs at JMU's school of nursing.
The shortage leaves nurses with less time to spend with each patient. Studies have shown that higher nurse staffing levels are associated with fewer deaths, lower rates of infection, and shorter hospital stays.
Read: Step by step Guide to Nurse Registration in USA for Foreign Educated Nurses


Another issue is the lack of nursing faculty. Nurses must have a masters or doctorate to teach, and although there are incentive programs to repay loans for higher education, teaching pays less than working as a nurse and many nurses simply don't want to leave their job to teach.
According to a Special Survey on Vacant Faculty Positions released by the American Association of Colleges of Nursing, there are more than 1,500 open faculty positions in the U.S., making it impossible to accept more nursing students.
"To recap, that's 65,000 students who are fully qualified to come into the nursing programs, but the nursing programs across the United States do not have the capacity to handle that additional amount of students," explained Tacy.
Tacy says there are other ways of getting a degree in nursing, like trying other schools, getting an associates degree, or doing an accelerated program that allows you to get your BSN in 1 or 2 years if you already have another degree.
Read: Step by step Guide to Nurse Registration in USA for Foreign Educated Nurses


Source : WHVS
Nursing Jobs / Medical Executives (Nurses) Vacancies at Mediplan Healthcare Limited by katty: Today at 10:20:50 AM
This is a full time position in different Locations: Lagos, Akure, Benin, Port-Harcourt, Abuja
Mediplan Healthcare Limited, a Health Maintenance Organisation (HMO) with Head Office in Lagos State, is recruiting suitably qualified candidates to fill the position below:
Position: Medical Executive (Nurse)
Locations: Lagos, Akure, Benin, Port-Harcourt, Abuja
Job Type: Full time
Requirements/Qualifications
* B.Sc.N, RN (possession of additional qualifications will be an added advantage).
* Candidates should possess relevance experience.
Personal Characteristics/Skills Desired:
* Strong knowledge of the HMO industry
* Must have excellent computer skills (MS Office) and the ability to learn new systems/programs quickly
* Strong analytical, investigative and organizational skills
* Excellent verbal and written communication skills
* Strong attention to detail
* Must be able to work sometimes long hours during the busy periods
* Ability to prioritize, handle pressure & responsibility, and work within deadlines strongly emphasized
* Able to write and submit report as at when due
Application Closing Date
29th March, 2018.
How to Apply
Interested and qualified candidates should send their Applications with current Curriculum Vitae and Credentials to:
career@mediplanhealthcare.com
and copy
bunmi@mediplanhealthcare.com
Note
* You are expected to make the position applied for and location the subject of your e-mail. For example: "Application for the Post of Medical Executive (Nurse) - Abuja".
* All applications that do not follow the above specified conditions would not be treated.
* Only shortlisted candidates would be contacted.
News / Kenya Court Orders Hospital to Pay Woman $25,000 for Delivering on the Floor by katty:

March 22, 2018, 07:14:29 PM
A woman who was physically abused and left to deliver her baby on the floor of a county hospital in Kenya has been awarded $25,000 (£18,000).
In the landmark ruling, a Bungoma high court judge said Josephine Majani's rights were violated as she gave birth.
Mrs Majani said nurses had slapped and verbally abused her in 2013 and left her to deliver her baby in full view of the public.
Her ordeal was secretly captured on camera by a hospital intern.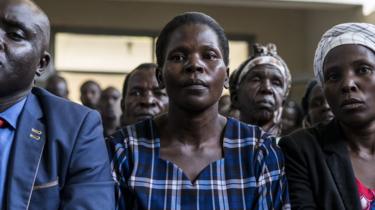 High court judge Abida Aroni said the mother's rights to health and dignity had been infringed at Bungoma county hospital, around 400km (250 miles) north-west of Nairobi.
The ruling establishes a precedent in the way other similar cases will be settled in a country struggling to fix its maternal healthcare system.
One of Mrs Majani's lawyers, Martin Onyango, told the BBC's Focus on Africa programme that his client had been "forced to walk by herself to the delivery room for the removal of the placenta" after she gave birth on the floor.
He said the verdict was a "big win" for women in Kenya.
"It is an affirmation that these services must be of good quality and services must be offered in a dignified way," Mr Onyango, a senior legal advisor for the Center for Reproductive Rights, said.
The BBC's Victor Kenani in Nairobi says that many Kenyan government hospitals are ill-equipped to provide women with quality and dignified maternal services.
It comes as the country's health minister ordered an investigation into claims new mothers were sexually assaulted at the Kenyatta National Hospital in Nairobi.
Last month, the wrong patient was given brain surgery in the same hospital.
They were meant to operate on a man with a blood clot on the brain. But the man who had surgery only needed non-invasive treatment for swelling.
Source:BBC
News / Smith Medical Centre Vacancies for Nurses in Lagos by katty:

March 22, 2018, 07:04:55 PM
Smith Medical Centre is a leading Specialist Hospital in Lagos, Nigeria, and now seeks applications from suitable and competent candidates for the vacant position below:
Position:
Nursing Sister/Matron
Location: Lagos
Essential Requirements
* Midwife or Retired Matron.
* At least 3 years experience minimum. .
Application Closing Date
31st March, 2018.
How to Apply
Interested and qualified candidates should send their Resume and Cover Letters (mandatory) stating why you are eligible for the job to:
info@smithmedicalcentre.com
Note
• Please use the Title of the job you're applying for as your e-mail subject.
• Applications without correct email titles or cover letters will not be reviewed.
• This recruitment process will be completed within 2 weeks of the closing date of the advert and successful candidates will be contacted.
News / More Men Embracing Nursing, 13% of Nurses in USA Are Men by katty:

March 22, 2018, 06:55:35 PM
For men who are working in what's often considered a job for women, in can be both liberating and rewarding.

A predicted shortage in the nursing field has spurred more recruiting, and that recruiting includes men. Meet two who are helping re-define a profession that has been dominated by women since the 19th century.

For the last 20 years, Rhett Stephens has been doing what he loves — helping people, as a nurse. But it's a career path he almost didn't take.

"I guess I never really thought about men being in nursing," Stephens said.

He was working as a researcher when he decided to go back to school and become a nurse.

John Goerke thought he'd be an teacher, but made the switch to nursing halfway through college. He was drawn to the opportunity to care for people when they need it most.

Now these two men work at Presbyterian/St. Luke's Medical Center, and are a part of a growing number of men in nursing. In 1960 only 2 percent of nurses in the U.S. were men. Now it's 13 percent.

The biggest factors? Expanding gender roles and a changing economy. Some jobs have declined because of trade and automation, while nursing is growing much faster than the average occupation.

"I work in education now," Stephens said. "So I train new nurses that come in so I see the ones that are coming through and a lot of times it's second careers."

There are some stereotypes.

"Just the lifting help in general we can help lift sometimes," Stephens said.

But male nurses are bringing balance to the profession, which they believe ultimately helps patients. "Something that I've certainly noticed is that male patients really like being cared for in certain circumstances by a male," Goerke said. "And you're able to help them and give them a level of comfort and put them at ease."

Despite the progress, there's a long way to go.

"I go to meetings now and I'm the only guy out of 25 nursing leaders which is unusual," Goerke said. "And I certainly notice it but it doesn't really phase me."

Men were a big part of the nursing field until the Civil War, when women had to step in and provide care for men who served in the military, according to the U.S. Census Bureau.

The bureau says the number of men in the nursing field has tripled since the 1970s, and a count in 2011 showed more than 330,000 in the U.S. were nurses.

Source :https://www.ktts.com/news/health/growing-number-of-male-nurses-shattering-stereotypes
News / Ghana : Return your allowance for final results - Government tells Trainee Nurse by katty:

March 22, 2018, 04:31:00 PM
Angry trainee nurses of some nursing institutions in the country have been asked to return the November-December allowance that was issued to them by the ministry of health as part of President Akufo-Addo's promise made to them in the 2016 elections.
Information reaching ahotoronline.com indicates that these nursing trainees have been given a two-week ultimatum to return these said amounts to their various schools or fail to receive their certificates.
An audio intercepted stated categorically on the need for them to return these allowances or risk losing their certificates. This audio came with a memo which affirmed the audio calling on the students to return the allowance.
Some victims from the some of the nursing training schools stormed Ahotor FM's morning show hosted by Onantefour Addea Mununkum on Wednesday, 21/03/2018, lamented on the ordeal they had to go through before receiving this said allowance and stated that they have been deceived by the government and felt shortchanged.
"We feel disappointed because it was part of the promise made by the president and we wonder what they will use these said monies for"
"We were so delighted by the payment which covered four months payment before our completion but to our surprise, we have been asked to return these monies"
"If they tell us to pay the December allowance we can understand, but unfortunately they have added that of November which is not in order because we completed in November, this is unfair"
"We have been sent messages to return the allowance because it was wrongfully paid" they stated. GHc 400 per month was given to the students as part of the November to December allowance" they stated.
The aggrieved nurses fumed that they will not return these monies since they see no wrong done with the payment.
Source: ahotoronline.com
News / India: PGI Nurses to Have Salaries Cut if Caught Napping During Night Shifts by katty:

March 22, 2018, 04:26:04 PM
CHANDIGARH: If nurses in PGI are caught napping at work even after they get a break to eat meals for an hour during the night shift of 12 hours, their salaries will be deducted.

Also, a log book will be maintained monthly and the senior nurse in-charge will be held liable for not following the recently issued orders. The orders were issued after there were complaints that nurses during night shift often locked rooms and slept during duty hours.

There are 2,600 nurses on rolls in the institute.
The office orders, a copy of which is with TOI, mentioned: "There should not be wastage of duty hours in the form of sleeping and no loss of patient care services should take place during the night shift.

Sleeping during working hours is not allowed as there is no provision of payment of salary for sleeping during working hours."


The working shift duty for nurses followed by PGI is 6 hours in morning, 6 hours in evening and 12 hours at night. Prior to this, the shift hour was 7 hours in morning, 7 in evening and 10 at night.

"The nursing association had been protesting and wanted to work for 12 hours at night instead of 10.

However, many had been sleeping and patients suffered. Therefore, an undertaking has been taken that they will be allowed 12 hours of night shift provided they remain alert and don't sleep," said a senior doctor in the administration.


"One must stay alert during work hours and should not sleep. We have rescheduled the shift hours keeping the safety of nurses. Most of them come from distant places and those who work for 12 hours can return back in morning for home," said Prof Jagat Ram, director, PGI.


Sources said the starting salary of nurses is Rs 50,000 a month and total work days is 220 days. Annually, each nurse costs 12 lakh per annum to the institute if cost to company is considered.


Shinderpal Kaur, president, PGI Nursing Association, said, "This is in accordance with the Factories Act 1948 that allows workers rest for half an hour for five hours work." However, with this order, there has been a divide amongst the nurses as some favour it, while others don't.

Source : Times of India