News / Pakistan Nursing Council Abolishes Diploma in Nursing,Upgrades to Nursing Degree by katty:

March 23, 2019, 03:31:38 PM
The government of Pakistan has, for the first time, abolished the nursing diploma course and introduced a 4-year general nursing course.

In this regard, the Pakistan Nursing Council (PNC), on behalf of the government of Pakistan, has issued letter number Admin F.7.184 to the nursing directors of all four provinces, principals of government schools and government-operated colleges, private nursing schools and nursing schools run by Pakistan's armed forces.

The letter, bearing the signature of the Pakistan Nursing Council registrar, was issued on the 19th of March and was sent to the health directors and secretaries of Sindh, Punjab, Khyber Pakhtunkhwa and Balochistan. The letter states that the three-year nursing diploma course in nursing schools being run by the government, private institutions and the armed forces has been abolished and admission to the course will no longer be granted. It further says that, in its place, a 4-year general nursing (Bachelor of Science in nursing) degree has been initiated with those attaining 50% marks in Intermediate Science (Biology) being eligible to apply. Until now, Matric science candidates had been allowed admission to the now disbanded three-year diploma course.

The Sindh Department of Health, implementing the directives in the PNC letter, has introduced the 4-year nursing course in three nursing schools in the province including the Sindh government's Liaquatabad, Korangi and Lyari nursing schools.

It must be mentioned here that the International Council of Nursing had recommended abolishing the three-year diploma course and the course has already been abolished in other countries. However, the directives are being implemented in Pakistan after a 5 year-delay.

According to sources, the Higher Education Commission (HEC) had recommended bringing the education and training of nurses on par with modern international standards with the president also terming the year 2019 the 'year of nurses'. The president had also announced the establishment of the first nursing university.

In Sindh, there are 19 government and 26 private nursing schools where a total of 3,060 candidates are granted admissions each year.

Khyber Pakhtunkhwa has 14 government and private nursing schools, there are 8 nursing schools in Balochistan and a total of 58 government and private nursing schools in Punjab.

There are a total of 82,000 nurses currently registered with the Pakistan Nursing Council which is a low number considering the population of the country.

Source: Tribune
News / Scottish university launches 'men are nurses too' campaign by katty:

March 23, 2019, 03:27:29 PM
Nursing lecturers in Scotland have embarked on a new campaign to get more men to consider a career as a nurse.
Staff from Glasgow Caledonian University's (GCU) department of nursing and community health have launched a "men are nurses too" social media awareness drive and are also planning to visit schools.
Former boxer turned GCU nursing lecturer Stevie Morrison, who is involved in a research collaborative reporting to the Scottish government on how best to increase the number of men in nursing, said it was "vitally important" to get the message to children as young as possible that nursing was for both sexes.
The issue of the gender disparity in nursing has caught national attention this year and was the focus of this month's edition of Nursing Times.
The GCU nursing department, where 25% of staff are men, has established a new Twitter page called @GCUMenRnurses2 and is using the hashtag #GCUMenRnurses2 to spread the word.
Latest figures from the Universities and Colleges Admissions Service (UCAS) show male applicants for nursing courses in Scotland by the January deadline increased by 11% from 370 in 2018 to 410 in 2019, but are still down from 460 in 2010.
Bosses at GCU say the number of men studying nursing there is on the up but men still only represent 8% of the university's 1,844 student nurses.
The university's deputy vice chancellor, Professor James Miller, is a former nurse himself.
He said: "With my own background in nursing, I was delighted that GCU is playing a leading role in encouraging more men to enter the profession."
The campaign has been backed by Glasgow Shettleston MSP John Mason, whose sister Kay Dalby studied nursing at GCU in 1977 when it was called Glasgow College of Technology.
He said: "I think GCU's new social media campaign @GCUMenRnurses2 to encourage more men into nursing is a great idea.
"It's good to hear they are planning to take that message into schools to help break down those gender stereotypes from a young age," Mr Mason added.
Source :
https://www.nursingtimes.net/news/education/scottish-university-launches-men-are-nurses-too-campaign/7028266.article?blocktitle=Also-in-the-News&contentID=27749
News / Nursing Shortage: UK NMC Slashes Cost of CBT, OSCE to Woo More Nurses by katty:

March 21, 2019, 10:41:31 AM
Cost of test to join register for overseas applicants to be cut and a proposed additional route for people to return to work after a career break.

The cost of the professional test of competence that overseas nurses, midwives and nursing associates must take to work in the UK will reduce by more than 20 percent from 1 April 2019.

The change, which we agreed with the organisations who provide the test, will reduce the cost of the computer-based test from £130 to £90; the full cost of the practical examination from £992 to £794 and the resit cost of the practical examination from £496 to £397.

This is one of a number of new proposed measures to make it as straightforward and cost effective as possible for people with the right skills to join its register.
Additional new proposals would also see those wanting to re-join the register following a career break being able to choose a test of competence to demonstrate that their skills and knowledge are up to date, rather than undertake a course, which can take between three and 12 months to complete.

Furthermore, where people do choose a return to practice course, we will no longer state the minimum length of the course. Educators will now be able to consider the skills and experience of the applicants and design the courses accordingly, increasing flexibility.

Our Council will consider the return to practice proposals at its meeting on Wednesday 27 March.

Andrea Sutcliffe, Chief Executive and Registrar at the NMC, said:

"As today's report from the Health Foundation, King's Fund and Nuffield Trust lays bare; these are challenging times for health and social care with high vacancy and turnover rates – including over 40,000 current vacant nursing posts in the NHS in England alone – and around 5,000 nursing vacancies in social care.

We know this has a direct and too often detrimental impact on the environment that nurses, midwives and nursing associates work in and the quality and experience of care people receive.

By proposing a new way for even more people to get back to work after a break, and reducing the cost of the overseas test, we can enhance the numbers of professionals with the right skills coming onto our register. These are people we know are committed to providing the best and safest care possible.

I hope both of these changes show that the NMC is playing its part in positively addressing the nursing and midwifery shortages that exist in health services, adult social care services and within local communities across the UK."

As part of our drive for consistency and quality assurance, we will also be introducing a new test of competence assurance panel. A group of experienced nurses, midwives and other health and care professionals, will use their broad range of expertise to ensure consistency of tests across different test centres.

These changes are part of an ongoing review to improve the experience of those wanting to join our register. They will help to ensure that applicants with the right skills and knowledge can join the UK workforce as quickly as possible while ensuring high standards of care.
News / Balance student-teacher ratio, don advises Nursing institutions by katty:

March 20, 2019, 09:21:09 PM
Prof. Prisca Adejumo, a professor of Nursing at the University of Ibadan has called for improved teacher-student ratio in nursing institutions in the country to forestall further brain drain.

Adejumo stated this at the inaugural lecture delivered at the University of Ibadan on Thursday, under the theme 'Riding through the risks into new frontiers: The Nurse, The Nursed and Nursing'.

She noted that the Nursing Department at the University of Ibadan was the oldest in Nigeria.

According to her, the department has produced nurses for other universities; hence it requires an enhanced infrastructure and expansion.

"Nursing is a well-sought out profession everywhere in the world, so effort should be made to attract and retain those on training, to forestall local and international brain drain.

"The present ratio of teachers to students is not acceptable to National Universities Commission (NUC) both at undergraduate and postgraduate levels; an improved ratio will facilitate the involvement of faculty members in community project.

"It will also help in research, development of continuing education programme and other activities expected of us.

"While this is advocated, all efforts should be made to internationalise our oldest nursing department in Nigeria by attracting professors of Nursing from global community for enhancement," she said.

She also called for synergy between the Management of University of Ibadan and University College Hospital for support and to amalgamate the School of Nursing and Nurse Tutors Programme.

Source: PM News
News / Ghana: Unemployed private nurses to get financial clearance this week – Minister by katty:

March 19, 2019, 07:17:03 PM
The Ministry of Health has assured unemployed private nurses that they will be employed soon.

The Ministry in a statement said it is hopeful of getting financial clearance for the agitating nurses by close of this week.

The Coalition of Unemployed Private Nurses at a press conference on Monday threatened to embark on a demonstration if government fails to employ its members into the mainstream health sector within the next 10 days.

These nurses, who once passed the night at the Ministry of Health, have vowed to go all lengths to get government to employ them.

The spokesperson of the Coalition, Doreen Boateng stated that all attempts to ensure they get financial clearance have been fruitless.

She also explained that President Nana Akufo-Addo and his Government have prioritized state-trained nurses over them, a situation they described as regrettable.

"There is no plan to recruit privately-trained nurses into the mainstream health sector like is being done for state-sponsored nurses for the Government made it clear that it will continue to give priority to nurses from public trained when the President said In the 2019 state of the nation address."

"This is a clear example of discriminatory injustice, so we are giving the government 10 working days to reply this letter and we will press on our demands until civil society gets to understand that we are being treated unfairly and until Government hears us we are going to hold a mega demonstration dubbed 'Ku me preko' to share our grievances," she said.

But the Ministry of Health in reaction to the threat of the unemployed nurses urged them to exercise patience as it works hard to secure financial clearance for them this week.

"We are working feverishly at their [financial clearance] as well. It is not as if the Ministry is discriminating or not doing anything about their situation. All that we are telling them is to exercise patience. We are positive that this week, we will be able to secure financial clearance for them so they should just exercise patience. There is no need for a demonstration," the Public Relations Officer for the Health Ministry, Elorm Ametepe said.

The unemployed private nurses are made up of nurses who were trained in private schools of nursing across the country.

Source: citinewsroom.com

Post Basic Courses / Aminu Kano Teaching Hospital 2019/2020 Nephrology Nursing Admission form on sale by katty:

March 19, 2019, 07:13:03 PM
Applications are here by invited from suitable candidates for admission into the Post Basic Paediatric and Nephrology Nursing Programme in the 2019/2020 session.

1. COURSES OF STUDY: Post Basic Nursing in Paediatrics. Duration of the course: One (1) year

Nephrology Nursing. Duration of the course: One (1) year

2. ENTRY REQUIREMENT FOR POST BASIC PAEDIATRIC AND NEPHROLOGY NURSING

RN with current practicing license from Nursing and Midwifery Council of Nigeria
Minimum of one year registration experience (Post Registration Experience )
SSCE/WAEC Certificate with minimum of Five (5) credits in English, Mathematics, Biology, Chemistry and Physics which were obtained in not more than 2 sittings.


3. SALE OF FORMS

Sale of form commence from 1st March to 30th April, 2019.

4. METHOD OF APPLICATION

Application forms are obtainable from the Medical Advisory Committee Secretariat on payment of non-refundable fee of Ten Thousand Naira (N10,000;00) only.



Only shortlisted candidates that meet the requirements will be invited for interview.

Completed forms should be returned on or before 31st May, 2019 directly to the Medical Advisory Committee Secretariat or through the below address.

Assistant Director of Administration (MAC)

Aminu Kano Teaching Hospital, P.M.B. 3452

Kano.

Signed

Prof. Abdurahaman A. Sheshe

Chairman, Medical Advisory Committee
News / Nursing Council of Nigeria Drags 2 Men to Court for Forging Nursing License by katty:

March 18, 2019, 06:35:43 PM
The police on Monday arraigned one Sunday Michael, 28, and Ibrahim Garkuwa, 39, in an Upper Area Court, Mpape for allegedly forging a Nursing and Midwifery Council of Nigeria identification card .
Michael, a business man who operates a business centre in Niger State and Garkuwa, a Civil Servant, are charged with joint act, forgery, cheating and criminal breach of trust.
The prosecutor, Mr Onaga Emmanuel, told the court that the case was reported at the Life camp Police Station sometime in December 2018 by Mr Ghazali Haruna of the Nursing and Midwifery Council of Nigeria, Abuja zonal office.
He said that the defendants collected N40,000 from a nurse Ms Magarete Ujah and produced a forged identification card to her.
Emmanuel said the offence contravened the provisions of sections 79/264 and 312/322 of the Penal Code.
After the charge was read to them they pleaded not guilty.
Chief Magistrate Hassan Muhammad, admitted the defendants to bail in the sum of N200, 000 each
Muhammad ordered the defendants to produce one surety each who must reside within the jurisdiction of the court.
He adjourned the case until April 3 for hearing.
Source: The News
News / Kenyan Drug Addict Rescued By His Childhood Nurse Friend, Dies 2 Years After by katty:

March 18, 2019, 05:17:14 PM
A Kenyan drug addict who went viral after he was rescued from the streets by his childhood friend in 2017 has died.
Patrick Hinga Wanjiru, who went mentally deranged because of drugs was rescued a former classmate and childhood friend, Wanja Mwaura , who fed and helped get him admitted at Chiromo lane Medical Center, where he got rehabilitated.
Taking to her Facebook on Monday morning to share the sad news, Wanja said Patrick had gone to visit his friends on Thursday before calling his mother to complain about stomach-ache, but it wasn't serious.
Read what she wrote on her Facebook page below;
News / Zimbabwe: 'Parirenyatwa Hospital Nurses Washing Bandages to Re-Use On Patients' by katty:

March 18, 2019, 10:47:44 AM
NURSES at Zimbabwe's foremost medical institution, Parirenyatwa Group of Hospitals, have resorted to washing bandages to dress burns on patients as health crisis at the institution deepens, plastic surgeon Doctor Faith Muchemwa revealed last week.
According to Muchemwa, so dire is the situation that cross infections including, among medical staff has become common.
"They (nurses) alternate days. They wash them (bandages), they hang them in the bathroom, they use these one today, tomorrow they take those ones which are now dry, they re-use them," said MuchemwawMuchemwa said in the last two months, patients have been dying due to re-infections and lack of bandages which are made locally and can be acquired easily.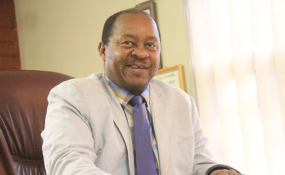 "Emergency is always our mode, because I am in charge of a team that takes care of the burns unit.
"Every single day we admit patients. At the moment, in the burns unit, we have no bandages. These bandages are made locally; there are companies in Kwekwe (Midlands town). I can show you pictures. You go to the burns unit they wash bandages," an emotional Muchemwa told Health Minister Obadiah Moyo during a recent emergency meeting at the hospital.
"And obviously they are not sterilised. We have seen so much infection in the burns unit because we don't have any caps to wear."
Muchemwa said even health workers are at risk because they do not have access to protective clothing.
"We are dealing with puss. These are open wounds and we are coming from this patient to the next patient.
"So there are lots of infections now. Patients are dying more than ever and it's just hospital acquired infection. The doctors and nurses are also at risk because we are not protected as well from possible infections," she said.
"We are operating once every two weeks. As plastic surgeons, our operations sometimes take two hours, sometimes three hours, we operating only two patients."
Muchemwa added the hospital has had to turn away patients because of the desperate situation including shortages of basic consumables.
"We don't have even betadine (antiseptic) to just clean the wounds. We don't have pain killers you can imagine. Those nurses, their hearts are so strong and when they are washing the wounds. I just walk out helpless," the medical doctor said.
Senior doctors at Parirenyatwa downed tools last week in protest over government failure to provide essentials for their work. Moyo promised he would look into the issue laying the blame on hospital management.
https://www.herald.co.zw/
News / Philippines : Increase Nurses' Salary To Avoid Shortage of Nurses in Hospitals by katty:

March 14, 2019, 03:18:44 PM
Unless government takes determined moves to increase the pay of state nurses, government hospitals will experience a shortage of nurses that might adversely affect delivery of basic health services.
This warning was issued Friday by former Quezon City Rep. Mike Defensor as he vowed to push for legislation that would increase the minimum base pay of state nurses to Salary Grade 15.
Defensor, who is making a political comeback as nominee of Anakalusugan Partylist, said the debate on whether or not a joint resolution of Congress can repeal the section on compensation of the Philippine Nursing Act should be addressed immediately.
"It will be a disservice to our dedicated, if not overworked, public nurses if we do not give the compensation due them," said Defensor.
"To avoid legal confusion, we will remedy this by pushing for a new measure that will give just compensation to our state nurses and increase their minimum base pay to Salary Grade 15," he added.
Earlier, Solicitor General Jose Calida said the government cannot be compelled to increase the salary of public nurses "without any legal basis."
Calida said Section 32 of the Philippine Nursing Act of 2002 which increases the entry-level pay of nurses in public health institutions to Salary Grade 15 has effectively been repealed by a 2009 Joint Resolution by Congress.
Source : Manila Bulletin