The Prince of Wales has praised the "unsung and unseen" hard work of Britain's nurses during a special event at Buckingham Palace.
Prince Charles met more than 350 nurses from across the country, including first responders to last year's terror attacks and Grenfell Tower fire.
He said he was "astounded" by the stories from individuals responding to "harrowing incidents".
Prince Charles also recounted one of his first hospital memories.
'Nice to be acknowledged'
The prince, whose 70th birthday this year will coincide with the 70th anniversary of the National Health Service, said: "I was rushed to Great Ormond Street with a rapidly expanding appendix.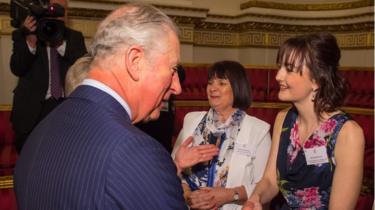 "I have never forgotten how wonderfully I was looked after by the nurses there.
"In fact, when I went to go back home to Windsor Castle, I didn't want to leave."
Melanie Davies, who won the Royal College of Nursing's 2017 Nurse of the Year award, was at the event.
"I just can't believe it. I'm speechless. It is just such a privilege to be here," she said
"Nursing is always in the headlines for the pay, or lack of, so it's just nice to be acknowledged."
Source :http://www.bbc.com/news/uk-england-london-43410504