A caring nurse from southwest China's Sichuan Province has recently attracted the attention of netizens nationwide after a picture of her carrying a young baby in her arms while working in front of a computer in a hospital was posted online by her colleague.
The nurse, Luo Min, revealed that the young girl was born with congenital heart disease and was transferred from the ICU to a public ward on November 10 in a local interview.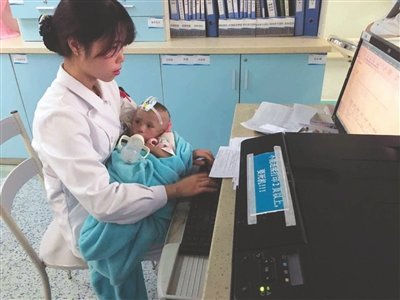 Luo said that it is difficult for the young baby's elderly grandmother to be responsible for her nursing care after the operation and her parents left her soon after her birth.
Therefore, Luo stated that she and her colleagues have taken turns caring for the special young baby at the hospital.
Luo maintained that she was busy inputting patients' information into the computer, but she was also worried about the baby's care as the nurse on duty that day had just graduated from college and lacked experience. Hence, the responsible nurse chose to work while carrying the young child in her arms.
Moreover, Luo stated that she and her colleagues recently observed the baby's health condition every two or three hours, no matter day or night. The doctor in charge of the baby's nutrition has visited her every day and made a special recipe for her.
Due to their joint efforts, Luo said that the baby girl's health has steadily improved in recent days.
(Source: chengdu.cn/Translated and edited by Women of China)