A Racine woman accused of resisting arrest, was also charged for punching a male nurse at Ascension Hospital, where she was being treated as a patient in the emergency room early Tuesday.
Lafiya Borrell, 34, of the 900 block of Grand Avenue, was charged later Wednesday with battery to emergency rescue worker, resisting an officer, and battery to a law enforcement officer.
According to the criminal complaint:
Borrell is accused of punching the emergency room nurse in the nose before resisting responding officers and kicking one of them in the groin.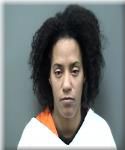 The report indicates the officer said Borrell appeared to be under the influence of an unknown substance during the incident at 2:55 a.m. Tuesday.
If convicted on the most serious charge she could face up to three years in prison and a maximum fine of $10,000.
A cash bond was set at $200 and Borrell is scheduled to appear at a preliminary hearing on Jan. 25 at the Racine County Law enforcement Center, 717 Wisconsin Ave. She remained in custody at the County Jail as of Wednesday night.
Source :http://m.journaltimes.com/news/local/crime-and-courts/er-patient-accused-of-punching-nurse-kicking-officer/article_5cb3dbb8-2511-5274-ac2a-79ad06be78db.html