Nursing is no longer just a calling – it's a profession. From running surgeries, to working in multi-disciplinary teams in the community, to carrying out medical procedures, nurses are at the forefront of care, says Kim Thomas
Nicole Broadbent, 28, is a neonatal staff nurse at the Royal Free London hospital, so her patients – premature babies who require intensive care – are tiny and vulnerable. "It's a hugely responsible job, but also a satisfying one," she says. "It's amazing how a 24-week-old baby can be so sick, but then, three, four months down the line, you can see them going home. They fascinate you on a daily basis."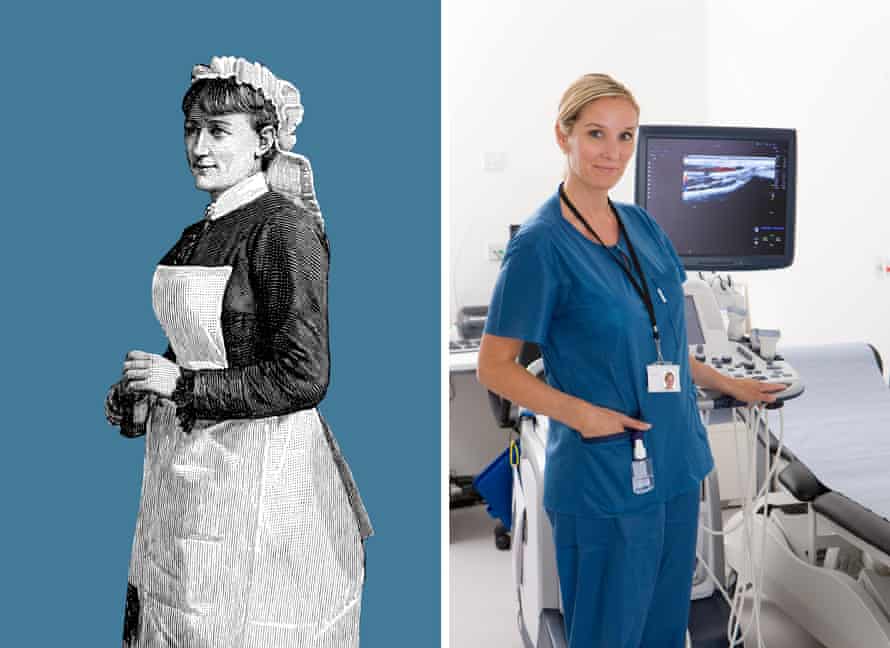 Neonatal nursing is no ordinary job, requiring a high degree of both skill and commitment. Broadbent was a ballet teacher until a serious ankle injury led her into nursing, via a degree course at Bucks New University. She now finds herself in a professional role that requires familiarity with technology, decision-making abilities and the warmth and empathy to support worried parents.
"We have to feed the babies, which is quite a balancing act because you're feeding them such varied amounts," says Broadbent. "Some of them are on one millilitre an hour, and they're fed through nasogastric tubes. Most are on breathing support, so we have to have a lot of working knowledge of machinery and ventilators. Then we're looking after the family and educating mothers about breastfeeding and expressing. When they're further down their journey, we're giving them advice about going home and looking after a baby."
Nursing is changing. Sue West, dean of faculty, society and health, at Bucks New University, says that many people are under the misconception that "nurses still wear hats and just care for the basic needs of people". But, since 2013, it has been an all-graduate profession – and nurses need both medical expertise and the ability to learn quickly, all at a time when the knowledge of illness and its treatment is improving by the day. As the population ages, many more people will have complex, long-term conditions that require specialist nursing care.
The change in the profession is reflected in changes to the nursing uniform. When nursing became a profession, with the opening of the Nightingale Home and Training School for Nurses at St Thomas's hospital in London in 1860, the uniform consisted of an ankle-length pinafore worn over a full-length gown and a hat, with a coloured band to indicate rank.
After the introduction of the nursing register in 1919, nurses' uniforms became more practical, with dresses becoming shorter and the caps plainer. When the NHS was launched in 1948, shoulder cloaks became part of the uniform, while the dress became simpler, with short sleeves. Cotton hats were replaced with paper caps. Male nurses wore trousers and tunics.
By the 1980s, the apron, belt and nurse's hat had disappeared. In the 1990s, most nurses began wearing coloured scrubs with trousers rather than dresses, while comfortable shoes or trainers became popular. Scrubs are comfortable and easy to wash, making it possible to change clothes frequently and thus reduce the risk of infection.
A few years ago, most nurses could expect to spend their working life in a hospital. These days, England's 281,000 nurses work in a variety of roles. Many support chronically ill patients in their own home, or work in care homes, or provide urgent out-of-hours emergency services. Some are key members of multi-disciplinary rapid-response teams, providing intensive support to patients so that they don't have to be admitted to hospital.
About 15,500 nurses work in GP practices, and, says Wendy Preston, head of nursing practice at the Royal College of Nursing (RCN), many surgeries employ nurses in a senior role: "There are lots of really good examples of doctors' surgeries that are run or led by nurses. The clinical lead might be a nurse, and they may have GPs working for them as part of their team."
This new independence is rewarding. But there are also exciting opportunities for progression into advanced or specialist roles, says West, including carrying out tasks previously performed by doctors, such as assessing and diagnosing patients, writing prescriptions and helping patients manage their medication. An advanced practitioner nurse, says Preston, "can open and close a case. They can be the first person a patient sees, and they can help them all the way through their journey."
These roles require extra study, often to master's level: nurses who specialise in areas such as cancer, diabetes or strokes, offer expert clinical knowledge, as well as care and emotional support to patients. Surgical care practitioners (SCPs) are able to carry out surgeries, such as facial skin-cancer excisions, without a consultant. Unlike other nursing roles in the surgical team, SCPs are involved with the patient from the moment they set foot in the hospital until the moment they go home.
Training requirements for these roles are being standardised, so nurses who qualify for advanced practitioner status will, while carrying out their nursing job, train for three to five years to develop expertise in four areas: clinical knowledge, education, research and leadership.
This breadth of training will make it easier for advanced practitioner nurses to pursue portfolio careers, says Preston, who, in addition to her RCN role, works as an advanced nurse practitioner at an out-of-hours GP service: "You might work in clinical practice as an advanced nurse practitioner in a hospital or a GP surgery, and then you might work at a university one or two days a week. Some people might have a policy role where they're working with the local clinical commissioning group or within a trust to do workforce planning or quality."
Other nurses may prefer to move out of the clinical role into management, or move into academia. A nurse who prefers to switch to management can become a ward sister, and then rise through the ranks of matron, senior nurse, assistant director and director of nursing or chief nurse. These days, says Preston, nurses can – and do – become chief executives of hospital trusts. Those who opt for an academic career can go into clinical research, or into teaching as a practice educator or university lecturer, potentially rising up to professor.
Broadbent is still at the early stages of her career. In time, she says, she'd like to be a practice educator, mentoring students and junior staff in the neonatal nurse role. Whatever she decides, she's delighted to have changed profession: "It's a brilliant career. You can make it your own and it can take you to so many places."
Source :
https://www.theguardian.com/bucks-new-university-partner-zone/2018/jan/08/taking-the-temperature-of-nursing-in-the-21st-century